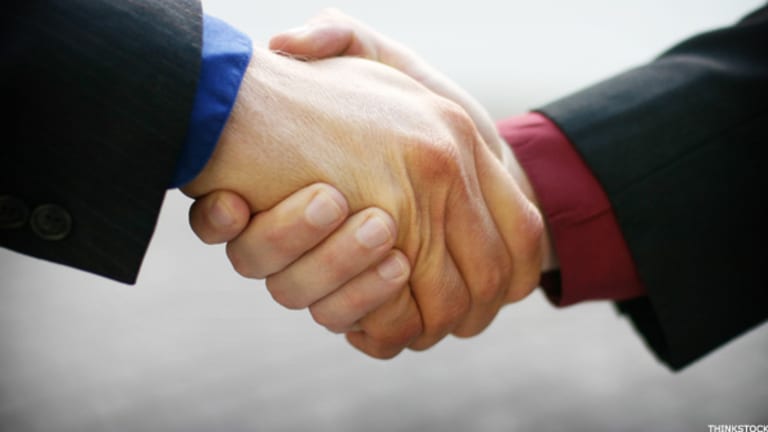 Publish date:
[video] The Deal: J.C. Penney Touts Silver Lining in Poor Results
Despite bright guidance for the holiday season, the retailer's cash burn continues apace.
Despite bright guidance for the holiday season, the retailer's cash burn continues apace.
NEW YORK (The Deal) -- Despite missing analysts' expectations for the year's fiscal third quarter, investors sent troubled department store operator J.C. Penney's (JCP) - Get Report stock up more than 8% in afternoon trading Wednesday, Nov. 20, to close at $9.44 per share.
Shareholders' newfound optimism was based on company guidance for a brighter fourth quarter, as it said comparable store sales and gross margin were "expected to improve sequentially and year-over-year."
Yet third quarter numbers for the period ended Nov. 2, show that J.C. Penney is still on its way down, with comparable store sales declining 4.8%, revenues falling about 5.1% to $2.78 billion from $2.93 billion for the same period a year earlier, and a net loss of nearly $490 million.
The silver lining, according to J.C. Penney, is that comparable store sales increased 0.9% in Oct., a reversal of monthly comparable store sales declines since late 2011.
But trying to boost revenue through inventory clearance and promotional events to attain that all-important comparable store sales increases, also help drive down gross margins and increase losses. The company's gross margin dropped to 29.5% of sales in the third quarter, compared to 32.5% for the same period a year earlier.
Chief executive Myron "Mike" Ullman said in an earnings call Wednesday he expected a similar level of inventory clearance in the fourth quarter as in the third.
Fitch Ratings Service said in an Oct. 24 research note that gross margin needs to be between 39% and 40% on revenue 14% to 16% above 2013 projected levels for the company to fund ongoing capital expenditures in 2014.
And rather than the retailer reducing cash burn, the rate of that burn has continued at a pace similar to previous quarters. In the first quarter it was nearly $1 billion and in the second quarter more than $700 million and perhaps as high as $1 billion.
Third quarter cash burn continued apace: it was nearly $900 million according to a Wednesday Gimme Credit research note.
That puts total cash burn somewhere in the vicinity of between $2.5 billion and $3 billion for the first three quarters, getting close to the $2.8 billion to $3 billion in cash burn Fitch projected for the entire year.
Cash and cash equivalents were about $1.2 billion at the end of the third quarter, down from $1.5 billion in the second quarter. And that amount includes nearly $790 million the company raised from an offering of 84 million shares of common stock, which priced on Sept. 27 at $9.65 a share.
When it offered the shares, J.C. Penney said it didn't really need the money, it was just responding to vendor's anxiety over reports of its fiscal woes. But that position was undercut by the retailer's revealing in its quarterly earnings report that nearly $560 million in net proceeds from its equity offering helped finance operating cash flow. Operating cash flow was about $740 million, which included net operating losses and approximately $590 million in inventory that the company said was "our typical seasonal build ... in preparation for the holiday season."
The company also said it used a portion of its cash to repay $200 million on its revolving credit facility.
Total liquidity at the end of the third quarter was about $1.7 billion, including the availability on its revolver. J.C. Penney said it would end the fourth quarter with total liquidity of about $2 billion.
Total debt for J.C. Penney was about $5.6 billion, including $650 million drawn on its revolver.
-- Written by Richard Collings