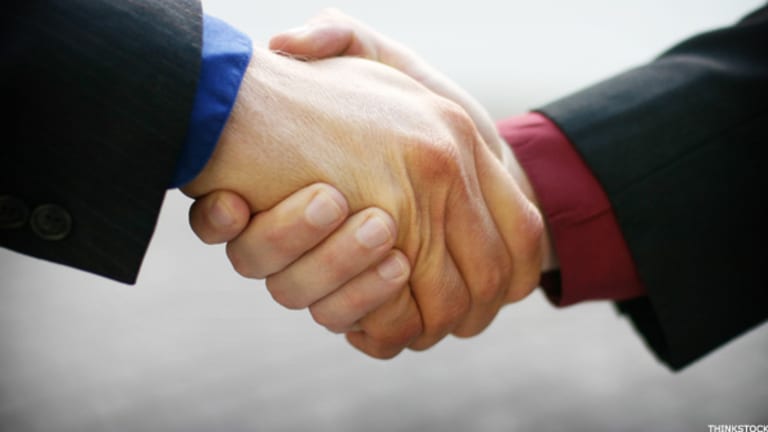 The Deal: J.C. Penney Investors Suffer Whiplash
On same day CEO says no need to raise liquidity, the retailer announces a highly dilutive stock sale.
NEW YORK (
) -- Late morning on Thursday, Sept. 26, CNBC reported that
J.C. Penney's
(JCP)
CEO Myron "Mike" Ullman told investors: "We don't see conditions this year where we'd need to raise liquidity."
To which investors promptly responded by sending the retailer's stock up 18% from its low to a high of $11.22 per share -- it closed at $10.42.
Then, after market close, J.C. Penney announced it had commenced a
of 84 million shares of its common stock.
The new shares are dilutive to J.C. Penney's current shareholders by 38%, with 220 million shares outstanding as of Aug. 3, according to a regulatory filing.
And, if the underwriters' option to purchase an additional 12.6 million shares is fully exercised, that means a dilution of nearly 44%.
Those who bought the stock on Thursday must now have a sick feeling in their stomachs. The quick cascade of events is the kind of extreme uncertainty most investors seek to avoid.
And mind you, in this case J.C. Penney is not seeking to sell debt to raise capital, taking advantage of low interest rates, as analysts previously speculated, but is selling dilutive equity. Likely, there were no takers for second-lien debt deeper into junk territory.
It can't look good for the CEO of a public company to say it will eschew fundraising and the stock rises, only to have that same company announce a highly dilutive offering a few hours later.
Not helping the optics any was the fact that the company revealed Thursday that controller Mark Sweeney left J.C. Penney's employ Sept. 20, according to a regulatory filing.
The move to sell shares could also be a sign of desperation if a poor holiday for apparel retail plays out in the coming months. Stores have already been lowering their orders after a bad second quarter and lackluster back-to-school sales, according to industry insiders.
And one thing appears to have escaped news reports that said a statement from the company Thursday morning meant third and fourth quarter comparable store sales would rise.
What the J.C. Penney statement said was: "The Company still anticipates it will experience positive comparable store sales trends coming out of the third quarter and throughout the fourth quarter of 2013."
The operative word being "trends," which is not the same thing as actual sales figures. So, while perhaps being technically correct, the retailer isn't necessarily saying that it won't be in negative territory for the rest of the year.
Not only could a poor holiday season undermine J.C. Penney, but the poor performance of its overhauled home departments, in which the company sunk so much cash, could be another nail in the coffin. Rather than getting a return on cash already spent, the company will have to spend even more money for a do-over to correct its multi-million dollar mistake.
According to one industry banker, the situation is such a "mess" at J.C. Penney at this stage, that "there is no way that this ends well."
Nonetheless, extra cash would help the retailer survive into the next year, especially if factors are tightening lines of credit for vendors supplying the department store.
Based on the chain's closing price of $10.42 per share Thursday, 84 million shares would raise about $875 million. If the option is fully exercised, the amount raised would be about $1 billion.
Goldman Sachs
(GS)
is the sole underwriter for the offering. Earlier this year, the bank arranged $2.25 billion in loans to the beleaguered retailer backed by its real estate, ostensibly to give it enough cash to last through the holiday season.
In July, Moody's Investors Service calculated J.C. Penney would burn through $1.4 billion in cash by year's end, and, in the second quarter the retailer said it had spent more than $700 million, but before it had to shell out for holiday inventory.
Investors: Do the math.
Written by Richard Collings