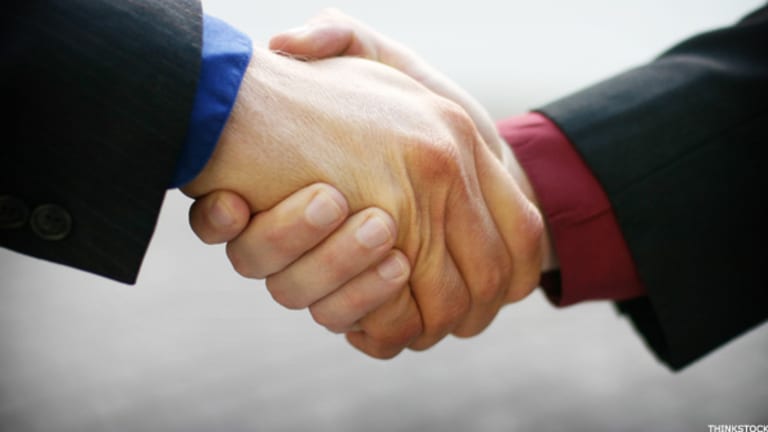 The Deal: Internap Expands Into Small Businesses
The $145 million transaction came in at 13.2 times EBITDA, which is reasonable for the sector.
NEW YORK (TheStreet) Internap Network Services (INAP) CEO Eric Cooney said that the $145 million acquisition of Canadian data center and hosting outfit iWeb Group would allow the buyer to serve customers "from early stage through maturity," in a Thursday, Oct. 31 conference call.
Monteal-based iWeb serves 10,000 small and mid-sized businesses, while corporations and other large enterprises make up Atlanta-based Internap's clientele. 
In addition to gaining a foothold in the market for smaller business customers, Cooney said, Internap would benefit from iWeb's ecommerce systems.
The buyer announced the purchase of iWeb from Novacap Investments Inc., Caisse de depot et placement du Quebec, BCSP IW Holdings LLC, Telebrome Inc., Fondaction CSN and founders Eric Chouinard and Martin Leclair after the market close on Wednesday.
The target produces $11 million in Ebitda, from $44 million in sales. Half of iWeb's revenues come from outside North America.
Shares of Internap rose 15 cents, or more than 2%, to $7.26 on Thursday.
Wells Fargo Securities LLC analyst Gray Powell called the price "reasonable," in a Thursday report. 
The price comes to 13.2 times iWeb's EBITDA for the prior year. 
Rival company Rackspace Hosting (RAX) trades at 12.7 times EBITDA , Powell wrote, and Internap's own valuation multiple is about 11 times Ebitda. 
The iWeb valuation is also cheaper than Interap's January 2012 purchase of Seaport Capital LLC-backed cloud services provider Voxel Holdings Inc. for $33.3 million, which Powell gauged to be 17.5 times Ebitda for the trailing year.
Powell noted that iWeb's 25% Ebitda margin exceeds Internap's 20% margin.
Cooney said that Internap "perhaps had a running start" in the auction, because iWeb is a customer. The target uses the buyer's Ubersmith data center and infrastructure automation, billing and support software, which Internap picked up in the Voxel acquisition. 
Jefferies Finance and PNC Bank provided commitments for a $350 million secured credit facility that Internap will use to fund the purchase and refinance its debts.
Internap CFO Kevin Dotts said the company expects the interest rate somewhere in the libor plus low 4 range," during the Thursday call. The financing package will include a $300 million term B loan and a $50 million revolver.
The buyer expects leverage will come to about 4.4 times Ebitda for the prior 12 months. 
Novacap led the buyout of iWeb in 2011 that valued the company's equity at C$47 million ($45 million).
Richard Lukaj, James Henry and Steve Lee led a team from The Bank Street Group that advised iWeb.
Internap retained Jefferies bankers Mohit Pande and Charles Stocks.
The parties expect to close the deal in December.
--Written by Chris Nolter in New York