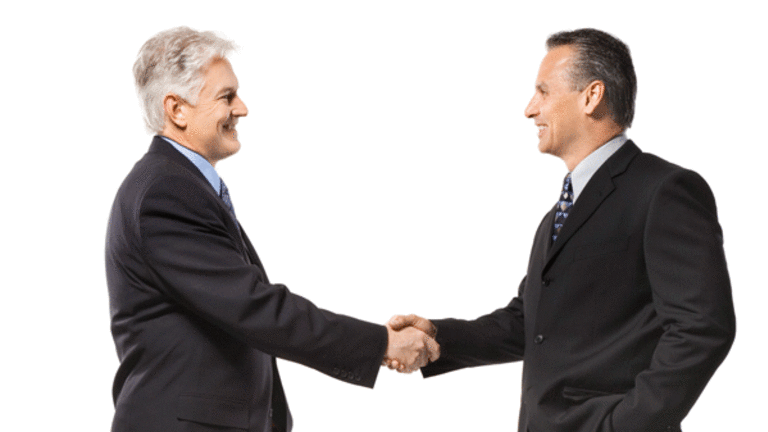 The Deal: ING Sells S. Korean Life Insurance Biz
With the latest sale, the Dutch bank is closing on disposal target set after bailout.
NEW YORK (
) --
ING Groep
(ING) - Get ING Group N.V. Report
announced an agreement Monday to sell its South Korean life insurance business to Seoul-based private equity firm
MBK Partners
for about 1.84 trillion Korean won ($1.65 billion) in cash.
Under the terms of the deal, ING will hold an indirect stake of about 10% in ING Life Korea for about W120 billion. ING Life Korea will also continue to do business under the ING brand for up to five years, and receive technical support and advice from its Dutch stakeholder for the first year.
In Amsterdam on Monday, ING shares shed 1.34% to trade at around ¿8.67, putting the group's total market value at just below ¿33.1 billion ($44.3 billion). The stock is up more than 50% over a year ago.
"Together with the scheduled payment of the next tranche of the core Tier-1 securities to the Dutch State in November 2013, this will bring us further in the end phase of the restructuring of our company," said ING CEO Jan Hommen in a statement.
The latest transaction, subject to regulatory approvals and due to be completed before the end of this year, leaves the Amsterdam-based seller with just its Japanese insurance operations to sell in Asia as it bolts for the finish line in a European Commission-mandated portfolio slimdown.
ING, which was bailed out by the Dutch government at the outbreak of the financial crisis in 2008, expects an after-tax loss from the South Korean sale of about ¿950 million, due to be booked in the third quarter of 2013.
The agreed price values ING Life Korea at 9.2 times earnings for the 2012 fiscal year, and about 0.73 times book value as of March 31, according to ING Groep.
Lemer Salah, an analyst with
SNS Securities
in Amsterdam, noted that while the price is somewhat lower than its book value, it is in line with expectations "given tough financial markets and limited number of buyers." The analyst remains bullish on ING shares, reiterating a "buy" recommendation and a price target of ¿8.50.
Monday's agreement comes eight months after Korea's
Financial Group
bowed out of a plan to buy the business for a reported $2 billion, and 10 months after a consortium led by
Tong Yang Life Insurance
dropped out of the bidding after entering exclusive talks with ING, according to South Korean media outlets.
Hanwha Life Insurance
Ltd. also reportedly submitted one of four bids earlier this year.
Through the acquisition, MBK Partners -- founded in 2005 by former
Carlyle Partners
executives -- will own South Korea's larges foreign life insurer, with more than 1,000 employees and 6,800 tied agents serving some 1.3 million customers.
Among other financial companies in MBK's portfolio are Korea's HK Savings Bank, New China Life Insurance and Korean leasing company Woori Financial Co, formerly Hanmi Capital.
Since 2009, ING has raised an estimated ¿23 billion from more than 35 disposals, including the sale of its insurance and investment management operations in Canada, Australia and New Zealand, and Latin America as well various activities in Asia. In July, it agreed to sell its South Korean investment management business to Australia's Macquarie Group Ltd. for an undisclosed amount.
The group is also preparing an IPO for its European insurance and investment management activities, due to be ready to go to market in 2014, ING said Monday, promising to give more information about other divestments "if and when appropriate." It reduced its stake in its U.S.-based retirement, investment and insurance business after a listing this past May on the New York Stock Exchange.
ING is scheduled to give an update on preparations for the IPO of its European insurance operations next month, a couple of weeks before CEO Jan Hommen hands over the reigns to Ralph Hamers, currently CEO of ING Belgium.
ING was advised on the deal by
Goldman Sachs
and
JP Morgan
, while MBK turned to
Barclays
.
--
Written by Renee Cordes in New York