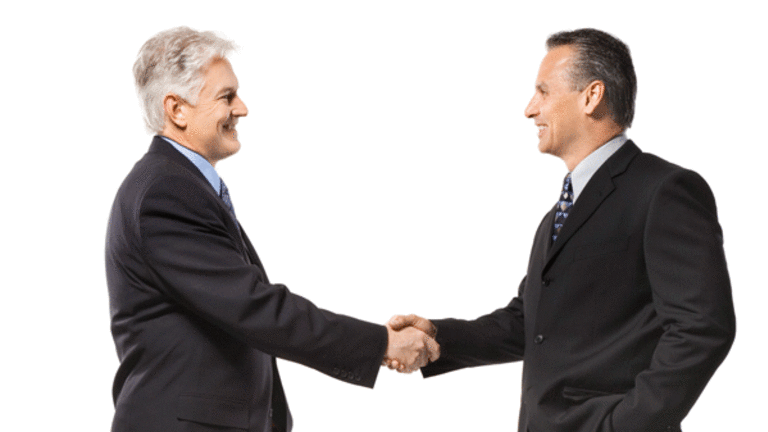 The Deal: Gannett Stays True to Gannett, Makes Acquisition
Gannett paid a handsome premium to acquire Belo, and investors responded with applause.
NEW YORK (
TheStreet
) - Even though Gannett Co. agreed to a hefty premium in its $2.2 billion bid for Belo Corp., shares of the newspaper and TV company soared.
After jumping 33% yesterday, Gannett was retreating 4.9% to $25.28. The shares have gained 96% in the past 12 months.
Also see: 3 Stocks With Ever-Increasing Dividends >>
Gannett, which became the country's largest newspaper chain through a long series of acquisitions, is paying $13.75 per share in cash, more than 28% above Belo's Wednesday close. The total equity payout comes to $1.5 billion. Including $715 million in debt, the total deal value comes to 9.4 times blended 2011-2012 Ebitda, not counting savings or other benefits the deal might carry. Belo attained the sale price without an auction.
"We did not set out to sell the company," Belo CEO Dunia Shive said during a Thursday investor call.
Shive explained that she had spoken with Gannett CEO Gracia Martore "over the years" about ways to build a large portfolio of media assets. "Conceptually, Dunia and I have talked for a long time about what we perceived to be the value of a supergroup," Martore said.
A combined Gannett-Belo would have 43 TV stations and generate nearly $1.5 billion in Ebitda against $6.1 billion in revenue. It would have the fourth-largest portfolio of stations affiliated with the Big Four networks, after CBS Corp., News Corp.'s Fox and acquisitive station group Sinclair Broadcast Group Inc.
Mark Fratrik of BIA/Kelsey said a merged Gannett-Belo would be the third-largest local TV station group in terms of revenue, behind only CBS and Fox.
"It is a good sign for the future of local TV broadcasting," Fratrik said. "Large companies with financing are making investments, and local TV will remain an important part of the local advertising marketplace."
Martore did not convey the sense that Gannett is poised for an acquisition binge.
"We've looked at a lot of TV opportunities," she said, adding that Belo stood out because it would complement Gannett's own holdings.
Also see: 5 Dumbest Things on Wall Street >>
Martore touted the benefits of scale in negotiating the fees that cable groups pay to retransmit their signals. Including savings and other synergies, she said, the payout would come to 5.4 times Ebitda. Gannett has developed digital properties that would benefit Belo's properties. The company expects leverage of 2.3 times Ebitda following the deal.
Martore did not foreclose the possibility of more deals. When asked if Gannett's leverage targets would preclude more acquisitions, she said, "No, absolutely not." Groups like Nexstar Broadcasting Group Inc. and Sinclair have been acquisitive on a smaller scale. Media General Inc. is combining with New Young Broadcasting Holding Co.
Gannett's bid triggered a rally in TV shares. Nexstar Broadcasting gained $2.22 per share on Thursday afternoon, climbing more than 8%, to $29.41. Sinclair rose $3.14, or 13%, to $27.23. Lin TV Corp. increased by $1.63, more than 14%, to $13.18. Gray Television Inc. was up 80 cents, or nearly 15%, to $6.24.
Also see: Gannett: Not Just a Paper Stock >>
Martore emphasized the benefits of combining the two TV groups.
Marci Ryvicker of Wells Fargo Securities LLC wrote in a Thursday report that Gannett's payout metric implies a valuations of $50 for Nexstar, $35 for Sinclair, $26 for Lin and $7 for Gray. The companies expect to close the deal by the end of 2013. The transaction carries a 3.5% breakup fee.
Written by Chris Nolter in New York