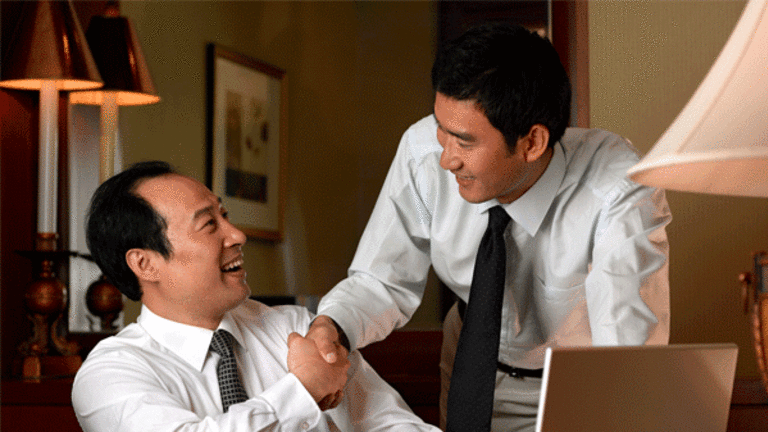 NEW YORK (
) --
Yahoo!'s
(YHOO)
purchase of social media-cum-web browser developer
Rockmelt
on Aug. 2 marks the 21st acquisition since Marissa Mayer became CEO of the Internet company last year.
The parade of deals, which includes the high-profile $1.1 billion purchase of photo site
Tumblr
, is certainly impressive. Besides lending prestige to Yahoo because of the company's increasing association with hip startups, the dealmaking has lifted Mayer's stature with the likes of hedge fund
Third Point
CEO Daniel Loeb, who agitated for change at Yahoo two years ago and is now rattling Sony Corp.'s cage.
To be sure, Mayer's style has helped the Sunnyvale, Calif.-based Yahoo's image, but the warm glow enveloping the company's stock comes primarily from its 24% stake in Chinese e-commerce developer
Alibaba Group
, which is gearing up for an initial public offering. Yahoo's shares jumped 10% after its July earnings call, when the company provided more transparency into numbers from Alibaba and Yahoo! Japan.
"They are a proxy for investing in the Alibaba IPO, in some respects,"
SNL Financial
analyst Seth Shafer said.
The Alibaba IPO will mean billions of dollars in cash for Yahoo. UBS analyst Eric Sheridan suggested in a July report that the Alibaba stake is worth about $20.4 billion before taxes.
But an Alibaba IPO will also raise substantial questions for Yahoo.
The first, and most obvious, decision is what to do with the money. Yahoo could well spend much of it on dividends or buybacks. The deeper question is how Yahoo can replace the growth that Alibaba provides, and whether Mayer will change the company's approach to M&A to boost the top line.
Yahoo has regained cachet with employees and investors during Mayer's tenure as CEO. Witness the 10,000 resumes per week Yahoo receives, as well as the stock's jump to nearly $30 from about $15.70 in the 12 months that she's been leading the company.
Mayer's acquisitions haven't produced growth yet, although that hasn't been the immediate goal. After all, most of them have been small. But what Mayer wants to do is build Yahoo's talent pool. The first woman engineer at
Google
(GOOG) - Get Alphabet Inc. Class C Report
, Mayer has often been making "acqui-hires" that annexed talent rather than assets. With Rockmelt, for instance, Yahoo is shutting down the target's website.
Mayer has outlined a four-stage "chain reaction" that will, she promises, expand Yahoo's top line. The phases are people, products, traffic and, lastly, revenue.
"Hire and retain a great team, build inspiring products that will attract users and increase traffic," she explained during the July earnings call. "That traffic will increase advertiser interest and ultimately translate into revenue."
Yahoo is currently in stage 2, having focused on people and products. Substantial gains in traffic and revenue, according to the plan, are still to come. Revenue from Yahoo's core business remains stagnant.
"With all of these acqui-hires, in all of these different industries, it's hard to see a thread," SNL's Shafer said. "There is some obvious intent in mobile."
Nor is Mayer spending lavishly. "They are buying very small firms for not much money," Shafer added. "They are buying very early-stage firms without an established pedigree behind them."
As the brand has regained its appeal, Mayer has touted Yahoo's success in luring back former staff. She dubs such rehires "boomerangs." In the second quarter, 10% of Yahoo's hires previously worked for the search and online company.
Mayer has outlined areas of expansion for Yahoo, such as search, display advertising and video. But like Shafer said, she wants to grow in the mobile space. In the last year alone, Yahoo has grown the mobile team six-fold, from dozens to hundreds of engineers.
Berkery, Noyes & Co.
named Yahoo the most active acquirer in online and mobile technology in the first half of 2013. The company made 13 purchases --
Xobni
,
GhostBird Software
,
Rondee
,
PlayerScale
,
Tumblr
,
Loki Studios
,
MileWise
,
GoPollGo
,
Astrid
,
Summly
,
Jybe
,
Alike
and
Snip.it
-- in the mobile sector, and is continuing apace in the third quarter. This summer, for example, Yahoo bought Chinese social data analysis firm
Ztelic
, bringing on eight developers and engineers, including Ztelic founder and Yahoo alum, Hao Zheng.
Zheng isn't the only recent boomerang, either. There's Amit Kumar, who runs e-commerce app platform
Lexity
and will return to the Yahoo fold now that it bought his company.
But in Alibaba, Yahoo has a growth vehicle while Mayer proceeds with her four-phase M&A plan. When Yahoo announced second-quarter earnings in July, the company increased its disclosure of returns from its holding in Alibaba and its 35% position in Yahoo! Japan.
While the overseas numbers were from the first quarter, the Alibaba numbers were strong enough to drive Yahoo shares more than 10% higher in a single day.
Alibaba revenue for the first quarter of 2013 rose 71%, while gross profit increased 92%. Income from operations expanded 232%. "The growth is just massive," said one analyst.
This all suggests a big payday for Yahoo when Alibaba goes public. UBS's Sheridan assumes that Alibaba will have a total equity value of $70 billion at the IPO. Yahoo can sell half of its 24% stake in the offering, which would give it an immediate $8.4 billion payday.
Sheridan wrote that Alibaba's market value would eventually rise to $100 billion, which would put the worth of the remaining 12% at $12 billion.
Assuming 40% in taxes and fees, Yahoo could ultimately tap $12.25 billion from its Alibaba holding.
But here's the dilemma. Liquidating the stake would give Yahoo a mountain of cash, but it would also mean that the company will lose its fastest-growing revenue stream.
Perhaps that's why, despite Mayer's emphasis on small deals, she also done some big ones. The Tumblr purchase and the pursuit of
Hulu
suggest that she could be interested in more aggressive purchases.
"Tumblr was a special and unique opportunity," a Yahoo spokeswoman said. "In general, we're focused on smaller tuck-in acquisitions."
With the Alibaba cash, and the nearly $5 billion already on its books, Yahoo will certainly have the capacity to swing large purchases.
SNL's Shafer suggests that
Snapchat
could interest Yahoo. The Venice, Calif.-based company develops temporary social media. Users send "snaps" of photos or videos that are eventually deleted from Snapchat's servers. The no-strings-attached messages are popular among younger users, who don't want their activity showing up on their parents'
Facebook
(FB) - Get Facebook, Inc. Class A Report
pages.
Snapchat's recent $60 million fundraising from
Institutional Venture Partners
,
General Catalyst Partners
,
Benchmark Capital
,
Lightspeed Venture Partners
and
SV Angel
reportedly values the company at $800 million.
One analyst said he expects more of the acqui-hire transactions but could see the company pursuing larger quarry. The company did, after all, look at Hulu.
"They are going to have a lot of flexibility to pick and choose," he said. "Arguably, if they end up overpaying for certain assets, they have the flexibility to do so."
Buying Hulu would have given Yahoo a strong presence in video, one of the four areas that Mayer has identified for growth. But Shafer said there aren't that many other targets in video.
"There isn't a lot of high-quality stuff that seems to be available," he said.
Video streaming outfits such as
Ustream
and
Justin.tv
-- backed by
Alsop Louie Partners
, Tim Draper,
Y Combinator
and
Bessemer Venture Partners
-- could interest Yahoo, too.
Ustream puts live videos of weddings, shark tanks, court proceedings, music festivals and other events online. Founder and CEO Brad Hunstable said in an e-mail that the company has developed the best proprietary video platform in the six years since it began.
"Our mission as a company is to continue to innovate within this space and we will continue to collaborate with others that share this same vision," Hunstable added.
Justin.tv didn't respond to a query.
Yahoo could explore television licensing deals. Hulu is, after all, a collection of contracts to stream programs. Yahoo's big video score in the second quarter was the 38-year archive of
Saturday Night Live
, which the company is bringing to its site.
Otherwise, Shafer suggested that messaging company
WhatsApp
or
Viber Media
, which provides members with free calling, texting and photo sharing, could bring Yahoo more exposure to the youth market.
"We spend all our time thinking about our users and our product," a WhatsApp spokeswoman said. "We don't think about exit scenarios."
A Viber representative couldn't be reached for comment.
With Mayer's background at Google, search could be a possibility as well. Yahoo has outsourced the search business on its sites to
Microsoft
(MSFT) - Get Microsoft Corporation (MSFT) Report
. "There is a lot of pressure for Microsoft to get out of the search business," Schafer noted, but he added that it would be "a strange series of events" if Yahoo bought Bing, Microsoft's search engine.
Mayer has clearly scored points for revamping Yahoo's image and redirecting its resources to areas that have the promise of growth, though just how much of the stock's rise during her short tenure is attributable to her acquisitions or to the Alibaba stake is unclear.
Now she'll have decide if it's worthwhile to spend the Alibaba riches on acquisitions or bet that the acqui-hires, boomerangs and other fresh talent will reinvigorate the company. It's a big decision, because if Mayer cashes in on the Alibaba stake but can't replace Alibaba's impressive growth profile, Yahoo's newly gained luster will fade.
Written by Chris Nolter.