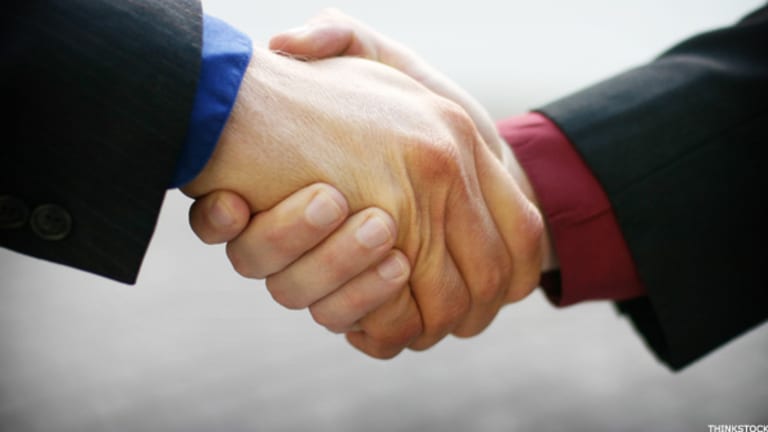 Publish date:
The Deal: FBI, Securities Officials Investigate Biozoom Trading, Source Says
FBI, securities officials investigating Scottsdale Capital, Alpine Securities in the trading of Biozoom, source says.
FBI, securities officials investigating Scottsdale Capital, Alpine Securities in the trading of Biozoom, source says.
NEW YORK (The Deal) -- The FBI, the Securities and Exchange Commission and the Financial Industry Regulatory Authority have opened investigations into the involvement of Scottsdale Capital Advisors and Alpine Securities in the trading of Biozoom, according to a person familiar with those investigations.
Investors in Biozoom lost some $300 million after the SEC halted trading in the stock in June. The commission cited "a lack of current and accurate information" about the stock and suspicions that the company and some shareholders may have illegally sold unregistered shares to the public.
Before it allowed trading in Biozoom to resume in July, the SEC obtained an emergency order from the U.S. District Court in Manhattan, freezing almost $16 million in cash in U.S. brokerage accounts.
Another $17 million in trading revenues connected to sales of Biozoom shares was wired overseas before the court order, the SEC claimed in its court filing. Another $8 million in wire transfers requested by Biozoom shareholders were halted by the broker-dealers before they could go overseas.
The SEC also ordered the broker-dealers involved in the transactions, Arizona-based Scottsdale Capital, Salt Lake City-based Alpine and Legend Securities of New York, to preserve all of their records connected to the Biozoom transactions.
The regulator charged eight Argentine citizens with illegal sales of unregistered shares of Biozoom. The complaint also named two other Argentines who owned shares of Biozoom but did not sell them prior to the asset freeze.
Biozoom, which lists Kassel, Germany, as its headquarters, purports to manufacture a "biofeedback device" that consumers can use to monitor and analyze data related to their health. The company went public in February through a reverse merger with registered shell company Entertainment Art  and raised $1.15 million in a private placement to an investor whose identity was not disclosed.
The stock was the subject of an unusual promotion four months later. Recommendations for Biozoom stock appeared in at least 13 email newsletters, according to Hotstocked.com, a Web site that tracks stock promotions. Legal disclaimers that accompanied the promotions claimed that no compensation had been paid for the stock-friendly hype. Legal disclaimers in penny stock newsletters often identify the companies that pay for stock promotions and sometimes provide details of the compensation, as is required under securities law. Some stock promotion budgets run as high as $3 million.
One of the promotions claimed that Biozoom's "hand held device for the non-invasive transdermal analysis of antioxidants and other biomarkers in the human body... replaces expensive, time consuming and invasive blood tests."
"Future applications, future roll-out markets and applications are even more impressive," another newsletter stated. "Relevant biomarkers can and will be identified and analyzed for things such as cholesterol, alcohol, various illegal drugs, smoke, poisons and blood pressure -- to name a few. The unit is being further developed to measure blood sugar levels, tapping into a staggering $220 billion a year diabetes market in the U.S. and 350 million people with diabetes around the world."
Biozoom stock was also promoted in an unusual advertising campaign that made use of mainstream media outlets, including the New York Times and USA Today. In June, ads that took up most of a full page were placed in those newspapers that ostensibly promoted a London-based publication called Global Financial Insights. But, while the ads included subscription information and other details about the publication, most of their space was taken up with the magazine's recommendation of Biozoom stock.
A full-page black and white ad in USA Today could have cost $125,000, according to information that the newspaper distributes to advertisers. A similar New York Times ad would run $80,000 to $100,000, according to a newspaper spokesperson.
Both ads featured a headline that read, "Innovative Technology Company Invents Real 'Star Trek' Medical Scanner that Diagnoses Patient Health in Seconds."
A recommendation for Biozoom stock also featured prominently in an advertisement for a newsletter called TheStockReport.com that ran on the Rush Limbaugh radio show.
Previously, TheStockReport.com had produced a 24-page publication about Biozoom, which was distributed May 16, the day that Biozoom began trading at $1.10. The report valued the shares at $10.30.
Biozoom started trading with a thin volume of about 10,000 shares a day. The $1.10 share price implied a market value of $108.6 million for the company.
But when the promotion began to pick up speed, the shares rose to $1.50 on their way to an intraday high of $4.50 and a market cap of $421.5 million. Trading volume jumped as high as 11.7 million shares.
When the stock was halted, the shares were at $3.45. When trading resumed, they plunged to 13 cents, giving Biozoom a market capitalization of just $9.56 million. Investors lost more than $300 million.
Finra and SEC officials declined to comment for this story. An FBI spokesman would neither confirm nor deny the existence of a criminal probe tied to Biozoom trading.
But a source who has spoken to investigators said the investigations are ongoing. The probes by Finra and the SEC began in May, prior to the trading halt.
The brokerage firm Scottsdale Capital is owned by Scottsdale Capital Advisors Holdings LLC and the Hurry Family Irrevocable Trust. Alpine is owned by SCA Clearing LLC. Both Scottsdale and Alpine are controlled by John Hurry, who is a director of both companies. Hurry's wife Justine is a director with Scottsdale and a minority owner.
The home pages of both Scottsdale Capital's and Alpine's Web sites feature the same motto, "At the top of the Small Cap Market," along with a photo of a mountain peak. For Scottsdale, it is a desert mountain. For Alpine, it's a snow capped peak.

The SEC complaint alleges that six of the shareholders named in the action, Magdalena Tavella, Adriana Bagattin, Daniela Goldman, Mariano Graciarena, Fernando Loureyro and Mariano Ferrari, opened accounts at Scottsdale between May 10 and June 14. The other shareholders named by the SEC -- Andres Ficicchia, Gonzalo Blaya, Lucia Hernando and Cecilia De Lorenzo -- opened trading accounts at Legend Securities from January through March, according to the SEC. Ficicchia also had an account at Scottsdale.
In all, the Biozoom shareholders deposited 20.1 million shares in the trading accounts which represented 100% of the share float that did not carry a trading restriction. Those shares represented about 33% of the total shares in the company.
None of the Biozoom shareholders, contacted by email, responded to a request for comment from The Deal.
Legend Securities is owned by Stocktrade Network Inc., Chris Cacace, Salvatore Caruso, Anthony Fusco and Mark Sulavka, according to Finra records.
The SEC claims that when the Argentine shareholders opened their trading accounts at Scottsdale and Legend, they provided documents and sales receipts purporting to show that they had bought their shares between Feb. 19 and March 15 from the original shareholders of shell company Entertainment Art. But the SEC states in its complaint that all of the Entertainment Art shareholders sold their shares to Medford Financial Ltd. in 2009. Medford in turn was purchased by Le Mond Capital, a British Virgin Islands-based firm, for $430,000 last year. Le Mond was controlled by Sara Deutsch, who became CEO of Entertainment Art.
When the reverse merger took place in February, Deutsch paid $50,000 and 39 million shares to complete the transaction with four German entities for intellectual property that became the basis for Biozoom. The deal left her with 20.1 million shares. Deutsch became a director and assistant secretary for Biozoom, and in doing so, became what the SEC considers to be a control person.
The commission alleges that the shares Deutsch controlled were the shares that were actually distributed to the Argentine shareholders and that the stock sale agreements they used to help open the trading accounts at Scottsdale and Legend were fakes. Since Deutsch was a control person, any shares she distributed would be restricted and not free trading.
Deutsch ran a restaurant in Buenos Aires along with Magdalena Tavella called Magdalena's Party, according to the SEC complaint. Tavella was one of the Biozoom shareholders who traded through Scottsdale.
Miller Place, N.Y.-based securities attorney Randall Goulding supplied a legal opinion for all of the Biozoom shareholders, based in part on the stock sale documents portraying the transactions with original Entertainment Art shareholders, the SEC claimed in a court filing requesting the asset freeze. His opinion letter stated that the share certificates could be deposited without restrictions based on an exemption from registration provided by Rule 144 of the Securities Act. He said that the sellers were not affiliates of the company and had held the shares for more than four years and that the account holders were not individually or collectively the beneficial owner of more than 10% of the common shares of the company.
On June 19, Goulding emailed the general counsel for Legend saying, "I hereby withdraw all of my opinions issued for the securities of Biozoom, formerly Entertainment Art. Be advised that none of these opinions should be relied upon," according to the SEC
San Antonio-based securities lawyer David Wise, who had supplied a similar legal opinion letter to Scottsdale for Tavella and Goldman on May 20, withdrew his letter June 26. Wise sent an email to Scottsdale that in part read, "It has been brought to our attention that the SEC recently suspended trading in Biozoom. It has also been brought to our attention that Tavella and Goldman may have provided inaccurate or misleading information and documentation to Scottsdale and to this firm."
A number of factors make it appear that the Biozoom shareholders were connected in an organized effort.
A person who has spoken with investigators said that the six shareholders who held Scottsdale accounts opened them within the same week. The SEC complaint states that all of the shareholders live in Buenos Aires.
A person familiar with the investigative documents said the handwriting on the account applications for the Biozoom shareholders was the same, the answers to questions on their foreign due diligence packages were very similar and they held accounts at the same banks in Cyprus, Switzerland and Panama.
Moreover, the email addresses they furnished for their trading accounts were opened within a week of each other, according to Whosis.com, a Web site that furnishes information on domain registrations. The addresses are also similar, all containing the account holders' last names.
The shareholders with accounts at Legend were also from Buenos Aires.
According to a declaration filed with the court by Ricky Sachar, an assistant director of enforcement for the SEC, all of the shareholder's email accounts were opened with the same regional Internet registry. All of the Biozoom trades were made from May 16 to June 17 and no other stocks were deposited or traded through the accounts at either Scottsdale or Legend. Also, all of the Biozoom trades were ordered using either email or instant messaging accounts.
"These shareholders were brought in for this. It's as simple as that," said a person with knowledge of the investigations. "They are retired teachers, a deli owner, but they come in with millions of shares of stock. They only trade Biozoom and they are directing trades using traders' lingo, telling them which market makers to use for the trades? Come on. They were straw men for whoever is behind this whole thing."
That same person said the Biozoom shareholders who opened accounts with Scottsdale enjoyed perks that were not available to other Scottsdale clients.
Typical clients pay 4% per transaction, or 4.5% if their transactions are cleared through Alpine. Longtime clients who do a heavy volume of business may occasionally receive a discount of one percentage point. But Biozoom clients paid just 2%, the person said.
They were also allowed to place orders using instant messaging, which is generally forbidden under Scottsdale's internal policies. A person with knowledge of Scottsdale's operations said the policy was changed for the Biozoom shareholders by the broker-dealer's management after Biozoom shareholders complained.
A standing Scottsdale policy only allows clients to wire funds from their accounts to banks in the U.S. or to institutions in the country where they live. But the person said that Biozoom shareholders were allowed to send funds to Cyprus, Switzerland, Panama and Belize, despite the fact that all of them live in Argentina and all of them had signed documents agreeing to abide by Scottsdale's wire policy.

The same person said that several red flags were raised regarding the Biozoom trades at Scottsdale: They were large trades in a microcap stock with relatively little liquidity. Also, foreign nationals were wiring large sums out of the U.S., raising potential concerns about money laundering. Still, no follow-up occurred at the broker-dealer, the person said.
Finra, who has worked with the SEC on the probe, has had several "on-the-record" conversations with Scottsdale staff regarding the trading of Biozoom shares, the process by which the accounts were opened for the Argentine nationals and how assets were moved offshore, according to a person who has spoken with investigators. "OTRs," as they are known in the brokerage industry, are sessions in which Finra staff ask specific questions of registered representatives who must answer them or face disciplinary actions.
A source who has spoken to investigators said Scottsdale staff members who have talked with Finra regarding Biozoom trades are Timothy Scarpino, Tim Diblasi, Liz Arndt, Henry Diekmann, Jay Noiman, Michael Cruz, Adam Fiandaca and Ted Ashton.
Finra also talked with John Hurry, that same source said.
Scarpino, who processed the Argentine accounts connected to the Biozoom trades, resigned from his position at Scottsdale. He declined comment for this story. Ashton, who was a compliance analyst, also is no longer with the firm. Efforts to reach him failed.
Arndt is the office manager and oversees trading. Noiman and Diekmann are in compliance, and Diblasi is chief operating officer. Cruz is chief counsel, and Fiandaca handles wiring of funds.
Diekmann denied he participated in the OTRs with Finra, in a very brief phone interview.
None of the other Scottsdale staff questioned by Finra returned phone calls from The Deal seeking comment regarding the OTR's about Biozoom.
Gerald Russello, a partner at the law firm of Sidley Austin LLP in New York, said that Scottsdale and Alpine would have no comment regarding Biozoom trading or the investigations by Finra, the SEC and the FBI. Russello is a securities lawyer and former SEC enforcement branch chief.
Richard Kirby, a partner with K&L Gates LLP in Washington who represents Legend Securities, said he does not know if the SEC is concerned with how Legend conducted itself with regards to the Biozoom trades, but he said that Legend had not filed any notice with Finra regarding an SEC investigation.
Kirby also said that Legend alerted the SEC to its concerns regarding Biozoom and that the broker-dealer had acted on its own to freeze accounts tied to the Argentine nationals prior to the SEC action July 7.
While Legend did complete a June 13 $600,000 wire transfer for Luciana Hernando to Hellenic Bank Public Co. in Lemesos, Cyprus, it refused Hernando's request to move $2 million to the same bank on June 17. Legend also refused a wire request from Blaya June 14 to transfer almost $3.5 million to a bank in Geneva, according to the SEC complaint.
Meanwhile, John Hurry, who controls both Scottsdale and Alpine, is in negotiations to buy Salt Lake City-based broker-dealer Wilson-Davis & Co., according to a person with knowledge of the deal.
Representatives of Wilson-Davis did not return phone calls from The Deal seeking comment. Scottsdale representatives declined to comment.
By
Bill Meagher