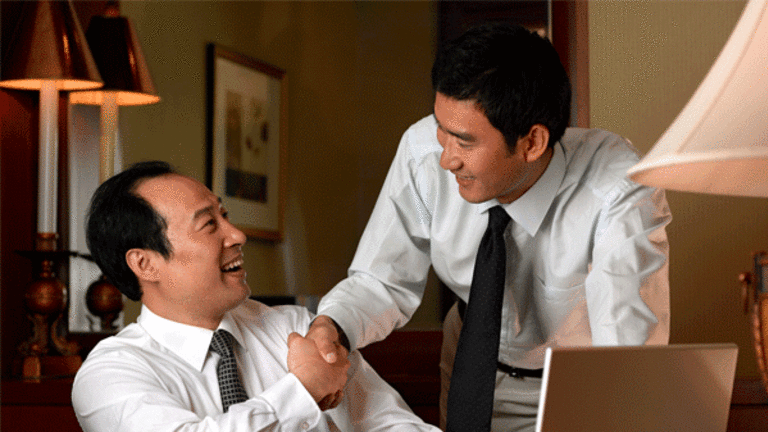 The Deal: Ergen's Dish Choices Get Slimmer
During a conference call with analysts, satellite TV tycoon expounds upon possibility of a merger with T-Mobile or DirectTV, his pursuit of Sprint and Clearwire, and allegations of fraud in LightSquared bankruptcy.
NEW YORK (
) --
T-Mobile USA
(TMUS) - Get T-Mobile US, Inc. Report
is the best merger partner for
Dish Network
(DISH) - Get DISH Network Corporation Class A Report
--unless the satellite TV company combines with rival
DirecTV
(DTV)
.
Dish chairman Charlie Ergen addressed the strategic options during a Tuesday, Aug. 6, investor call that featured questions from journalists as well as analysts.
Ergen addressed issues ranging from his pursuit of
Sprint Nextel
(S) - Get SENTINELONE, INC. Report
and
Clearwire
(CLWR)
, to future M&A possibilities, and Philip Falcone's allegations of fraud in the
LightSquared
bankruptcy, in which Ergen is a creditor.
Following Softbank Corp.'s purchase of Sprint and Clearwire, Ergen acknowledged, T-Mobile USA is the last wireless carrier that Dish could purchase. "You just looked at a full blown acquisition and our merger and really that's probably only T-Mobile at this point in time," Ergen said.
Dish could still negotiate a partnership or networking deal with Sprint and Clearwire, he said. The due diligence that Dish conducted for its bids for the two telecoms could serve as legwork for a partnership or networking deal with Sprint's new owner.
"I don't know the Softbank executives at this point but they seem very innovative and creative and they certainly seem to be more aggressive than maybe some of the other people in the wireless business," Ergen said, "so I think there's a lot of similarities between the way we think and perhaps the way they think."
Consolidation among cable operators and the increasing rates that content providers are charging could force Dish to look for other deal partners, though. "There's not any question that putting Dish and DirecTV together makes a lot of sense," Ergen said.
There are strategic differences. Unlike DirecTV, Dish has been looking to get into wireless. It's possible that the market or regulatory issues would prove one of the satellite companies wrong. Ergen said he would give up his wireless ambitions if he saw they could not succeed.
"We aren't suicidal about it," he said.
The U.S. Department of Justice rejected a combination of the satellite TV companies a decade ago, but Ergen suggested that the market has changed. Phone companies including
AT&T
and
Verizon Communications
(VZ) - Get Verizon Communications Inc. Report
have entered pay-TV and are growing. And, of course,
Netflix
(NFLX) - Get Netflix, Inc. (NFLX) Report
,
Hulu
and
Amazon
(AMZN) - Get Amazon.com, Inc. Report
have emerged as major video players.
Chris King of Stifel, Nicolaus & Co. observed in a Tuesday report that M&A discussion overshadowed Dish's operations. The stock gained 20 cents, or about half a percent, to $44.91, despite results that King described as mixed "at best." The stock was higher earlier in the day. "We believe the company has two options at this point, including (1) acquiring or merging with T-Mobile, or (2) selling its spectrum and aggressively pursuing a merger with DirecTV," King wrote. Dish will likely show up at a government auction of H-block wireless licenses, Ergen said. The way that the government decided to package the wavelengths makes it less likely that Dish will be a buyer, however.
During the call, Ergen was asked about a lawsuit that Philip Falcone's
Harbinger Capital Partners
filed Tuesday in the U.S. Bankruptcy Court for the Southern District of New York charging Ergen with fraud. The suit seeks more than $2 billion in damages and would also disallow about $1 billion in claims Ergen holds against Harbinger-backed bankrupt telecom LightSquared.
Ergen's
Sound Point Capital Management
has picked up about $1 billion in LightSquared's secured debt. Harbinger argues that Ergen shouldn't be allowed to buy the loans, because covenants block potential competitors such as Dish and the satellite tycoon's
EchoStar
(SATS) - Get EchoStar Corporation Class A Report
from owning the debt.
Falcone's firm charges that Ergen, "fraudulently infiltrated the senior-most tranche of LightSquared's capital structure," in pleadings with the US Bankruptcy Court for the Southern District of New York.
Representing Harbinger in the matter is
Kasowitz, Benson, Torres & Friedman
. The complaint lists two named partners of the firm, Marc Kasowitz and David Friedman.
Ergen said Tuesday that he and Dish followed the rules. "I will certainly personally put my track record and what I've done
against the allegations and I will put the light on that," Ergen said during the Dish call. "I'll put the light on Dish and we will put the light on Harbinger and Mr. Falcone," he continued. "We'll let the courts and public opinion decide who is fraudulent and who is not."
Written by Chris Nolter