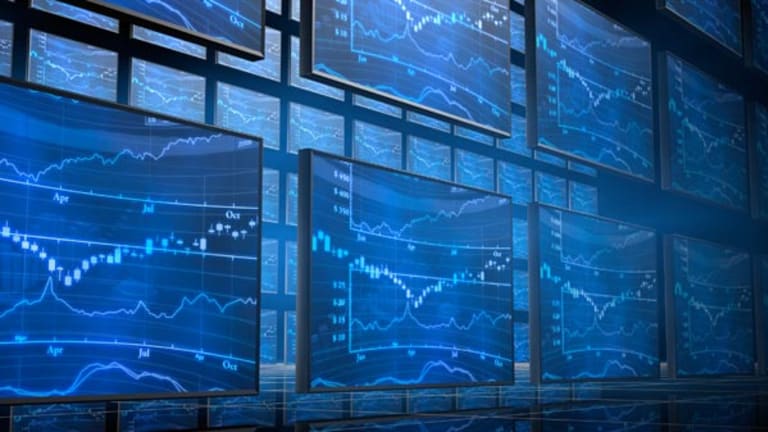 The Deal: Ergen Turns Attention to LightSquared
While Charlie Ergen's wrangling with Softbank and Sprint has subsided, his interest in the LightSquared bankruptcy has intensified.
NEW YORK (
) -- While Charlie Ergen's wrangling with
Softbank
and
Sprint Nextel
(S) - Get SentinelOne, Inc. Class A Report
has subsided, his interest in the
LightSquared
bankruptcy has intensified.
Ergen-backed
Sound Point Capital Management
has quietly purchased close to $1 billion in LightSquared secured debt over the last year, with acquisitions increasing over recent months.
The
Dish Network
(DISH) - Get DISH Network Corporation Class A Report
chairman's accumulation of debt is at the center of a dispute over LightSquared's exclusive right to file a reorganization plan, which expires in mid-July. Judge Shelley Chapman will hold a status conference on the matter on Wednesday in the U.S. Bankruptcy Court for the Southern District of New York.
A group of investors holding secured debt at LightSquared said in pleadings that the debtor is using Ergen's purchases to get out of its requirements under a February agreement on the debtor's exclusive right to file a reorganization plan. The creditors said LightSquared sent a letter in May stating that the company would not have to comply with the deal, because their group was no longer the largest holder.
The February agreement mandated that the terms would hold only if the secured LP group collectively had the largest position in the $1.7 billion class of debt.
LightSquared said in court filings that Sound Point's trading activity invalidates the agreement, even though Ergen's fund has since joined the secured group. The debtor argued that Ergen's fund gamed the system by arranging debt purchases but neglecting to close the trades, leaving ownership of the debt in limbo and preventing the debtor from negotiating a plan.
"What is shocking, and wholly uncontemplated," LightSquared argued, is that "the closing of trades would be delayed thereby keeping the technical parameters ... from ever being triggered, even though the economics of the situation and reality demonstrated otherwise."
The group of LP debt holders have about $1.3 billion of the $1.7 billion in debt in the class. Sound Point has by far the largest position, with about $820 million in secured debt.
"On June 13, one day before $120 million in hung trades were set to close, which trades would have officially made Sound Point larger than the Ad Hoc Secured Group ..., Sound Point joined the Ad Hoc Secured Group," LightSquared said in pleadings.
Harbinger Capital Partners
, which controls LightSquared, complained in proceedings that the debtor "could not identify a critical mass of LightSquared lenders with which to negotiate," as the mid-July termination of its right to file a plan neared.
Separately, Ergen has made a $2 billion offer for some of LightSquared's assets, court pleadings state. As a holder of much of the company's secured debt, he would essentially be paying himself.
Dish declined to comment on LightSquared, referring queries to Mr. Ergen's counsel, who could not be reached on Monday. Sound Point addressed the issue in correspondence with LightSquared that was included as an exhibit in court filings.
"Our client has no interest in hiding (i) its intentions -- to bid for the company and serve as a stalking horse in an auction or (ii) its investments in the company," Sound Point lawyer Rachel Strickland of
Willkie Farr & Gallagher
wrote in an e-mail to LightSquared's advisers. The lawyer complained that Sound Point itself had been kept in the dark because LightSquared has kept materials about its obligations under seal.
Gamesmanship aside, LightSquared argues that Ergen isn't even allowed to hold the debt. Ergen controls Dish Network and
EchoStar
, two companies that LightSquared's debt terms identify as competitors. The loan prohibits Dish and EchoStar from holding the debt, and LightSquared said Ergen and his private vehicles are also barred.
"Mr. Ergen is not a permissible holder of the prepetition LP obligations and should thus not be able to bind LightSquared to obligations ... to which it is no longer bound," the debtor argued.
Harbinger, led by Philip Falcone, asserted in court pleadings that Sound Point "fraudulently entered LightSquared's capital structure," and that Ergen used Sound Point as a "front" and a "shill."
"Sound Point's misconduct has wrought havoc on the debtor's reorganization efforts," Harbinger stated. "It has created enormous uncertainty and confusion in the marketplace."
LightSquared wants more time to work out a plan, although it did not indicate specific dates in redacted pleadings. The telecom's problems arose in early 2012, when the
Federal Communications Commission
withdrew support for a waiver that would have allowed it to provide wireless broadband services on its spectrum.
LightSquared said it has made a revised proposal to the FCC that would let it use most of its frequencies. A company spokesman declined to give an update on where LightSquared stands with the FCC, or on how much time the telecom wants to formulate a plan.
Ergen, meanwhile, has his own problems. Dish's satellite TV network faces growing challenges from online video. Ergen has been shopping for mobile phone businesses and spectrum that could provide the company with a wireless broadband connection.
The Englewood, Colo., company pursued both Sprint and
Clearwire
(CLWR)
unsuccessfully. Softbank aims to close its $21.6 billion purchase of a 78% stake in Sprint in days, and Clearwire shareholders approved a sale of minority shares to Sprint on Monday. Ergen forced Softbank to pay more for Sprint, and Sprint to pay more for Clearwire. He did not, however, find a wireless business to pair with Dish's satellite TV network.
"It is here where the paths of LightSquared and Mr. Ergen finally converge," LightSquared said in pleadings, "because, in the past few months, it has become increasingly obvious that acquiring LightSquared and its spectrum out of a bankruptcy case has now become Mr. Ergen's primary focus."
In the coming weeks, the battle between Ergen and Falcone for LightSquared's spectrum should only gain visibility.
Written by Chris Nolter