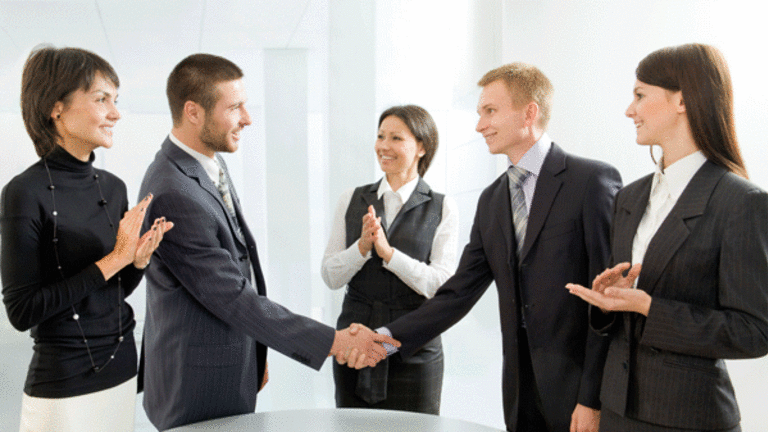 The Deal: Ergen Maintains Pressure on Sprint, Softbank in Clearwire Race
Dish Network CEO Charlie Ergen isn't going anywhere, much to the chagrin of Sprint and softbank.
NEW YORK (
TheDeal
) -- Charlie Ergen's efforts to wedge himself between
Sprint Nextel
(S) - Get SentinelOne, Inc. Class A Report
and
Clearwire
(CLWR)
is gaining traction.
Shares of Clearwire were slipping 0.9% to $4.46 in mid-day trading on Friday, still above
Dish Network
(DISH) - Get DISH Network Corporation Class A Report
's stillstanding $4.40 per share bid for the wholesale broadband provider. Dish said after the close of trading on Thursday that it has begun a tender offer for Clearwire stock.
Also see: Three You Must Watch and Another Coming to Market
Dish's bid, of course, exceeds an offer from Sprint by more than a dollar. So, although it may be difficult for Ergen to wrestle Clearwire away from Sprint, the satellite-TV company may be able to negotiate a partnership with the telecom or gain leverage in a takeover battle with Softbank Corp. for Sprint itself.
Clearwire yesterday postponed its shareholder vote on the Sprint deal to June 13, originally scheduled for May 31. Dish applauded the move, saying that its offer provides "a meaningful alternative to the significant group of Clearwire minority stockholders that remains opposed to the Sprint merger."
Dish's offer values Clearwire's total equity, including Class B shares held by Sprint, at $6.5 billion. Sprint holds a majority of the equity.Clearwire also had $4.2 billion in long-term debt at the close of the most recent quarter and more than $750 million in liabilities from tower and spectrum leases. Including the lease obligations, Dish's bid would value Clearwire's equity, debt and other long-term obligations at about $11.45 billion.
Sprint had valued its deal at $10.7 billion, including minority equity, Sprint's holdings and debt.
Crest Financial Ltd. is the largest of the minority shareholders, with more than 8% of the Class A shares. The Houston firm urged Clearwire's board to hold an "open and competitive bidding process" in a Thursday statement.Sprint owns more than half of the equity.
"We are reviewing DISH's actions both as to our interest in Clearwire and DISH's proposal to acquire Sprint," a spokesman for the telecom said in an e-mail.
Clearwire is integral to Softbank's $20.1 billion pending investment in Sprint.
Also see: Fannie Freddie Seesaw Ride Far From Over
The wireless broadband provider uses 2.5 gigahertz spectrum, the same frequencies that Softbank has used in Japan to deploy long-term evolution, or LTE, wireless broadband. Softbank chairman and CEO Masayoshi Son has made clear that Clearwire is a significant part of Sprint's allure.Sprint had been pushing to complete the Clearwire and Softbank deals by midyear. The telecoms have scheduled a June 12 vote shareholder vote.The Committee on Foreign Investment in the United States cleared Softbank's investment in late May.
The telecoms still require approval from the Federal Communications Commission. Dish has lodged a competing bid to Softbank's takeover of the Overland Park, Kan., telecom.
The satellite TV company has argued that the FCC should suspend the review in light of its bid, "to allow this competitive market process to play out," disclosures filed with the commission states.
Lawyers for Clearwire, Softbank and Sprint met with Commissioner Jessica Rosenworcel in May, according to disclosures posted on the FCC's website on Thursday.
"Delay in approving this pending transaction to wait for Dish's preliminary proposal to 'play out' would be not only unlawful, it would be affirmatively harmful," Softbank counsel Michael Pryor of Dow Lohnes PLLC wrote in a notice, recounting the discussion.
"Delaying the approval of a transaction that is found to be in the public interest so that a potential rival bidder may have time to build support for its proposal puts the Commission's thumb clearly on the scale of the late-arriving bidder," the notice said.
Also see: Three Social Media Stocks Upgraded
BTIG LLC analyst Walter Piecyk has suggested that the Clearwire negotiations have larger implications for Softbank and Sprint.
"Masa has now put himself in a position in which he cannot back away from Sprint and if he doesn't increase the bid for Clearwire he might have to deal with an even more difficult minority shareholder in Ergen than the hedge funds he has been unsuccessfully trying to ignore," Piecyk wrote in a Thursday blog.
"More importantly," he added, "if Masa doesn't figure out how to regain control of the Clearwire process he may have a much harder time convincing Sprint shareholders that his Sprint offer is superior to Ergen's."
Written by Chris Nolter in New York