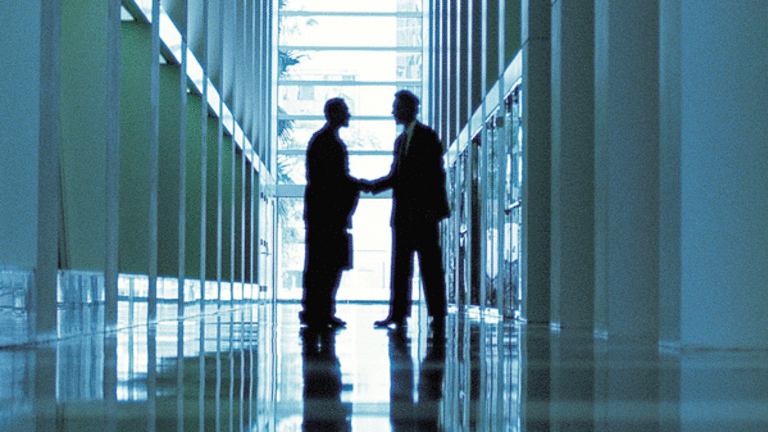 The Deal: eBay Buys Braintree for $800M
Braintree's venture capital-backed automated payment service will complement acquirer's PayPal business.
NEW YORK (
) --
eBay
on Thursday, Sept. 26, said it would buy venture-backed Braintree Payment Solutions LLC for $800 million in a boost to its PayPal payment service.
Chicago-based Braintree automates and manages online payments for merchants, providing services including recurring billing, credit card storage, mobile payments and merchant services. The company's client list includes e-commerce stalwarts
Uber
,
Airbnb
,
LivingSocial
and
OpenTable
.
The company expects to process about $12 billion in payments in 2013 from merchants in 40 countries accepting more than 130 currencies. Braintree also runs Venmo, an application that allows consumers to transfer money to each other via mobile devices.
eBay CEO John Donahoe, in a statement, called Braintree "a perfect fit with PayPal," saying that the target will add to the portfolio of services his company can offer to merchants.
Braintree CEO "Bill Ready and his team add complementary talent and technology that we believe will help accelerate PayPal's global leadership in mobile payments," Donahoe said. "Together, we expect that PayPal and Braintree also will accelerate our leadership in supporting developers who are creating innovative solutions for next-generation commerce start-ups."
PayPal president David Marcus said that with the purchase, "we will accelerate our capabilities for developers, entrepreneurs, merchants and companies that are building the future." Post-deal Braintree will operate as a separate service within PayPal.
The deal also keeps Braintree out of the hands of a rival. Reports had surfaced in recent weeks that the company was on the block, with both PayPal and payment startup Square mentioned as potential buyers.
Braintree was founded in 2007 and has raised about $70 million from investors including New Enterprise Associates and Accel Partners, including a $35 million series B round that was announced in October 2012.
eBay said it expects the deal to close before year's end, and for it to have a negative 1 cent impact to 2013 non-GAAP earnings per share guidance.
Written by Lou Whiteman