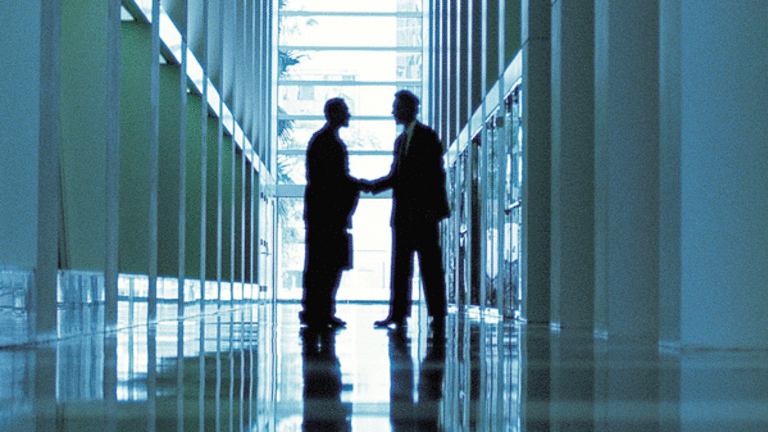 The Deal: DuPont Plans Performance Chemicals Unit Spinoff
Business earned $1.8 billion last year, but growth has been stalled by high raw materials costs.
NEW YORK (The Deal) -- DuPont (DD) said late Thursday, Oct. 24, it intends to spin off its performance chemicals unit to shareholders, joining the push by chemicals giants to shed lower-growth commodity products in favor of more lucrative specialty chemicals.
Wilmington, Del.-based DuPont said that its board has authorized management to spin the performance chemicals segment, which includes titanium technologies and its fluoroproducts businesses, into a new, publicly-traded company.
Post separation, which is expected to take about 18 months, 100% of the new company would be owned by shareholders.
The company said that the unit to be separated generated operating earnings of $1.8 billion on sales of $7 billion last year, but it has been plagued by high raw material costs. DuPont said post-deal its shareholders would own stock of both a high-growth specialty chemicals firm and the spinoff, which will have strong cash flow and powerful market share even if growth may lag.
"This separation will advance the transformation of DuPont and result in two strong, highly competitive companies," DuPont Chair and CEO Ellen Kullman said in a statement. "After separation, DuPont will have the optimum portfolio and will benefit from more consistent earnings growth and lower volatility, enhancing our ability to deliver more sustained growth and invest in future opportunities."
Kullman said she expects the two companies post-separation to pay dividends that combined would equal DuPont's dividend at the time of the split. Post-split DuPont will be focused on agriculture, nutrition, advanced materials and bio-based industrial products.
The announcement came hours after DuPont rival Dow Chemical (DOW) more than doubled its divestiture goal to $3 billion in asset sales by the end of 2014. DuPont and Dow have both in recent years tried to shift their businesses away from petroleum-based products and base chemicals, with Dow acquiring Rohm and Haas for $18.8 billion in 2008 and shedding assets including Morton Salt and various catalyst and polypropylene businesses in the years since.
DuPont, meanwhile, has done deals including its $6.3 billion purchase of Danish food enzyme maker Danisco in 2011, while marking its performance coatings segment for sale.
But not everyone in the industry is focused on divestitures. Kurt Bock, CEO of German chemicals giant BASF, told reporters Friday that his company is not planning any large divestitures or spinoffs.
Evercore and Goldman Sachs Group Inc. are serving as strategic advisers on the separation. A Skadden, Arps, Slate, Meagher & Flom LLP team including partners Brandon Van Dyke, Lou Kling, David Rievman and Regina Olshan is providing legal counsel.
Written by Lou Whiteman