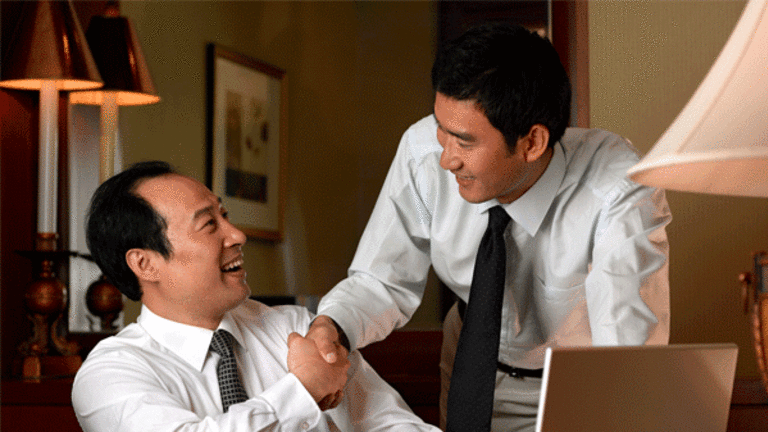 The Deal: Doubt Lingers Over Investor's Support for AsiaInfo Buyout
The buyout of the Beijing-based telecom customer service software maker remains in question because of co-chairman Libin Sun's reservations.
NEW YORK (The Deal) -- AsiaInfo-Linkage (ASIA) filed an amended proxy statement Wednesday regarding its $890 million acquisition by Citic Capital Holdings Ltd., a vehicle part owned by the sovereign investment fund China Investment Corp., showing that its disgruntled co-chairman still opposes the buyout. 
The buyout of the Beijing-based telecom customer service software maker remains somewhat in doubt over support from its co-chairman and largest shareholder Libin Sun, who owns 17.3% of AsiaInfo-Linkage stemming from the 2009 sale of his company Linkage Technologies International Holdings Ltd. to AsiaInfo. 
The deal with Citic, which involves a rollover investment from AsiaInfo co-founder Edward Tian, with 9.3% of the target, and James Ding, AsiaInfo's other co-chairman, with 1.4%, offers $12 per share for AsiaInfo-Linkage. Citic, which began its pursuit of the company in January 2012 following a previous investment relationship, owns 4.5% of AsiaInfo. 
The deal does not require a majority of the minority vote. 
With its approach to AsiaInfo in January 2012, Citic said its interest in acquiring the company hinged on either Tian or Sun participating in the buyout. Citic asked both shareholders to roll equity but did not require that they both did so. Tian agreed to participate in a potential deal. Sun, however, said that he did not intend to partner with Citic and that the deal was financially inadequate and disruptive and that the company should remain independent. Sun told the special committee at the time that he would support a deal even at a higher price because he did not think Citic as an owner could add any value to the AsiaInfo. 
Sun's opinion apparently has not changed. The proxy filing Wednesday with the Securities and Exchange Commission stated that Sun approached AsiaInfo and Citic separately to sell a portion of his shares in the public market under Rule 144 and that restrictions be lifted so that he could do so within a reasonable period of time. Sun also sought to sell some shares to the buyer group for liquidity purposes, but the talks did not address price. At the end of August, Sun informed Citic that he was no longer interested in exploring a share sale but asked Citic to raise the deal price to $13 per share, which would win his commitment to backing the buyout. 
Citic said no, that its price was fair. 
Sun, as a board member, did not vote in favor of the merger. 
In August, Brandes Investment Partners LP, with a 5.2% stake, also complained about the deal price. In a letter filed as a 13D with the SEC, Brandes expressed disappointment that the buyout did not include a majority of the minority vote and requested the special committee reopen that issue. 
CITIC had demanded a majority only vote in early deal negotiations. 
In the letter, Brandes also said the deal price was too low and the financial analysis provided by Goldman, Sachs & Co. was based on assumptions that changed over the protracted deal talks. Brandes said the combination of a high discount rate, a low growth assumption and use of precedent transactions based on cyclically depressed cash flows undervalues the long-term prospects of AsiaInfo. Brandes asked for a price materially above $12, in order to win its support for the deal. 
AsiaInfo shares traded Wednesday for $11.61 at a spread of 39 cents, or 3.3%. If the buyout closes in mid-December that represents an annualized return of about 25%. 
The deal will likely get the vote, an arb said. But China buyouts trade at wider spreads. The downside, if the transaction does not win approval is substantial as AsiaInfo came from about $7.50 prior to the public interest of Citic in January 2012.
Written by Scott Stuart