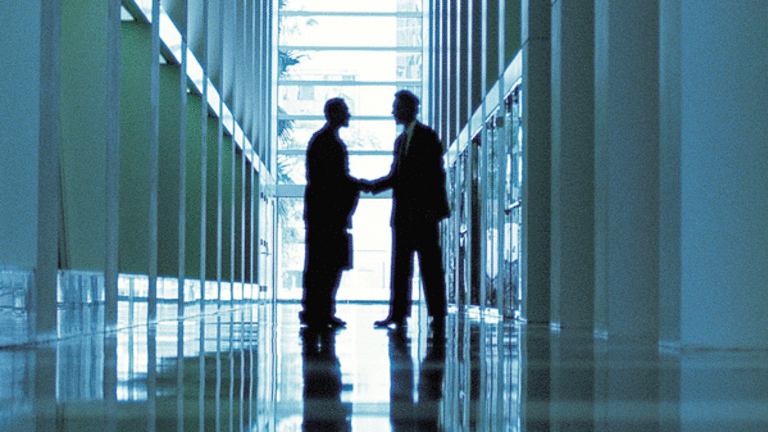 NEW YORK (
) -- Shares of advertising services provider
Digital Generation
(DGIT)
rocketed, Tuesday, Aug. 13, on news that the company would sell its television content delivery business to Spectrum Equity-backed
Extreme Reach
for $485 million.
The price could effectively reach $525 million, if $40 million in working capital at the TV unit that Digital Generation would keep after the transaction is factored in.
Shares of the seller rose $2.38, or 23%, to $12.69 on Tuesday. They were as high as $14.06.After repaying its debts and addressing other potential uses of capital, Digital Generation said it will distribute at least $3 per share to its investors.
When asked about the background of the sale, Digital Generation CEO Neil Nguyen said on a conference call Tuesday morning, that he would "hold back on commenting about the strategic alternatives process" before filing a proxy.
Digital Generation has 14,000 international advertising clients.
The TV unit distributes advertising spots, infomercials and syndicated programs to broadcasters, cable channels and other outlets, among other operations.
Digital Generation also has an online ad campaign management business that will remain with the company following the deal.
The company has made acquisitions to bolster its online business in recent years. It paid nearly $500 million for Israeli digital advertising campaign management company
MediaMind Technologies
in 2011, bought German video advertising outfit
EyeWonder
for $61 million in 2011 and acquired New York web data company
Peer39
, paying $10 million in 2012.Extreme Reach, of Needham, Mass., provides video advertising services for television, web and mobile networks. In addition to Spectrum, its backers include
Village Ventures
,
Greycroft Partners
and
Long River Ventures
.
Digital Generation's Nguyen said the TV sale was "clearly a difficult decision" during the Tuesday call.
Shareholder
Clinton Group
has at times clashed with Digital Generation's board, noting in 2012 that Extreme Reach was reported to be interested in a deal. Digital Generation later reached a deal with Clinton to expand its board.
Another shareholder,
Meruelo Investment Partners
, filed suit in August 2013 in the Delaware Court of Chancery, arguing that the company's directors should have to stand for election.
A representative of Meruelo could not be reached Tuesday regarding the sale.
Digital General will use the proceeds to repay debt, which totaled about $395 million at the end of the second quarter. The company had $56 million in cash at mid-year.
Digital Generation may have to provide Extreme Reach with $40 million to complete the deal. If the company extends the capital, it would receive $45 million in preferred stock.
The investment would have the same terms as Spectrum's $51 million investment in May.Spectrum will invest an additional $47 milllion to fund the purchase.
J.P. Morgan
and
SunTrust Robinson Humphrey
are arranging a $475 million term loan for Extreme Reach.
Digital Generation Chief Financial Officer Craig Holmes described the debt package as "highly confident, best effort-type financing," but said the loan was "not fully committed."
The companies expect to close the deal in the first quarter of 2014.
Written by Chris Nolter.