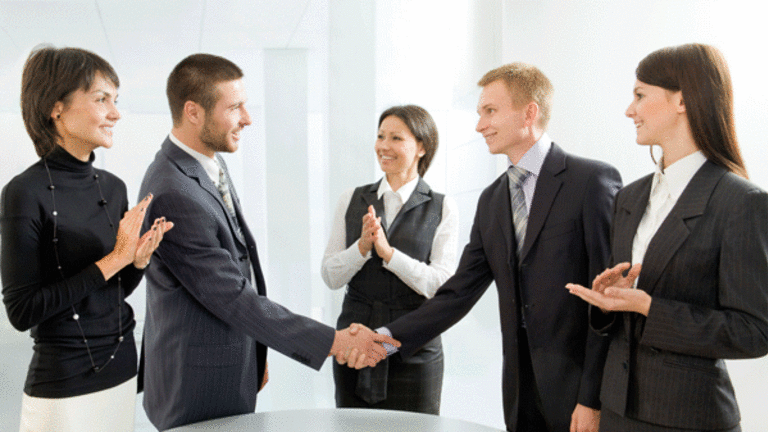 The Deal: Debate Intensifies Over Caesar's Parental Guarantee
Despite the restructuring initiatives under way, talk gets louder about the casino company removing that cover for its debt-laden operating unit as a precursor to a possible bankruptcy filing by the latter.
NEW YORK (The Deal) -- The debate surrounding private-equity-backed casino titanCaesars Entertainment's (CZR) - Get Caesars Entertainment Inc. Reportstrategy for restructuring its $23.8 billion in debt has intensified even as the company has a number of initiatives under way.
One hedge fund investor in Caesars' debt said by phone that he's hearing chatter that the Las Vegas-based company's New York PE firm Apollo Global Management LLC may be interested in removing the Caesars Operating Co. subsidiary's guarantee from the parent company, Caesars Entertainment, in 2014.
The investor, who didn't want to be named, said such a maneuver may sound obscure, but a removal of the parental guarantee would signal that Caesars wants to deal with the operating subsidiary's debt in a bankruptcy court.
Without a guarantee from Caesars Entertainment, the OpCo subsidiary would be powerless to take value out of the parent company during bankruptcy proceedings, the investor said. The assets of the parent and its healthier subsidiaries would be protected, and Apollo's equity would be safe -- or so the theory goes.
Creditsights Inc. analyst Chris Snow acknowledged in a Wednesday interview the possibility of an OpCo bankruptcy filing, but he made his case for an out-of-court distressed-debt exchange instead.
Snow argued that a bankruptcy that tried to "ring-fence" OpCo and protect Caesars' healthier assets wouldn't be "as clean as many people are thinking in the market."
For one thing, the branding and the popular Total Rewards program are both done at the OpCo level, and Snow fears that a bankruptcy process could disrupt the other subsidiaries' access to those assets -- an unattractive proposition.
Furthermore, the shared-service agreements between OpCo and other Caesars' subsidiaries might prove difficult to untangle, Snow said.
OpCo's sale of assets to healthier subsidiaries at fair value could raise concerns about fraudulent conveyance if the subsidiary files for bankruptcy, he added.
While Snow said he feels an OpCo bankruptcy is a possibility, he also said he believes Caesars' PE owners may keep trying to find an out-of-court solution to avoid the aforementioned complications.
"They say Apollo are (sic) the best capital structure guys in the business, and this [restructuring process] is an example," Snow said, praising the firm's incremental refinancing as good damage control on a poorly timed leveraged buyout. "It's pretty amazing what they've accomplished so far."
The hedge fund investor remains incredulous at the thought of an out-of-court solution.
"Anyone who's under the delusion that [OpCo] is anything other than terminal is missing the point," said the hedge fund investor, who asked that his name not be used.
In that investor's opinion, it's just a matter of timing, of waiting until the valuation of OpCo's debt is low enough. A distressed-debt exchange is certainly a solid possibility, but the investor said he believes it would have to be followed by a bankruptcy filing to take care of any holdouts who weren't willing to take a deal.
The contingent of basis traders -- investors who balance out their debt investments with credit default swaps -- in Caesars' capital structure makes a consensual resolution less likely, the investor said.
One thing crucial to an OpCo bankruptcy filing would be removing the parental guarantee. That's because if one class of OpCo debt that has a parental guarantee loses it, everyone loses it.
The hedge fund investor said he believes Caesars already has the means to ditch the guarantee. The Caesars Growth Venture Partners subsidiary holds $1.1 billion of a $1.9 billion chunk of legacy OpCo notes that hold the parent guarantee. Those notes only require a simple majority to change their indenture. If Caesars, as the majority bondholder, could arrange a vote to change the indenture and get rid of the parent guarantee, the hedge fund investor said he believes it could be that simple.
The notes in question are the 5.625% notes due 2015; the 6.5% notes due 2016; and the 5.75% notes due 2017.
Alternatively, if OpCo were no longer a wholly owned Caesars subsidiary, Caesars could ditch the parent guarantee. Apollo could buy 10% of OpCo and that would do the job.
Many variables are in play, and the outcome is still uncertain. As Creditsights said in an Oct. 30 report, "The capital structure is complicated and at the mercy of the motivations and intentions of the [private equity] sponsors."
Caesars reported a net loss of $637.5 million for the third quarter on Oct. 29, wider than a net loss of $505 million for the third quarter of 2012.
Caesars executives during an Oct. 29 earnings call touted various initiatives to raise capital and improve the capital structure over the past two months. They pointed to the refinancing of about $4.65 billion in commercial mortgage-backed securities and mezzanine debt completed this month, a September equity offering of 10 million shares that raised $200 million, the sale of a Macau golf course for $420 million and a rights offering for Caesars Acquisition Co., which is expected to close on Nov. 18.
Based on what the hedge fund investor is hearing, however, investors seem to be less enthralled with these initiatives, even as they progress successfully, and more focused on the possible bankruptcy scenario.
Caesars reported $23.8 billion in debt and $1.7 billion in cash and cash equivalents, not counting restricted cash, at Sept. 30.
Creditsights estimated the company's liquidity at $1.9 billion.
Caesars reported assets of $26.09 billion and liabilities of $27.59 billion at Sept. 30.
Apollo bought a 70% stake in Caesars along with TPG Capital in 2008 for $30.7 billion.
Caesars is listed on Nasdaq under the symbol CZR. Its shares were trading at $17.42 on Wednesday, down 5.33% for the day in the wake of Wednesday's earnings call, with a market capitalization of $2.2 billion.
By Lisa Allen