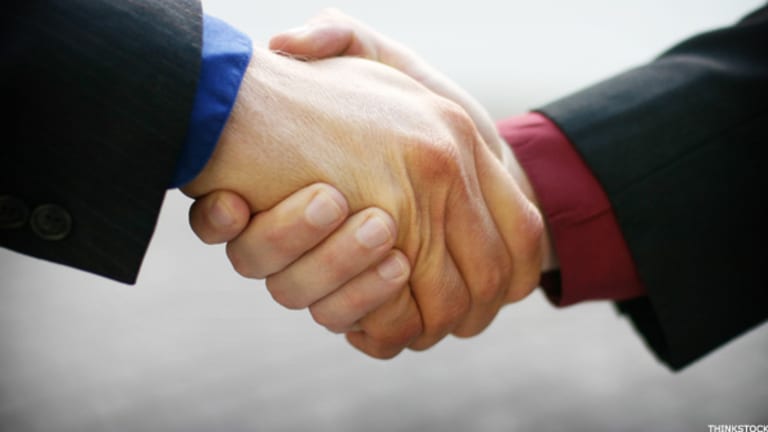 The Deal: Crown Castle Locks-up Prime Wireless Portfolio
Crown Castle's $4.8 billion purchase of AT&T towers removes a highly-sought set of properties from the wireless infrastructure market.
NEW YORK (TheStreet) -- Crown Castle International Inc.'s $4.85 billion purchase of rights to 9,700 communications towers from AT&T Inc. will remove one of the prime asset portfolios from the wireless infrastructure market.
It may also lead to an increased focus in overseas dealmaking for tower companies, and could provide an incremental boost for AT&T's pursuit of international assets.
Crown Castle CEO Benjamin Moreland said that the U.S. presents "the most compelling risk-adjusted returns" in the tower market, during a Monday, Oct. 21, investor call. Purchasing AT&T's towers will boost Crown Castle's holdings in the top 100 markets as telecoms increase spending on 4G wireless network deployments.
Houston-based Crown Castle is buying the rights to 9,700 towers for 28 years. When the term of the agreement expires, the company will have the option to buy them outright for $4.2 billion. The sale will diminish the pipeline of domestic tower assets.
Chicago carrier U.S. Cellular Corp., which has sold spectrum and other assets in recent years, owns 4,400 towers. However, Crown Castle, American Tower Corp. and SBA Corp. may have to look elsewhere to expand their holdings.
Wells Fargo Securities LLC analyst Jennifer Fritzsche described the AT&T towers as "likely the last U.S. carrier deal of significant size to be done in the U.S. for quite some time," in a Monday note. Crown Castle said Monday it will offer 36 million shares of common stock and 7.5 million shares of series A preferred stock to fund the acquisition.
Evercore's Jonathan Schildkraut noted that if Crown Castle priced the shares around Friday's close of $75.96, it could maintain leverage of roughly 6 times Ebitda following the deal with AT&T.
There may be greater appetite for Crown Castle's shares after its surprise announcement in September that it would speed up its conversion to a REIT.
"Certainly, since September, we've had a number of conversations with REIT investors as we put out our announcement we intended to convert," CFO Jay Brown said during Monday's investor call.
The sale to Crown Castle comes as AT&T looks to international markets for growth, perhaps targeting Vodafone Group plc. The cash that AT&T is picking up from the Crown Castle tower sale would cover a fraction of Vodafone's price. Moody's Investors Service estimates that AT&T would have to pay $115 billion or more for the U.K. carrier's equity alone, not counting the assumption of debt.
Kevin Smithen of Macquarie Capital suggested in a Monday note that AT&T would use the proceeds for acquisitions or for share buybacks.
"We would expect the company to step up its share repurchase to try and prop up the shares ahead of a potential [Vodafone] acquisition in May," Smithen wrote. The analyst suggested that AT&T could purchase 140 million shares before Verizon Communications Inc. can close the purchase of Vodafone's minority stake in Verizon Wireless.
Crown Castle has a history of buying towers from carriers. It bought rights to roughly 7,100 towers from T-Mobile USA Inc. for $2.4 billion last year. From 1999 to 2000, it purchased about 7,500 towers collectively in a series of transactions with former carriers Bell South, Bell Atlantic and Powertel Inc.
Wells Fargo's Fritzsche put the price at 19.4 times tower cash flow, compared to the 18.5 times tower cash flow that American Tower paid in its $4.8 billion purchase of Global Tower Partners, which has funding from Macquarie Infrastructure Partners, Dutch pension fund manager PGGM and company management.
--By Chris Nolter in New York.