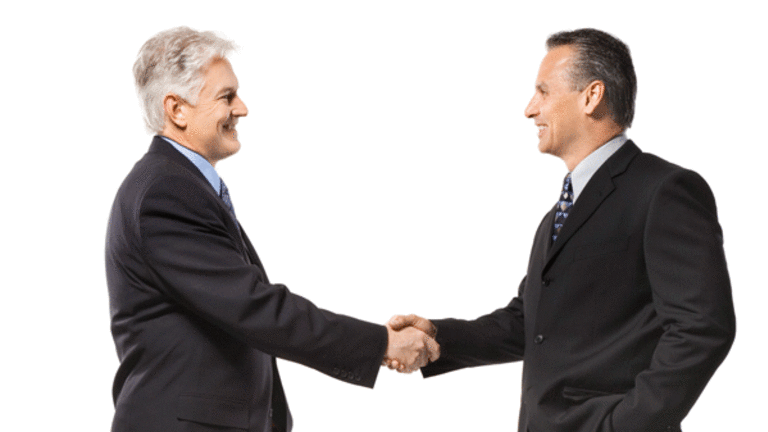 The Deal: Crown Castle Falls on Deal for AT&T Cell Towers
Crown Castle was dropping in mid-day trading after agreeing to a $4.85 billion agreement to operator AT&T's 9,700 cellular towers.
NEW YORK (TheStreet) -- Crown Castle (CCI)  was falling in Monday trading after agreeing to a $4.85 billion agreement to operate AT&T Inc.'s 9,700 cellular towers. The purchase boosts Crown's portfolio by one-third as consolidation within cellular-tower market nears its conclusion.
Shares of Crown Castle were falling 2.8% to $73.83 in mid-day trading.

Crown Castle, of Houston, said the deal includes the outright purchase of 600 AT&T towers and that it would bring it between $245 million and $255 million in adjusted funds from operation per year. It has the right to buy the remaining 9,100 towers for $4.2 billion after 28 years.
"Consistent with our focus on the top 100 U.S. markets, nearly half of the AT&T towers are located in the top 50 markets, where we expect the majority of network densification and upgrade activity to occur," said Crown Castle President and CEO Ben Moreland in a statement.
It's the second big purchase of towers by Crown Castle in a year and the second big deal in the sector in about a month. The company in September 2012 agreed to operate T-Mobile USA Inc.'s 7,200 towers in a $2.4 billion, 28-year agreement.
Last month, American Tower (AMT)  announced a $4.8 billion acquisition of rival MIP Tower Holdings LLC from backers Macquarie Infrastructure Partners, Dutch pension fund manager PGGM and the target's management. That agreement covers 5,400 cellular towers.
Crown Castle said AT&T, of Dallas, signed a 10-year lease agreement to house its equipment on the towers at about $1,900 per month per tower, with 2% rent increases per year. AT&T will also have access to excess capacity on the towers for upgrading its equipment.
"This deal will let us monetize our towers while giving us the ability to add capacity as we need it. And we'll get additional financial flexibility to continue to invest in our business, maintain a strong balance sheet and return value to our shareholders," said AT&T's Bill Hogg, who is senior vice president at the company's network planning and engineering unit, in a statement.
The broadcast masts currently have plenty of room for expansion, Crown Castle said, as they average 1.7 tenants per tower. The company accelerated a conversion into a Real Estate Investment Trust to give it better access to financial markets ahead of the purchase.
On Sunday it also released third-quarter results that showed net income rose 9% to $45.8 million on a 21% revenue increase to $749 million. It will also start paying a quarterly dividend of 35 cents, starting in 2014. Crown Castle expects to close the deal by year-end. It is the largest towers operator in the U.S. with 40,000 cellular masts. Rival American Tower, of Boston, has about 15,200 in the country.
AT&T turned to TAP Advisors LLC and JPMorgan Chase & Co. for financial advice with Sullivan & Cromwell LLP and Bryan Cave LLP providing counsel. A Cravath, Swaine & Moore LLP team including Stephen L. Burns, Erik R. Tavzel, Johnny G. Skumpija, Benjamin C. Hewitt and Curtis R. Weber acted as counsel to Crown Castle.
--By Andrew Bulkeley in New York.