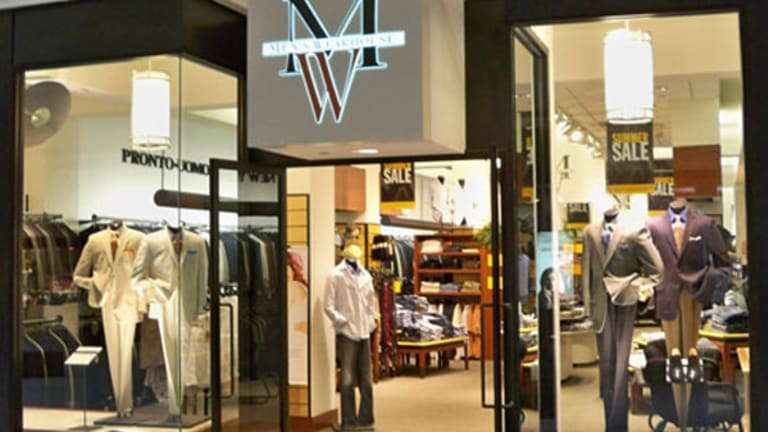 Publish date:
The Deal: Catch the Men's Wearhouse Sale Before Its Board Does
Men's Wearhouse could have inadvertently hung a "for sale" sign on its front door.
Men's Wearhouse could have inadvertently hung a "for sale" sign on its front door.
NEW YORK (
) -
Men's Wearhouse Inc.
(MW)
could have inadvertently hung a "for sale" sign on its front door.
That's because the Houston-based clothing retailer took the unusual step of releasing a statement on Tuesday claiming that the reason it fired co-founder George Zimmer as chairman was because he wanted to sell the company to a group of private equity investors.
Men's Wearhouse's board claimed such a sale would be too risky, considering the debt that the company would be leveraged with to finance a deal.
"Mr. Zimmer reversed his long-standing position against taking the company private by arguing for a sale of the Men's Wearhouse to an investment group," the board said in the statement, and then went on to laud chief executive Doug Ewert's strategic plan and the company's "experienced management team."
"The board strongly believes that such a transaction would be highly risky for our employees and would threaten our company culture that is so important to all of us," the statement added.
In a statement issued late Wednesday, Zimmer said he merely wanted the board to explore the full range of strategic alternatives, including a take-private transaction. But he said that at this stage he was unsure if a leveraged buyout was in the best interest of the company.
Zimmer said he felt it was the board's duty to consider the full range of possibilities toward creating more value for shareholders. He criticized the board for rejecting the possibility of a sale without even consulting its financial advisers.
Opposing a sale would give the board leverage if Zimmer were able to find private equity partners willing to make an offer for the company, and leverage may be needed as the company is vulnerable to a buyout.
Despite the "unprecedented" way that the board chose to unveil its differences with its chairman,
Belus Capital Advisors
CEO and chief equities strategist Brian Sozzi believes there may still be a rapprochement.
Yet with the "for sale" sign waved in front of eager investors, it could be difficult for the board, which has already hired an adviser to shop one of the retailer's units, to put the cat back in the shopping bag.
Men's Wearhouse's stock closed up $2.00, or 5.69%, Tuesday at $37.13 per share, indicating that shareholders were more excited than not by the scenario outlined by the board, no matter how much it protested it didn't want to follow it. The stock was relatively flat Wednesday, closing up less than 1%.
The situation, for private equity, has all the right ingredients. An ousted but experienced executive and company founder who owns a stake and supports a sale, a company in turmoil, a low valuation in terms of multiple of EBITDA, no debt and an investment bank already in the process of conducting a strategic review of one of its retail units.
As of May 4, Men's Wearhouse had cash and cash equivalents of $155 million and no long-term debt, according to its 10-Q filed on June 13 with the
Securities and Exchange Commission
, and a market capitalization of $1.87 billion, giving it an enterprise value of about $1.7 billion. For the 12 months ended May 4, it had Ebitda of $325 million, meaning the company had a valuation multiple of nearly 5.3 times.
Comparable valuations for take-private transactions in the retail sector include
True Religion Apparel Inc.
(TRLG)
, acquired by
TowerBrook Capital Partners LP
for $835 million, at a multiple of about 7 times EBITDA, and
Hot Topic Inc.
, acquired by
Sycamore Partners LLC
for $600 million, or nearly 8.6 times EBITDA. When
Ascena Retail Group Inc.
(ASNA) - Get Report
acquired
Charming Shoppes Inc.
for $890 million in cash on May 2, 2012, it paid about 9.8 times EBITDA.
For the quarter ended May 4, comparable store sales were up 1.6% for the company's Men's Wearhouse and Tux retail units, while for its K&G unit, comparable store sales were down 6.7%. Total net sales for the whole company were up 5.1% for the quarter to nearly $617 million from almost $587 million for the same period a year earlier, and net earnings grew about 22% to $33 million from $27 million over the same period.
Men's Wearhouse said March 14 it had hired financial adviser
Jefferies LLC
to review its retail business K&G, a move that could lead to a sale of the unit, which has been a drag on the company's earnings.
This ostensibly gave the company another reason for parting ways with Zimmer: Supposedly he opposed the sale of K&G, believing it still had long-term viability.
That all put the board in a difficult position, Sozzi said, having to choose between current management led by CEO Ewert and the company's founder and chairman Zimmer.
Where the situation enters stranger territory is the undiplomatic way in which the board treated its founder, Sozzi said, but given the disclosures about the head-butting over K&G, it is a situation that apparently has been festering for months.
According to the board, Zimmer also wanted veto power over major corporate decisions, including executive compensation, which the board claimed forced them to choose between either granting Zimmer full control or terminating him.
The board said in a statement, "While Mr. Zimmer owns 3.5% of the stock, it is our obligation to represent the interests of all shareholders. Mr. Zimmer had difficulty accepting the fact that Men's Wearhouse is a public company with an independent Board of Directors and that he has not been the Chief Executive Officer for two years."
Sozzi said it was likely the board was pressured by shareholders to disclose the reasons it booted Zimmer, so as to be assured it was not for reasons that could have a material impact.
The issue for private equity, he said, would be one of growth: The company relies heavily on promotions and lacks a kind of "wow" factor, or ability to bring in the young consumer.
Yet, Sozzi acknowledged there were things private equity could bring to the table with an infusion of cash through leverage, such as taking over the business suit section in a major department store like
Macy's Inc.
(M) - Get Report
, building shop-in-shops or investing in technology to help the company update its e-commerce site or better manage inventory.
In the end, Sozzi said he thought this could turn out to be a situation like at
Best Buy Co.
(BBY) - Get Report
, where, eventually, everyone backed down from their rhetoric and founder Dick Schulze returned with an honorary title and two board seats.
Back down, perhaps, but since Zimmer apparently already made his pitch to an investment group, private equity may also end up with a seat at the sale table.
Written by Richard Collings