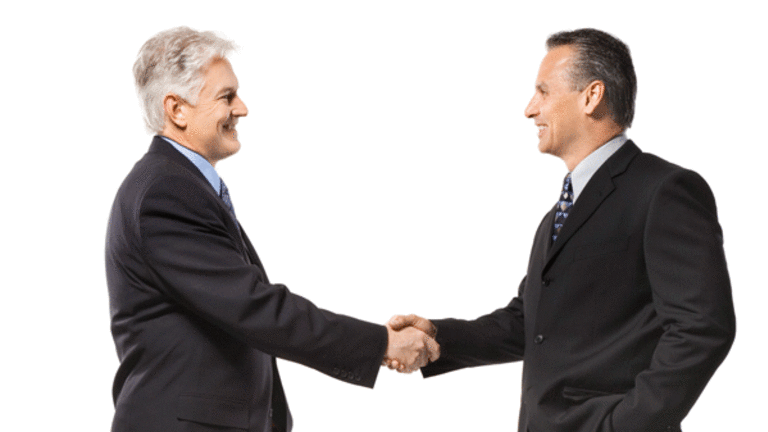 The Deal: Beating Murdoch on His Home Turf
The media mogul is supposed to know and value newspapers, but in the complex deal for Dow Jones Local Media, Newcastle came out on top.
The media mogul is supposed to know and value newspapers, but in the complex deal for Dow Jones Local Media, Newcastle came out on top.
NEW YORK (
) -- Some M&A maneuvers are so complicated they obscure the details of any one transaction. And that's very much the case these days with a three-step deal that
Newcastle Investment
(NCT)
is putting together.
Step 1: Newcastle, an affiliate of
Fortress Investment Group
acquires
Dow Jones Local Media Group
for $82 million. Step 2: Newcastle restructures debt-funded
GateHouse Media
,which is also a Fortress affiliate, through a prepackaged bankruptcy. Step 3: Newcastle spins off a new entity that combines a post-bankrupt GateHouse with Dow Jones Local Media Group.
The spunoff entity, to be named New Media, is expected to be 60% owned by Newcastle -- a majority the company plans to obtain through its conversion into equity of more than half of GateHouse's $1.2 billion in debt and through its donation of $54 million in Dow Jones Local Media Group equity. Then, from the free cash flow generated by its hyperlocal media operations in more than 400 communities, New Media starts paying 20% dividends.
That's the plan, anyway, as presented by Newcastle during a conference call earlier this month. It's a good plan, too, except that its many moving parts give short shrift to the terms by which Newcastle secured Dow Jones Local Media Group from Rupert Murdoch's
News Corp.
(NWSA) - Get Report
Murdoch is supposed to know and value newspapers, but in this case Newcastle clearly got the better of him.
Never mind that on announcing the sale, but before its terms were disclosed, Murdoch lieutenant and News Corp. CEO Robert Thomson called the jettisoned properties no longer "strategically consistent with the emerging portfolio of the new News." Thomson's declared motivation for selling detracts not at all from Newcastle's walking off with Dow Jones Local Media Group's 33 publications for a nominal EBITDA multiple of 3.4 and, once $33 million in third-party appraised real estate is removed from the transaction, for an effective EBTIDA multiple of 2.0.
Although this multiple drops even lower (to 1.6, to be precise) after consideration of $10 million in already identified cost reductions, let's overlook such synergies for now and defer instead to Newcastle chairman Wes Edens. "We paid roughly $50 million for an asset that we think is going to produce $25 million in cash flow next year," he said during the conference call about his company's acquisition of Dow Jones Local Media Group. "So maybe not the growthiest asset in the world ... but $50 million for $25 million in this market we think is a tremendous asset."
What's more, it's an M&A feat Edens believes Newcastle's spunoff New Media will be able to repeat time and again. There's a promising deal pipeline, he explained, consisting of hyperlocal media assets that "used to trade at 10 times, 12 times" but can be bought today for Ebitda multiples between 2 and 3 times. And by scooping up as many of them a war chest of up to $1 billion will allow, Edens said, "we can generate a lot of growth and hopefully double the earnings of the company over the next couple of years."
Central to New Media's business plan is the stabilization experienced by local-media businesses in recent years. As an example, Newcastle cited GateHouse's adjusted EBITDA, which between 2009 and 2012 wavered between a narrow range between $87 million and $98 million.
Equally important to the plan is the success of local media in diversifying their revenue mix. A study of community newspapers, commissioned by the National Newspaper Association, shows that 35% of their total revenue came from nonadvertising sources in 2012, whereas only 18% did in 2005. Worth noting, in this regard, is Newcastle's observation that Dow Jones Local Media Group's digital revenue was more than 50% below the industry's norm.
Then, too, New Media will possess what Newcastle expects to be a highly profitable secret sauce. It's called Propel Marketing, a provider of digital services that GateHouse launched in-house two years ago. Plans call for New Media's vast sales force to use Propel to bring as many hyperlocal media customers as they can up to digital speed.
"When you think about the small mom and pops out there," GateHouse CEO Michael Reed said during the conference call, "they don't have IT departments, they don't have big marketing departments and they don't have the sophistication level to really understand and navigate through this new environment." And so it will be the goal of New Media to render Propel, in Reed's words, "the outsource marketing and IT department" of every small- and medium-sized business in each community New Media serves. A lofty vision, to be sure, especially for a legacy print company that has yet to exit its bankruptcy or even embark on its spin.
--
Written by Richard Morgan in New York