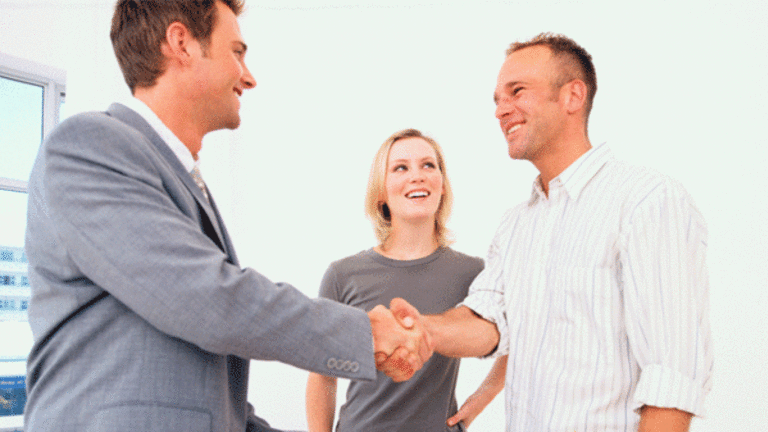 The Deal: Banks Return to M&A
Deal activity at U.S. institutions -- which have purged themselves of toxic assets more quickly than European peers -- hits a three-year high.
By Jane Searle
NEW YORK (
) -- Deal activity in the American banking sector is at its highest level in nearly three years, a stark contrast to the global scene, where sector M&A has hit lows not seen since the credit crisis.
For the year to date, there have been 274 bank deals in the U.S., a lift on the prior two years and on par with deal numbers for 2010, according to Dealogic. Globally, bank M&A, at 704 deals for the year to date, is at its lowest level since 2008, when 694 deals were struck.
A stricter regulatory and sluggish economic backdrop has challenged all banks, though U.S. institutions overhauled balance sheets and purged themselves of toxic assets more quickly than their European peers.
"A lot of
U.S. banks have seen their stock rise, which gives them a strong currency to buy things when it's a challenging environment to grow revenue and get earnings per share growth," Keefe, Bruyette & Woods associate, Nishil Patel, said. He added that between $5 billion and $10 billion was the "sweet spot" for domestic bank M&A. If banks exceed this size through acquisition, they lose the ability to use Trust Preferred Securities as Tier 1 capital.
While the number of U.S. deals is up, total deal value at $10.38 billion is at its lowest point in nearly three years, as regulation makes it difficult to strike large deals. Banks also face more punitive capital and regulatory hurdles if they exceed certain size thresholds, prompting them to carefully weigh the merits of a deal.
The largest U.S. bank deal for the year to date is
PacWest Bancorp's
(PACW) - Get PacWest Bancorp Report
$2.36 billion acquisition of CapitalSource, in July, highlighting the concentration of activity at the mid-tier asset level. Both 2010 and 2011 saw strategic deals top the list:
Capital One Financial's
(COF) - Get Capital One Financial Corporation Report
$8.9 billion purchase of ING Direct USA led in 2011; while
Bank of Montreal
(BMO) - Get Bank Of Montreal Report
scooped up Marshall & Ilsley for $4.3 billion in 2010.
Deal values during the credit crisis were skewed by transformative survival deals such as
Bank of America's
(BAC) - Get Bank of America Corporation Report
$18.5 billion acquisition of Merrill Lynch.
By contrast, European bank deals are still dominated by government and state bailouts. Greece's bank rescue fund -- the Hellenic Financial Stability Fund -- has led three of the largest European bank "deals" for the year to date, taking majority stakes in the National Bank of Greece SA, Piraeus Bank SA and Eurobank Ergasias SA for a collective $28.28 billion.
Many smaller European banks struggling to fund themselves though larger peers such as
UniCredit SpA
,
Banco Santander SA
,
BBVA Compass Bank
and
Intesa Sanpaolo SpA
can access wholesale funding markets. The largest global bank deal that does not involve a bailout for the year to date has been Japan's
Mitsubishi UFJ Financial Group's
(MTU)
$5.7 billion purchase of a 75% stake in Indonesia's Bank of Ayudhya.
Separately, many U.S.-based banks labeled systemically important have watched their legal costs mount.
JPMorgan Chase
(JPM) - Get JP Morgan Chase & Co. Report
has the highest legal costs above its reserves, at around $6.8 billion, according to Barclays plc's estimates.
Regulators are investigating the bank's handling of its "London whale" trading scandal, while other claims against JPMorgan include its alleged deception concerning the quality of mortgages it sold during the credit crisis, its manipulation of energy trading markets and its hiring practices in China.
Citigroup
(C) - Get Citigroup Inc. Report
faces legal costs of around $5 billion, followed by Bank of America Merrill Lynch, with liabilities of $2.8 billion.