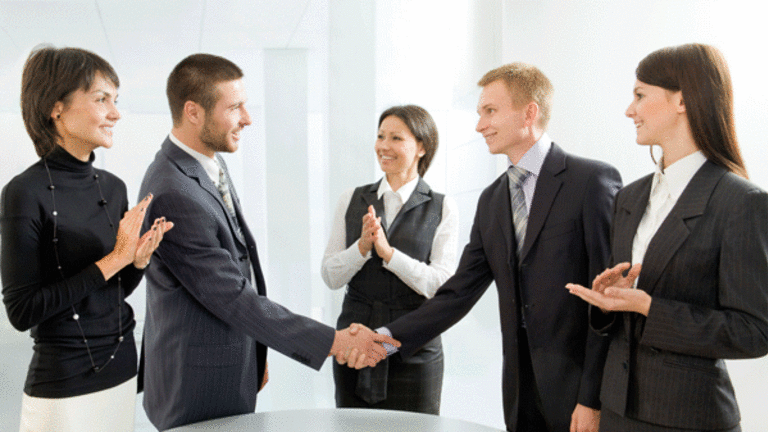 The Deal: AT&T Says No Plans for Vodafone Bid
AT&T T says it has no plans to make an offer for U.K. rival Vodafone Group but didn't entirely close the door on an approach.
LONDON (The Deal) -- Amid persistent speculation, AT&T (T) - Get AT&T Inc. Report on Monday, Jan. 27, said it has no plans to make an offer for U.K. rival Vodafone Group (VOD) - Get Vodafone Group Plc Report but didn't entirely close the door on an approach.
"At the request of the U.K. Takeover Panel, AT&T confirms that it does not intend to make an offer for Vodafone. Accordingly, AT&T is bound by the restrictions under Rule 2.8 of the U.K. Takeover Code," the Dallas company said.
Outlets including Sky News said AT&T CEO Randall Stephenson had met with European Commission Vice President Nellie Kroes to discuss the possible regulatory response to moves including a Vodafone bid. The article was one of a series to link AT&T and Vodafone as the once-monopoly provider begins to look outside the U.S. for growth.
The Takeover Code rule referenced in the statement now prohibits AT&T from bidding for Vodafone within six months under most circumstances but AT&T could make an offer if another suitor appears. Most reports said AT&T was months away from a formal approach anyway and Monday's statement won't therefore necessarily kill speculation. Kroes, who is the EU's digital commissioner, and Stephenson reportedly met while in Davos for the World Economic Forum.
Vodafone shares tumbled 5.4% in late morning trade following the announcement. The stock slid 12.50 pence to 220.05 pence, valuing Vodafone at 104.7 billion pounds ($172.95 billion).
Vodafone's nine-figure market cap would make any deal difficult for AT&T, which has a slightly lower - albeit also nine-figure - valuation.
Analysts have said a takeover would certainly give AT&T international heft but would also saddle it with problematic Vodafone businesses in southern Europe with little leeway for extra investment.
Speculation has also seen AT&T bidding for other European rivals including Telecom Italia, now under the control of Spain's Telefonica SA, and the Everything Everywhere U.K. cellular venture of Deutsche Telekom AG andOrange SA. Although the duo last week called off an initial public offering of the business, they've made it clear they want to unload it at some point.
Telecommunications and media companies around the world are writing checks to keep up as the line between the Internet, entertainment and cellular service blurs. Companies want to be able to offer customers traditional and cellular phone service as well as broadband Internet and entertainment content - on any device, anywhere.
Europe has become an unexpected department store for those on the prowl - Mexico's America Movil SAB de CVtried unsuccessfully to buy the Netherlands' Royal KPN NV after picking up a minority stake in the target as well asTelekom Austria AG. In October, Brazil'sOi SA, that country's third-largest cellphone provider, agreed to buyPortugal Telecom SGPS SA in exchange for 38% of the enlarged group.
And Englewood, Colo.-based Liberty Global (LBTYA) - Get Liberty Global Plc Class A ReportMonday unveiled a 6.9 billion euros ($9.5 billion) agreement for Dutch cable provider Ziggoas it continues a European buying tear.
Vodafone itself is looking to plug holes in its portfolio and regional coverage after pocketing $130 billion by selling its minority stake in Verizon Wireless. Much of the cash will go to investors but the company is mulling an offer for Spanish cable company Grupo Corporativo ONO SA, Bloomberg reported Monday.
Vodafone refused to comment on the speculation. ONO's private equity owners - Thomas H. Lee Partners LP,Providence Equity Partners LLC and CCMP Capital LLC - are currently preparing to list the company after buying in during a 2005 capital increase.
Led by CEO Vittorio Colao, Vodafone recently paid 7.7 billion euros for German cable company Kabel Deutschland Holding. Two years ago, he bought both Cable & Wireless Worldwide in the U.K. and the New Zealand operations of Telstra Corp.