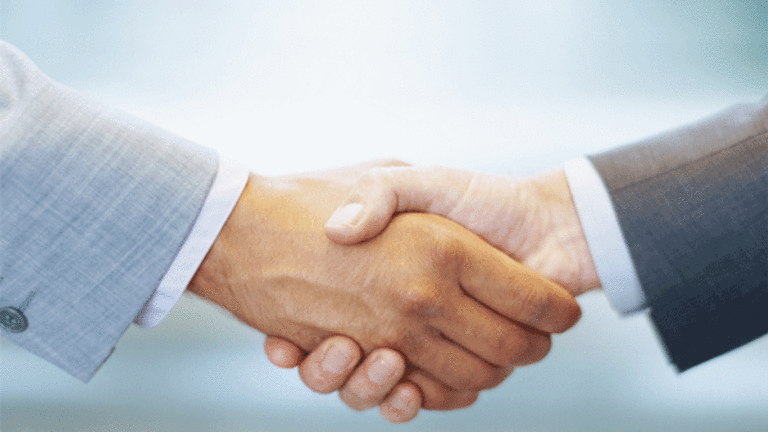 The Deal: Assured Guaranty to Insure Even More Municipals
After getting sucked into major municipal bankruptcies, bond insurer Assured Guaranty made a bold move Monday, starting a new subsidiary to underwrite the risk of even more municipal bonds.
After getting sucked into major municipal bankruptcies, bond insurer Assured Guaranty made a bold move Monday, starting a new subsidiary to underwrite the risk of even more municipal bonds.
NEW YORK (
) -- After getting sucked into major municipal bankruptcies that include the City of Detroit, the City of Stockton, Calif., Jefferson County, Ala., and the City of Harrisburg, Pa., bond insurer
Assured Guaranty
(AGO) - Get Report
made a bold move Monday, announcing that it has started a new subsidiary to underwrite the risk of even more municipal bonds.
Some observers believe these bankruptcies will make municipal bond insurance look all the more attractive to bond investors, increasing demand for their products.
"It's somewhat ironic, but the situation in Detroit could end up being a positive for Assured Guaranty and
fellow bond insurer
MBIA
(MBI) - Get Report
," said BTIG LLC analyst Mark Palmer. "The events in Detroit have confirmed the value proposition associated with bond insurance."
On July 22, Assured opened a new subsidiary,
Municipal Assurance Corp.
, that will focus exclusively on U.S. municipal bonds.The new subsidiary is jointly owned by the insurer's existing municipal subsidiary,
Assured Guaranty Municipal Corp.
, and Assured Guaranty Corp. MAC's parent subsidiaries gave it $1.5 billion of claims-paying resources and capitalized it with $800 million in cash and securities.
The parent subsidiaries also gave MAC some of their existing business. MAC will focus on healthy bonds, leaving the riskier plays to Assured Guaranty Municipal.
Standard & Poor's Ratings Services gave MAC a rating of AA-, while brand-new Kroll Bond Rating Agency pegged it at AA+.
It remains to be seen how Detroit's bankruptcy will affect the insurers of its bonds, although sources expect that the bankruptcy court will treat them more favorably than Emergency Manager Kevyn Orr did in his scuttled June 14 restructuring plan.
Orr's plan took the unusual step of classifying Detroit's general obligation bonds, which are generally viewed as extremely safe since they are backed by a pledge of city revenue streams, as unsecured debt.
"Detroit's default and restructuring plan are credit negative for bond insurers," Moody's Ratings Service trumpeted in a June 24 report, citing the plan's unusual credit structure that would give holders of general obligation bonds a big haircut -- which bond insurers would be expected to make up.
Still, the public finance industry is watching Detroit's treatment of general obligation bonds in the bankruptcy process very closely. If Orr continues his campaign to subordinate them, and if that became an acceptable precedent, muni bond investors and insurers would be hit hard.
However, BTIG's Palmer believes Orr's restructuring plan was a romantic gesture that will be cast quickly aside in the bankruptcy process.
"If
subordinating general obligation bonds to unsecured status were to become a precedent, then that would be a concern," he said. "Frankly, it appears to us that Kevyn Orr intended to put Detroit in bankruptcy from the get-go, and his proposal was not one that he expected would be enacted. Now, he has more flexibility to sell assets and take other actions."
In any case, Assured's future is not tied forever to Detroit's, whatever happens during the bankruptcy process.
"When a bond insurer does pay out, it's usually a very small fraction of the total amount," Palmer said, explaining that Assured likely wouldn't be on hook for all of its Detroit exposure.
Furthermore, Palmer argues that, because the maturity dates on muni bonds are off in the distant future, "When you apply present value factor to that cash flow stream, the loss that Assured sustains can be relatively small."
The present value factor is an equation that discounts future values based on the assumption that present money is worth more than future money.
For instance, when Assured inherited some Greek general obligation debt through an acquisition, the losses weren't as bad as they sounded, Palmer said. "While the notional amount may have been large, the maturities were far out," he added.
Assured expressed optimism about its municipal business in a May 23 investor presentation. "Out of approximately 11,000 direct U.S. public finance obligors, we expect future losses to be paid, net of recoveries, on less than a dozen. In 1Q-13 we made payments on only four," according to the presentation.
In Detroit, Assured has exposure to $2.796 billion of the city's net par outstanding debt, an investor presentation said.
The municipal bond insurance market looked very different several years ago. According to Palmer, in 2005, the market was divided between nine bond insurers who insured 40% of municipal bonds. Now, coverage has dropped to the low single digits and the only publicly traded players in the space are Assured and MBIA, which was unable to write new business from 2008 through the settlement of legal issues this year. Other contenders are
Ambac Assurance
,
Syncora Guarantee
, and newcomer
Build America Mutual Assurance
, which began doing business last summer.
Build America has insured 38% of new municipal debt issues in the first half of this year, Palmer said, adding, "But that's on very low volume in the market in general."
Palmer believes the recent spate of municipal distress will increase the demand for municipal bond insurance, as investors will want to protect their investment, but he said that demand has not materialized yet. If it does, Assured will be well-positioned to take advantage.
The launch of MAC is a long time coming. Assured acquired
Municipal and Infrastructure Assurance
from insurer
Radian Group
(RDN) - Get Report
on Jan. 24, 2012, for $91 million, and is just now opening that business up to write new policies. MAC is licensed and authorized to offer insurance in 30 states, and licensed with authorization pending in eight states.
MAC's muni-only focus is appealing to investors, Palmer said, because the muni portfolio will be separate from Assured's structured finance portfolio, which is a riskier segment held by a different subsidiary.
Assured's portfolio is 75% U.S. public finance, 14% U.S. structured finance, and 11% international, according to a May 23 investor presentation.
General obligation bonds account for 44% of Assured's U.S. public finance portfolio, or $166.3 billion.
Assured executives weren't available to comment.
Assured is listed on the
New York Stock Exchange
under the symbol AGO. Its shares closed at $22.82 on Monday, down 3.3% from a high of $23.61 on July 18, which is the day Detroit filed for bankruptcy. Assured has a market capitalization of $4.33 billion.
Written by Lisa Allen