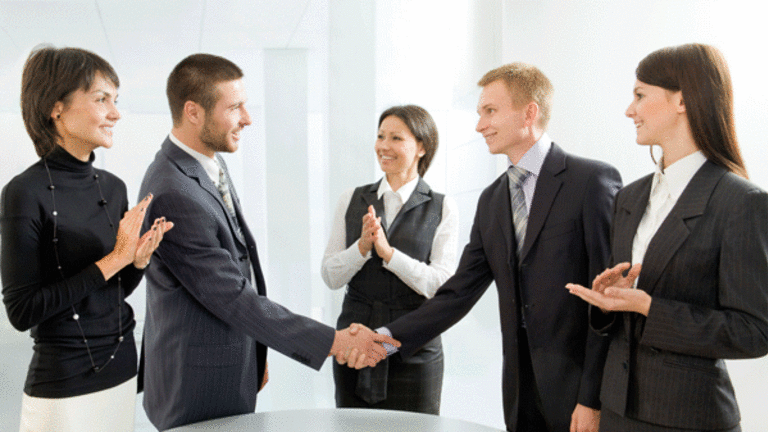 The Deal: AOL Buys Video Start-up in Largest Deal Since Time Warner Split
AOL said it will acquire video advertising platform Adap.tv Inc. for $405 million, its largest deal since splitting from Time Warner in 2009.
NEW YORK (
) --
America Online
(AOL)
was rising Wednesday after the online media company said it plans to acquire
Adap.TV
to improve its video advertising capabilities, offsetting a growth in sales that missed analyst forecasts.
Shares were gaining 2.1% to $36.92, extending AOL's 2013 advance to 25%.
The acquisition comes as AOL continues to produce mixed results. Revenue increased $541 million from $531 million in the first quarter but short of analysts' average forecast of $544.6 million. Operating income of $108.3 million beat analyst expectations of $101 million.
The Adap.tv deal was the focus of investor interest as the new platform promises to help AOL reap more advertising and distribution revenue for the slate of video programming Tim Armstrong, AOL's chairman and CEO, has been spending millions of dollars creating.
"AOL takes a major step forward today with another quarter of growth and our agreement to acquire the Adap.tv video marketplace platform that will make AOL a clear global leader in the most important growth segment in our industry - online video," Armstrong said, in a statement.
Adap.tv will cost AOL $405 million, making the transaction the company's largest deal since splitting from
Time Warner
(TWX)
in 2009. AOL said it would pay $322 million in cash and $83 million in stock for Adap.tv, a San Mateo, Calif.-based company that provides video advertising services for ad agencies, publishers and large brands. The buyer said that Adap.tv's services are used by 83 of the Ad Age 100 largest global advertisers.
AOL shares were rising 1.6% to $36.72 in mid-morning trading.
Post-deal, AOL, which manages a portfolio of Web properties and services, said it would be able to provide video ads across all screens and offer a unified management platform for advertisers and publishers. Digital video and advertising are two areas of focus at the company.
"AOL is a leader in online video and the combination of AOL and Adap.tv will create the leading video platform in the industry," Armstrong said in a statement. "The Adap.tv founders and team are on a mission to make advertising as easy as e-commerce and the two companies together will aggressively pursue that vision."
The deal is AOL's largest since the Time Warner split, topping the company's 2011 purchase of HuffingtonPost.com Inc. for $315 million. The announcement comes on the same day that AOL reported a second quarter profit of $28.5 million on sales of $541 million.
Adap.tv was formed in 2007 and has grown rapidly, supporting more than 26,000 global ad campaigns which ran on about 9,500 Web sites in 2012. The company raised more than $13 million from investors including Bessemer Venture Partners, Gemini Israel Funds, Redpoint Ventures and Spark Capital Partners.
AOL said that after the deal's closing, which is expected in the current quarter, Adap.tv would operate as an independent unit of the company's video organization.
Written by Lou Whiteman and Robert Arenella in New York