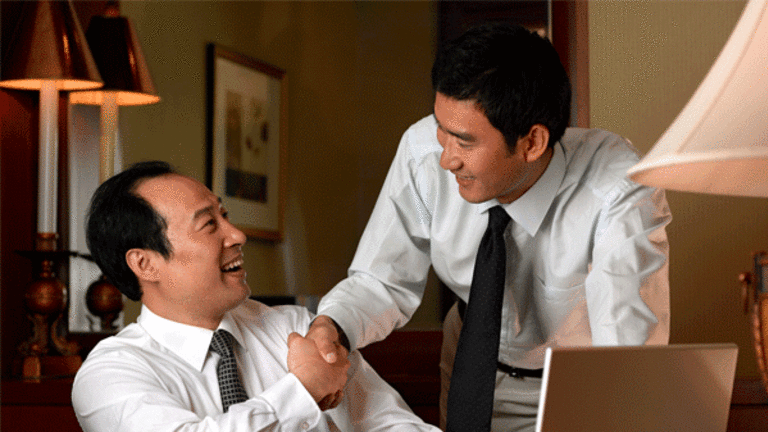 The Deal: AMR Resists Pondering Life Without US Air
The bankrupt carrier will go to court again in its dogged pursuit of getting its marriage consummated, but it may be doing so because a reorganization as an alternative solution carries many uncertainties.
NEW YORK (
) -- When
AMR Corp.
( AAMRQ) and its advisers regroup in a Manhattan courthouse on Thursday to push for the bankrupt airline's proposed merger with
US Airways Group Inc.
(LCC)
, they are likely to keep their thoughts close to the vest about what would happen to the parent of
American Airlines
if the deal was never consummated and it had to continue life post-Chapter 11 as an independent company.
In the wake of the U.S. Department of Justice filing a lawsuit against the merger on Aug. 13, Judge Sean Lane of the U.S. Bankruptcy Court for the Southern District of New York at a confirmation hearing two days later asked the parties involved to come back on Aug. 29 to brief him on whether or not AMR's reorganization plan, which is centered on the merger, should proceed.
Don't expect AMR to back down and present any type of alternative to the court that would undermine the carrier's or its advisers' resolve in getting the $11 billion US Air deal done. Others, such as DOJ, will have to assert that AMR can survive outside of bankruptcy as an independent carrier, and that, perhaps, may soon be the key question. Will the nation's fourth-biggest airline still be able to fly on its own?
The Fort Worth carrier is certainly showing it can compete now. Just recently AMR announced a $357 million net profit, which was the "best second-quarter result in company history." It was a $262 million improvement over the same period last year.
The DOJ's trial team, led by antitrust division litigation director Mark Ryan, jumped all over those results on Tuesday in a court filing it made that argues for starting the trial on DOJ's suit on March 3 instead of Nov. 12, which is what AMR wants. Government attorneys noted that AMR is capable of emerging from Chapter 11 in solid financial shape without being acquired. "American's restructuring efforts have been extraordinarily successful and have positioned the company to compete as a strong and vibrant standalone firm," the DOJ said in the filing.
Both bankruptcy and the ability to endure outside it goes beyond a wonderful quarter -- or a few, for that matter. AMR still has to worry about working capital going forward as a legal fight with DOJ beckons. Its unions are now supportive of the merger, but it's uncertain if that would be the case if the deal fell through and AMR had to reorganize. Meanwhile, no creditor or shareholder activist right now is agitating to present an alternative plan to the merger, which creates a worrisome flipside -- are there any ideas out there about how AMR can stand on its own two feet if it had to?
"If I were in the debtor's shoes, I'm not sure I would be doing anything different," said Lawrence Perkins, CEO of
SierraConstellation Partners
, a restructuring firm. "It's a fairly elegant exit from bankruptcy with a deal that, if approved, would be fantastic. The debtor says, 'If you close, our job is done. If regulators get in the way, they get in the way.'"
Since filing for Chapter 11 on Nov. 29, 2011, AMR has been able to get post-petition financing. According to
The Deal Pipeline
, the company has raised five debtor-in-possession financings worth more than $3.6 billion. Besides some $268 million that will be used to buy 10 aircraft, the rest of the DIP money is for operations. When the carrier reported second-quarter results, it said its cash is $7.1 billion, about $1.3 billion higher than at the same time last year. And that's not even counting the $3.25 billion in two exit financings it has yet to seek.
Still, AMR is clearly worried about financing a lingering bankruptcy, as evidenced by its efforts to get a Nov. 12 trial date, and Perkins noted that just because the company has found DIP money before doesn't mean it'll continue to.
"Most likely they're going to need it and most likely it's going to be difficult to come by," Perkins explained. "That must be an option they're exploring then they're looking at their menu of options. DIP financing is usually a proxy for time in a bankruptcy case and it's going to be tough to get it."
Meanwhile, AMR's unions have stayed quiet. While strongly behind the merger, the Transport Workers Union, which represents 26,000 American Airlines workers, is confident the carrier can reorganize if the deal doesn't happen, according to Jamie Horwitz, a union spokesman.
"We negotiated agreements with American Airlines that, if it remains as a standalone carrier, our members would have contracts that protect them, contracts that will provide them with a wage increase in future years," he said.
No stirrings have surfaced among secured creditors, either, who stand to be paid in full in cash on their more than $10 billion in claims if the merger succeeds. That's not surprising, since at least 88% of the creditors in each class approved the current plan. Whether that payoff would remain in a reorganization is unknown, however.
If it doesn't, there's no apparent agitator-in-waiting either to lead a creditor protest or propose a plan. Ditto when it comes to an alternate acquisition proposal.
"I don't think the financial community is knocking down the door to buy a bankrupt airline," Perkins said, adding that, just as unlikely, is the emergence of a competing plan from any other involved group. "It would be a pretty cowboy move at this point."
So with all its eggs in the basket of a marriage to US Air, AMR's bankruptcy strategy going forward will rely on winning the DOJ lawsuit. It's a dicey gambit, since neither AMR or US Air has seemingly offered any concessions regarding its flights out of Reagan National Airport in Washington, D.C.
David Braun, a partner at
Quarles & Brady
who has worked in the DOJ's antitrust division, points to the Reagan situation, where US Air holds 55% of the slots. That figure would increase to 69% for the combined company with the merger.
Braun said the Reagan slot issue is a "very important part of the picture because of the importance of that airport to both carriers. The fact that the lawsuit was filed shows that there was a failure of US Airways and American to find a resolution, what we used to call a 'fix-it-first' solution to the merger. That would usually entail giving up slots at some of the few airports where there is control over capacity."
Annamarie A. Daley, administrator of
Barnes & Thornburg's
antitrust and competition law group, said those slot issues are likely to attract even more attention because of their location in the nation's capital.
"This is going to be something that Congress is going to be paying close attention to because of Reagan, where members of Congress are frequent fliers," she noted. "They'd be direct observers of any impact of reduction of competition from the merger. It's a classic supply-and-demand analysis and any increase in prices will hurt consumers."
Quarles' Braun asserted that giving up slots at Reagan probably isn't enough on its own to complete the merger, but would be "a crucial step in finding a resolution."
Alas, the fact that AMR is so intent on pursuing the merger, confirmation of its plan and the trial suggests that the company and regulators were very wide apart on any discussions involving compromises.
"It is only informed speculation, but it would not surprise me if the
Justice Department took the position that the combined American-US Air should not hold any more slots than US Air already holds, meaning most of all of the American slots would have to be divested to another carrier or carriers in a manner satisfactory to the department," Braun asserted.
What's likely is that the Reagan slots will be centerstage whether the marriage with US Air goes through or not. According to DOJ, American and US Airways go head-to-head with nonstop service on 17 domestic routes representing about $2 billion in annual industry-wide revenues, and, overall, compete on 1,000 routes. However, the Reagan slots appear to be the ones that AMR can't live without, otherwise it would have cut a deal with regulators. As a result, the slots will be even more valuable for AMR if it's going to go forward as an independent airline.
Written by Pat Holohan