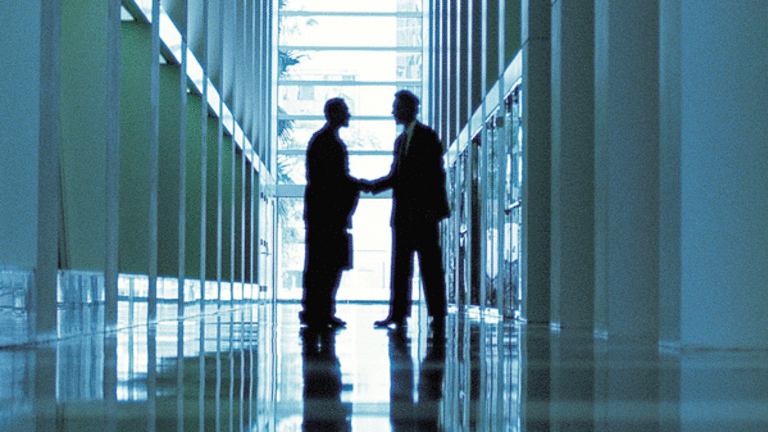 The Deal: Amec Plans $3.2B Foster Wheeler Takeover
Amec announces an agreement in principle worth $3.2 billion to take over engineering group and power-equipment maker Foster Wheeler.
Amec announces an agreement in principle worth $3.2 billion to take over engineering group and power-equipment maker Foster Wheeler.
LONDON (The Deal) -- The U.K.'s Amec onMonday, Jan. 13, announced an agreement in principle worth $3.2 billion to take over engineering group and power-equipment maker Foster Wheeler (FWLT) . 
Foster Wheeler has been on Amec's acquisition radar for many months and the 50-50 cash-and-stock deal will allow the Aberdeen, Scotland-based buyer to offer mid- and downstream services to the energy sector alongside its existing upstream offering. Foster Wheeler will also increase Amec's presence in important U.S. markets, as well as in the Middle East, Asia and Latin America.
The deal comes after Amec failed to entice oilfield services provider Kentz with a 682 million pounds ($1.1 billion) offer in September. Amec will offer 0.9 of a new share and $16.00 in cash per Foster Wheeler share, or about $32 per share in total. That's a scant 1.7% premium to the target's $31.46 closing price on Nasdaq on Friday, though Foster Wheeler noted that it is 12.8% more than its price on Nov. 26, before a report of Amec's bid interest.
Amec will have to list in the U.S. as part of the deal, which will give Foster Wheeler shareholders a 23% stake in the enlarged company.
Foster Wheeler has an engineering and construction unit, which serves the energy, chemicals and pharmaceuticals industries, and a smaller division making power equipment. The company is registered in Switzerland but has its operational headquarters in Reading, England. It reported nine-month revenue of $2.46 billion and Ebitda of $213 million. Net debt as of Sept. 30 was $131 million.
Foster Wheeler has agreed not to solicit alternative proposals until Feb. 22, by which time the companies expect to have signed a firm deal. If the takeover proceeds, Amec said Foster Wheeler will be double-digit earnings enhancing in the first 12 months after completion.
"The combination of our two businesses, Amec and Foster Wheeler, would be financially and strategically attractive," said Amec Chief Executive Samir Brikho in a statement.
Brikho used to head ABB's power systems division and an Amec spokesman said he has no plans to sell Foster Wheeler's power equipment unit.
Foster Wheeler struck the nonbinding deal after a strategic review.
"The company believes that the meaningful equity component of the proposed terms would allow its shareholders to participate in the strategic and commercial benefits of the combined company, including significant potential synergies," it said.
Foster Wheeler is led by CEO Kent Masters. It would contribute two non-executive directors to Amec's board if the takeover happens.
Amec, which provides engineering and consultancy services to the energy and infrastructure markets, plans to fund the $1.6 billion cash component of the deal through existing resources and through debt financing seen likely to total about £1 billion.
Before the deal can close, a definitive agreement must be negotiated between the two companies, which each side needs to complete confirmatory due diligence. Amec needs to firm up debt financing and Foster Wheeler's board must provide formal unanimous approval of the takeover. Because of the size of the transaction Amec's own shareholders must approve it, and regulatory and antitrust approvals will have to be obtained.
Completion is anticipated in the second half.
The target's Berlin-listed shares were up 3.4%, at 23.45 euros, on Monday afternoon. Amec's shares in London were up almost 1.7% at 1,097 pence, giving the group a market value of just under 3.3 billion euros.
The transaction is structured to leave Amec room for further share buybacks and will take its net debt to Ebitda ratio to 1.6%, well below its own 2% target ceiling.
The company is also understood to have left itself room for bolt-on deals but doesn't expect to strike another takeover agreement of the same magnitude of Foster Wheeler anytime soon.
Bank of America Merrill Lynch's Simon Mackenzie-Smith and Michael Findlay are cting as exclusive financial adviser to Amec, which had used Deutsche Bank for the abortive Kentz bid.
Bank of America Merrill Lynch and Barclays are joint corporate brokers to Amec, whose legal advice came from a Linklaters team including Aedamar Comiskey. 
Foster Wheeler is being advised by Goldman Sachs, JPMorgan Securities and a Freshfields Bruckhaus Deringer team led by Simon Marchant and Matt Herman.
-- Written by Laura Board