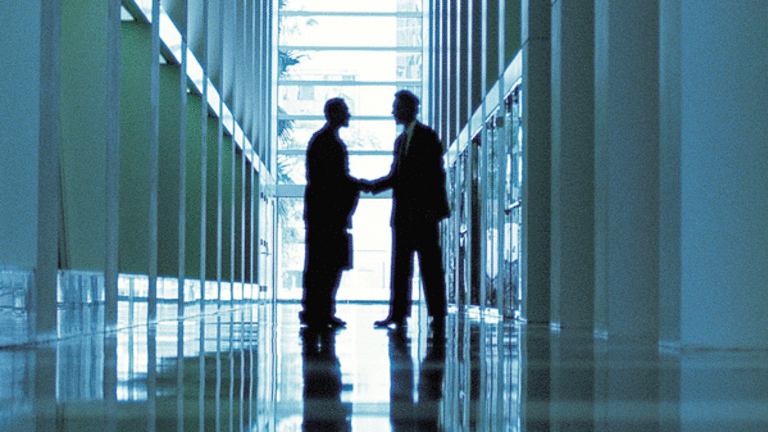 The Deal: After String of Miscues, Dendreon Likely on Block
The one-time investor darling learned tough lessons about selling immunotherapy.
NEW YORK (The Deal) -- What Dendreon (DNDN) did right was bring the first clinically successful immunotherapy to market. What it did wrong was, well, just about everything else. And that's why company officials are likely to announce soon that Dendreon will be sold.
Rumors began flying Friday after the bell that Dendreon had hired
JPMorgan Chase
(JPM) - Get JP Morgan Chase & Co. Report
to help it find a buyer. The company is not commenting.
The best candidates for buying the biotech are competitors
Johnson & Johnson
(JNJ) - Get Johnson & Johnson Report
or
Medivation
(MDVN)
, according to Maxim Group biotechnology analyst Jason Kolbert.
Seattle-based Dendreon was a Wall Street darling in 2010. The
Food and Drug Administration
approved its product Provenge, a therapeutic vaccine for metastatic prostate cancer, in April 2010. At the biotech's height, shares were selling at more than $54. But shares have been trading below $5 since March.
Both J&J and Medivation have been nipping at Dendreon's heels. J&J's Zytiga and Medivation's Xtandi, which it commercialized with
Astellas Pharma
, both treat the same illness. They represent competitive therapeutic options at a lower cost to Provenge, and both are oral therapies.
"In this environment," Kolbert said in an interview with
The Deal
, "Dendreon lacks adequate resources to compete." The company has major debt, about $650 million. And Provenge is only expected to bring in between $300 million and $400 million this year. That's about 10% of what analysts were forecasting three years ago.
While Dendreon has a few other drug candidates in development, it's pipeline is pretty thin.
"The bottom line is, can Dendreon survive on just Provenge? The answer to that is, No," Kolbert said.
He added that for a company like J&J, already marketing a drug in the prostate cancer market, buying Dendreon would be an incremental expense with a big upside. "The SG&A line associated with marketing Provenge is killing Dendreon," he noted. But manufacturing costs for a company like J&J could drop those costs by as much as 40% to 50%. "That's still high for a biotech product, but it does suggest that a company with the right infrastructure can generate free cash flow from this product," Kolbert noted.
Plus, if Dendreon were to be purchased, its creditors would likely negotiate on the debt, he said.
Dendreon made several mistakes. It failed to recognize and prepare for the effects brought on by its high cost, limited reimbursement and robust competition.
Not only that, but patients and physicians had trouble embracing the drug. Prostate cancer patients like to see their PSA (prostate-specific antigen) numbers decline after treatment, and even though Provenge is working, it doesn't reduce that biomarker at first.
Sermo, a social network for physicians, conducted a survey of oncologists and urologists asking what they thought of Provenge in 2011. Respondents said the most influential factors determining whether they would use the drug were the high price tag, high copays for patients, the logistics around administering the drug, and that the clinical benefit just wasn't enough to outweigh the drawbacks.
Provenge's clinical trials showed that it beat placebo in overall survival by more than four months, but it did not show an improvement in progression-free survival.
When doctors in the Sermo poll were asked what kind of survival benefit they'd like to see in a therapy to treat late-stage prostate cancer, two-thirds said at least seven months. About one-third said one year or more.
In September, Dendreon gained approval through the European Union centralized system to market Provenge. But it hasn't got the funds to go it alone. Even though it has tried to interest a big pharma or biotech with boots on the ground in the EU in a commercial collaboration, there hasn't been any interest.
In addition to looking for partners, Dendreon's management has tried various strategies to boost its use. But, Kolbert said, the direct-to-consumer approach championed by chairman, president and CEO John Johnson, "treats Provenge too much like a small molecule drug."
"TV commercials will not turn Provenge around," Kolbert contends.
Johnson, a veteran of Eli Lilly & Co.'s oncology unit and a handful of small biotechs, joined Dendreon in August 2011.
Another major problem Dendreon encountered, and hadn't prepared well enough for, was reimbursement. It had to go through a lengthy Centers for Medicare and Medicaid review process to gain the Medicare coverage. But prior to that decision, analysts and investors were saying that it's likely Dendreon could be used off-label for other cancers. Medicare's decision was narrow, saying that it would only pay for on-label use.
Kolbert this week increased his target price on Dendreon to $10 per share, reflecting an enterprise value of about $1.5 billion. Dendreon is due to report its third-quarter sales Nov. 12.
Dendreon's shares were trading down 4.27% at $2.69 mid-day in New York.
-- Written by Pamela Taulbee in New York