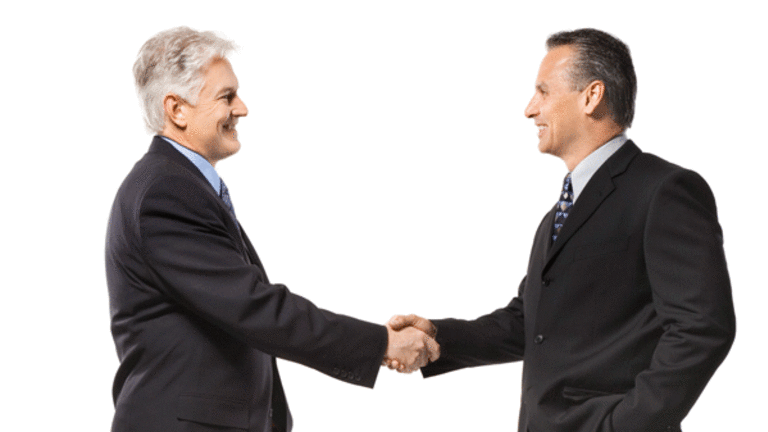 The Deal: Actavis Plays Hunter in $8.5 Billion Deal for Ireland's Warner Chilcott
Actavis took the offensive in plans to acquire specialty pharmaceuticals firm Warner Chilcott plc for $8.5 billion in stock and assumed debt.
NEW YORK (
TheStreet
) -- Drugmaker Actavis Inc. flipped from hunted to hunter on Monday, May 20, announcing plans to acquire specialty pharmaceuticals firm Warner Chilcott plc for $8.5 billion in stock and assumed debt.
Terms of the deal call for Parsippany, N.J.-based Actavis to pay 0.160 shares of its stock for each share of Warner Chilcott, valuing the target's shares at $20.08 apiece based on Actavis' May 17 close of $125.50. The deal offers a premium of 34% to Dublin-based Warner Chilcott's closing price on May 9, the day before the companies first disclosed they were in deal talks.
Actavis shares were gaining 2.8% to $129 Monday morning while Warner Chilcott was adding 1.4% to $19.48.
Post-deal Warner Chilcott holders would own about 23% of Actavis, which will take Warner Chilcott's Dublin's address and tax rate and rename itself Actavis plc.
Warner Chilcott brings a range of women's health, gastroenterology, urology and dermatology products to Actavis, which traditionally has focused on selling generic versions of drugs no longer covered under patents. The combined company would rank as the third-largest U.S. specialty pharmaceutical firm with about $11 billion in annual sales.
"The combination of Actavis and Warner Chilcott creates a strong specialty brand portfolio focused in therapeutic categories with strong growth potential, and is supported by a deep pipeline of development programs," Actavis CEO Paul Bisaro said in a statement. "The combination is commercially and financially compelling, and reshapes the specialty pharmaceutical universe by creating a powerful global competitor."
Actavis, which until earlier this year was called Watson Pharmaceuticals Inc., was created last year when Watson acquired Swiss-based Actavis Group hf for $5.6 billion. But the company in recent months has been seen more as a potential target than a buyer, reportedly receiving takeover interest from companies including Mylan Inc., Valeant Pharmaceuticals International Inc. and Novartis AG.
Warner Chilcott meanwhile has been on the block for about a year. The company, which is partially owned by private equity firms T.H. Lee Partners LP, Bain Capital LLC and CCMP Capital Advisors LLC, is facing the expiration of patents on two key products in 2013.
Chris Seiter and Ivan Farman of Bank of America Merrill Lynch joined with Greenhill & Co.'s Rupert Hill as financial advisers to Actavis, while David Levin and Jason Haas of Deutsche Bank AB advised Warner Chilcott.
Written by Lou Whiteman in New York