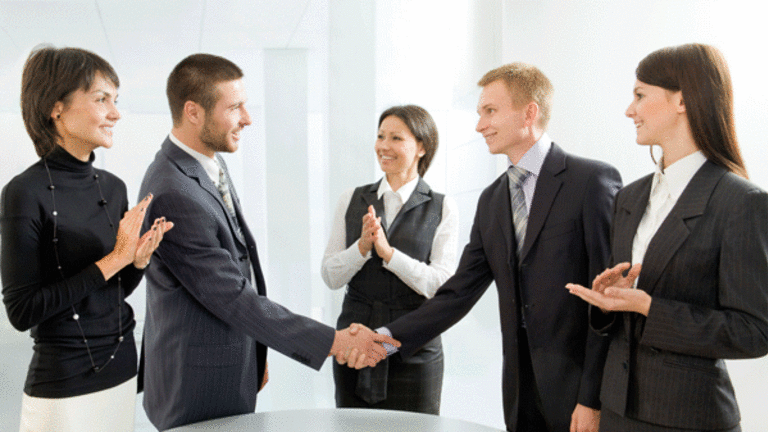 The Deal: Actavis Extends Gains Following Warner Deal
Actavis's $8.5 billion deal for Warner Chilcott will enhance the New Jersey drugmaker's revenue mix and heighten its profile for future dealmaking.
NEW YORK (
TheDeal
) -- Actavis Inc.'s $8.5 billion deal for specialty pharmaceutical company Warner Chilcott plc will serve to enhance the New Jersey drugmaker's revenue mix and balance sheet, and heighten its profile for future dealmaking, executives said on a conference call Monday.
Actavis added 2.3% on Tuesday to $130.08 while Warner jumped 3.8% to $20.34.
"It augments our specialty brand business in our core therapeutic market categories of women's health and urology, as well as expanding into the gastrointestinal sectors, new therapeutic qualities for us," Actavis CEO and president Paul Bisaro said on a conference call on Monday. "The combined company is going to be in the top 20 of global pharmaceutical companies in terms of sales with a substantial presence in both generics and brand products."
Before the deal, about 7% of Actavis' revenue came from branded specialty products; it mostly focused on generic drugs. Post-deal, about 25% of revenue will come from specialty products, according to comments on the call.
Higher revenue means increased cash flow and more access to financing for deals, Bisaro noted. "
The deal creates a platform for further growth, and allows for substantial deleveraging of the new entity, so it enhances our borrowing capacity. The branded and generic mix allows us to become a more balanced revenue generator. Opportunities will be presented to us because of our size and scale."
After the purchase closes, Warner Chilcott holders would own about 23% of Actavis, which will take Warner Chilcott's Dublin headquarters and tax rate and rename itself Actavis plc.
Terms of the deal call for Parsippany, N.J.-based Actavis to pay 0.160 shares of its stock for each share of Warner Chilcott, valuing the target's shares at $20.08 apiece based on Actavis' May 17 close of $125.50. The deal offers a premium of 34% to Warner Chilcott's closing price on May 9, the day before the companies first disclosed they were in deal talks.
The target was partially held by private equity firms Thomas H. Lee Partners LP, Bain Capital LLC and CCMP Capital Advisors LLC. Warner Chilcott employs about 2,100 people, 1,500 of which are based in the U.S., Puerto Rico and Canada. The business also operates manufacturing facilities in Northern Ireland and Germany.
"We trace our origins to 1856. We began our history as a generic company and then reformed ourselves into a specialty pharma company," Warner Chilcott president and CEO Roger Boissonneault said on the call.
"We expect to enhance our combined company's credit profile and for debt to remain investment grade," Bisaro added on the call, explaining that the increased cash flows brought in from the deal will enable the combined company to manage its debt load.
Actavis specialty brands president Fred Wilkinson explained that the buyer will enter into new areas for its core women's health market in particular. "We add a couple of core areas in women's healthcare we've been evaluating for several years," he said. Also, "we enter into the osteoporosis and hormone replacement therapy business."
The deal also adds gastroenterology, urology and dermatology franchises and additional sales infrastructure, Wilkinson explained.
Warner and Actavis together will rank third in terms of specialty product sales, ranking behind Teva Pharmaceutical Industries Ltd. and Forest Laboratories Inc. The combined business has 25 total development projects in its pipeline, 15 of which are focused on women's health.
"Paul
Bisaro had a goal to get us to over a billion dollars in specialty drug
sales. This single transaction takes us to $3 billion," Wilkinson said.
The global women's health market in 2010 was valued at $23.3 billion, with a compound annual growth rate, or CAGR, of 4.2%. It is forecast to reach $32.8 billion by 2016 at a CAGR of 5.9%, according to Dublin consultancy and market analysis firm Research and Markets. Hormonal contraceptives and osteoporosis treatment are the two largest classes.
Warner has six contraceptive products either approved for use or in development, versus Actavis' two, according to an investor presentation by Actavis discussed during the conference call.
Warner hit the block in April 2012 and was working with Goldman Sachs Group Inc. on its review.
Meanwhile, Actavis in recent months has been seen more as a potential target than a buyer, reportedly receiving takeover interest from companies including Mylan Inc., Valeant Pharmaceuticals International Inc. and Novartis AG.
Written by Thomas Zadvydas in New York