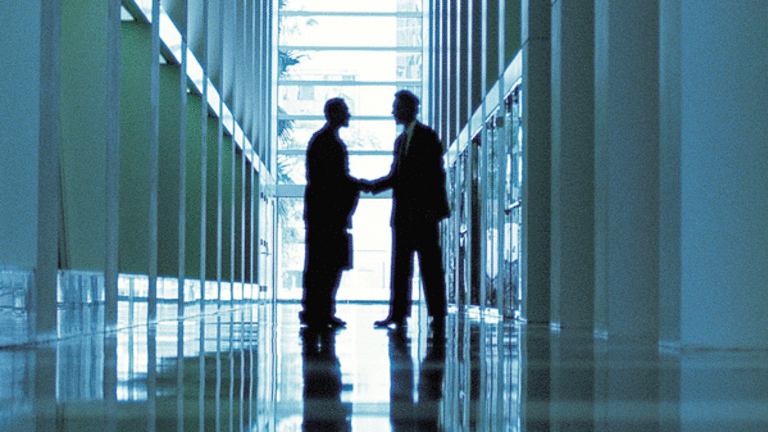 Textura Tanks as Citron Research Alleges Fraud: The Deal
Short seller Andrew Left alleges the company and some underwriters withheld material information.
NEW YORK (TheStreet) -- Enterprise software developer Textura (TXTR)  allegedly lied about its prospects and intentionally omitted facts from the biography of its CEO in securities filings ahead of its initial public offering and a follow-on offering with the help of some of its underwriters, according to a Thursday, Dec. 26 report from short seller Citron Research.
Chicago-based Textura's shares was falling on Friday 6.6% to $21.24.
Andrew Left, executive editor of Citron Research, said in his movie-themed report: "'American Hustle' meets 'Wolf of Wall Street'" that Textura's "prospectus lied to the SEC about the two most important components of their business model - and they were actually busted for it."
As evidence Left cited language from the prospectus about "recurring revenue model with high visibility" and "high client retention." When Textura was asked by the Securities and Exchange Commission to provide specific quantitative evidence in this regard, the company instead told the SEC it was removing the language.
"In over 13 years of publishing and reading SEC comments we have never seen a company make two bold claims as above, but simply turn and run from them without even an attempted defense when challenged by SEC staff," the Citron report claimed.
Left said in an interview that he started looking into Textura after he learned that the company's CEO Patrick Allin omitted certain things from his biography in the prospectus.
"When a CEO is lying about his biography, that's a number 1 sign of fraud, and I say let's start looking at everything else," Left said.
In a statement, Textura strongly denied the allegations of fraud, collusion or deception in its securities filings. The company said the Citron report includes "a variety of inaccurate and misleading statements and gross distortions."
Textura said it "encourages investors to rely on Textura's filings with the SEC as providing accurate information regarding the company and its performance, and not to rely on reports which may have purposes other than giving investors accurate information and impartial analysis."
Textura did not return a call or an e-mail requesting further comment on Citron's report.
Textura completed its $86.25 million initial public offering in June 2013 and in September raised another $200.4 million in a follow-on offering. Credit Suisse and William Blair & Co. acted as joint book-running managers for the offerings, and JMP Securities, Oppenheimer & Co. and Barrington Research were co-managers.
When Left looked at Allen's biography as disclosed in Textura's prospectus, he said he found some glaring omissions.
While the bio highlighted Allin's experience as senior client delivery partner, COO and CFO of the global consulting practice at PriceWaterhouseCoopers LLP and in a number of executive positions including as president of Moore Business Forms North America, it left out his service as the CEO of Patron Systems Inc., the Citron report alleged.
In early 2003, Patron Systems was allegedly engaged in a strategy to buy various security technology companies such as Trustwave Systems and roll them into an OTC Bulletin Board shell company called Combined Professional Services.
Patron Systems today is a penny stock with a market value of about $45,000.
Left's report claims, however, that Patron Systems became "cannon fodder for a classic pump-and-dump 'boiler room' operation run out of Florida Discount" Securities. Left said Allin's time at Patron Systems should have been disclosed in the prospectus for Textura, but were not.
"There's a line between something being screwed up accidentally and something being omitted," Left said. The omission was a willful act and is evidence of intent to defraud, he said.
In addition, Left said he believes that the underwriters of Textura's $75 million IPO and secondary offering knew of Allin's history, or at least should have known. According to Left, another matter not disclosed in the prospectus for Textura's IPO was that one of the selling shareholders of Textura was ACPP Capital, whose members were associated persons of William Blair and Barrington Research.
"This is a direct conflict of interest, and the failure to even include this information in the IPO prospectus is like a Wall Street version of a brown paper bag," Left wrote.
None of the other underwriters besides those two were mentioned in the Citron report. Moreover, Left also noted that Richard Kiphart, a partner and the head of private client advisors at William Blair, also was since early 2005 "an early insider investor" and director at Trustwave, which was purchased by Patron Holdings.
Furthermore, Left noted that Franco Turrinelli, Textura's head of corporate development, used to be group head of technology equity research at William Blair.
"So once you decide your business is going IPO, it has to control what Wall Street thinks, so EVERYONE has to be in on it," Left wrote.
"Let them try to sue me," Left said in the interview. "I would love for William Blair to try to sue me."
Officials from William Blair and Barrington Research couldn't be reached for comment.
In addition, Left also questioned Textura's business model and the value of its flagship product CPM Solution, which he described "as nothing more than a utility software program to manage the submission of signed Lien Waiver forms."
Lien waiver forms are used by general contractors on a construction project and must be signed by all of their subcontractors. The CPM Solution product produced only $22.3 million in revenue in 2013, suggesting it lacks market relevance, Left said.
Left also raised questions about Textura's accumulated deficit since inception of $169.9 million and its expectations that losses would continue for the foreseeable future.
The losses are "for what?" Left asked. "A revolutionary search engine? A global social networking advertising platform? You're telling us that all that money went to build a lien waiver processing system? That's all they have to show for it? A small software company with 385 employees and revenues well lower than $100K per employee? This is bulls--t - and they knew it."
Left also found reasons to question Textura's revenue, citing a transaction with Aon Risk Services Central Inc., a division of insurance broker Aon Corp., which holds a board seat and a big block of pre-IPO stock.
In a securities filing, Textura said that in 2009 it entered into a referral agreement with Aon Risk Services, which compensates the investor for revenue Textura generates from Aon Risk Services referrals.
"In case this is confusing for any of you following the script, this is called non-arms-length transactions, and is a serious fraud risk," Left wrote. "The failure to disclose what portions of Textura's revenues are generated by AON (or any other related or compensated party), and how much they've paid and are paying for those referrals, would comprise a serious material reporting deficiency."
As a result of this reporting deficiency, Left asserted that all of Textura's operating statements in filings dating back to the IPO "are now candidates for restatement, to segment out the revenue generated from and through every related-party, including each inside shareholder, and to disclose the full and indirect costs and compensation of all such revenues, including stock, warrants, and cash."
Left said in the report that "we really think Textura's value is 0 and the insiders should return every dime in stock they sold to shareholders, who bought in on the misdirection, disclosure deficiencies and fraud."
In the report, Left said the main player in the construction management software space is U.K.-based Sage Group plc, which has revenue of more than $2.25 billion in 2013 including North American revenue of about $600 million.
"As an investment, SAGE trades at approximately 3.2X revenues," he wrote. "If fraud, growth and profits were not a factor (now our movie is a fantasy), then Textura could be comparatively valued at 3.2X gross revenues...or approximately $4 a share."
--By Dan Lonkevich in Petaluma, CA.