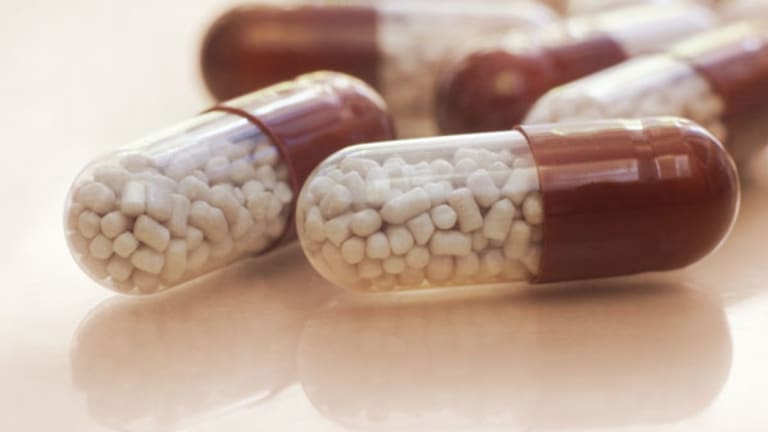 Teva Won't Let Regulators, Poison Pill Stop Its Quest for Mylan
Teva has a path to complete the deal.
NEW YORK (The Deal) -- The market's anticipation of a spoiler bid for Mylan (MYL) from Teva Pharmaceutical (TEVA) came to fruition on Tuesday, and it looks like Teva has a path to complete its effort.
Mylan shares, however, remain well below the spoiler bid of $82 a share in cash and stock at a 50/50 split. The bid seems to be a follow-up to a private approach from Teva. Mylan's Friday announcement that a potential merger with Teva was without industrial or cultural logic could be considered an admission that Teva was making a pitch.
On Tuesday, Mylan's stock traded at about $73.75 at a spread of $8.25, or 11%, to the unsolicited bid from Teva.
The deal also casts into doubt Mylan's own unsolicited offer for Perrigo (PRGO) . On April 8, Mylan announced it had offered $205 a share in cash and stock, or close to $29 billion, for Perrigo. Perrigo shares on Tuesday dropped about $4.25 to $193.75 at an $11.25 spread to the Mylan offer.
Perrigo shares have traded at a relatively wide spread before the approach from Mylan because of the risk that Teva would enter the fray.
Teva's bid depends Mylan not completing the Perrigo deal. As such, Mylan could make its Perrigo bid more official under the Irish takeover rules if it wishes to frustrate Teva. That move would set parameters around the offer that largely would be resolved by how Perrigo responded and by Mylan shareholders. The structure of Mylan's approach to Perrigo would require, as currently presented, a vote of both Perrigo and Mylan shareholders. Given that the Teva bid is offering about a 45% premium for Mylan, the vote for the Perrigo alternative might be difficult. Perrigo's board late Tuesday unanimously rejected Mylan's approach and is reportedly looking for another suitor.
Teva claims it can achieve $2 billion in synergies with its deal and de-leverage quickly. The offer is not subject to financing. Given that the $82 bid is likely not the final offer price, Mylan shareholders may well support the approach.
There is what seems a minor issue of Dutch takeover regulations that allow a kind of poison pill whereby a company can expand its float through a foundation in a similar manner to a standard poison pill. But the structure has limitations that make it "chewable" as with Canadian poison pills that had a limited life span. The Dutch rules limit how shares issued following a hostile bid can be accounted for in the defense against the offer. The so-called Dutch poison pill also has a limited life span allowing the target to explore options, and the pill is subject to redemption through a special shareholder meeting.
Teva claims it can resolve any antitrust issues for its Mylan bid through divestitures, and a source said that several buyers would be interested in products that would be sold to gain regulatory approval.
Pharmaceutical deals rarely get blocked over competition issues, particularly deals that involve large portfolios, as opposed to transactions that are driven by a single drug or medical device. The process is typically resolved through divestitures. As such, Mylan's defensive claim Friday that a deal with Teva could not get done because of antitrust overlaps seems just that -- defense.
Mylan did not return calls. The company could press its Perrigo bid under the Irish takeover code and buy time under Dutch takeover rules, but if it cannot structure a Perrigo deal that does not require a Mylan shareholder approval, it looks like there should be a Teva deal by mid-summer. However, Teva might be aggressive in thinking it could close the transaction by the end of 2015.
Read more from: