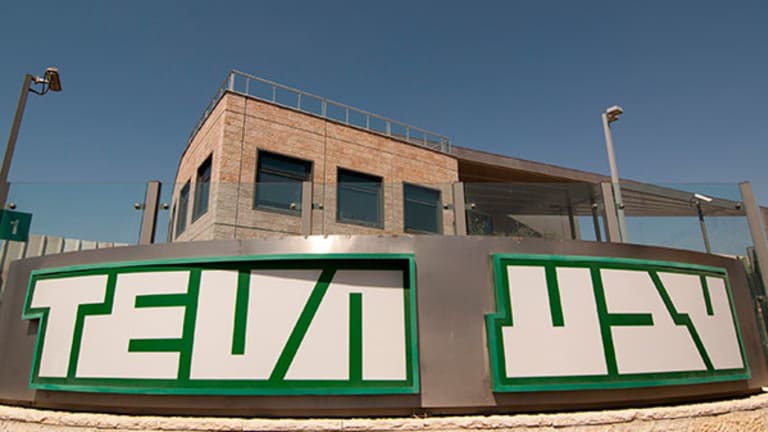 Teva Pharmaceutical Swallows Auspex to Strengthen Its Drug Pipeline
Israeli drug company Teva Pharmaceutical Industries is buying Auspex Pharmaceuticals, with its portfolio of drugs to treat Tourette Syndrome, Huntington's chorea and a variety of other maladies.
Israeli drug company Teva Pharmaceutical Industries (TEVA) - Get Teva Pharmaceutical Industries Limited Sponsored ADR Report on Monday announced an agreement to acquire deuterium-based therapies specialist Auspex Pharmaceuticals  (ASPX) for an enterprise value of $3.2 billion.
The deal will give Teva access to a pipeline of potential treatments of movement disorders such as Tourette Syndrome and Huntington's chorea, as well as strengthening its wider central nervous system portfolio. Auspex's deutetrabenazine product, or SD-809, has been granted orphan drug designation for the treatment of Huntington's disease in the United States and could be approved for commercial launch as early as next year.
Must Read:5 Stocks Warren Buffett Is Selling
Other drugs in the pipeline include versions of drugs for pulmonary fibrosis and Parkinson's disease, using Auspex's technology based on the hydrogen isotope deuterium, which it hopes can be used to modify dosages and reduce the toxicity of existing treatments.
As a biopharmaceutical company Auspex, of La Jolla, Calif., specializes in applying deuterium chemistry to known molecules to create novel therapies with improved safety and efficacy profiles.
Deuterium is not radioactive, although it can be distilled from the more common hydrogen isotope as heavy water, and its best-known use is in slowing the uranium fission process in nuclear reactors.
"We believe that the application of Auspex's deuterium platform to known pharmaceuticals holds great promise across a wide spectrum of neurological diseases and associated movement disorders," said Michael Hayden, Teva's president of Global R&D and chief scientific officer, in a statement.
The merger was announced on the same day as United Health Group's (UNH) - Get UnitedHealth Group Incorporated Report $12.8 billion acquisition of pharmacy benefit management services provider Catamaran, and Hyperion Therapeutics' (HPTX) $1.1 billion acquisition by Horizon Pharma (HZNP) - Get Horizon Therapeutics Public Limited Company Report, which is based in Dublin, Ireland, but listed on the Nasdaqundefined exchange.
Teva will offer Auspex shareholders $101 a share in cash, representing a total consideration of about $3.2 billion in enterprise value and $3.5 billion in equity value. It said it hopes to acquire all remaining shares not tendered under the original offer, through a second-step merger at the same price. The transaction is expected to close in mid-2015.
Teva, of Jerusalem, which nowadays combines its traditional generics business with innovative therapies, said the two companies fit strategically, and said the acquisition would both strengthen its core central nervous system business and expand its presence into underserved movement disorder markets, and the tics associated with Tourette Syndrome, among others.
It said the deal would enhance its mid- to long-term revenue and earnings growth, profitability and product diversity and was expected to be accretive to non-GAAP earnings per share beginning in 2017 and meaningfully accretive thereafter.
Must Read:Biotech Merger Monday Doesn't Squash Biotech Bubble Debate