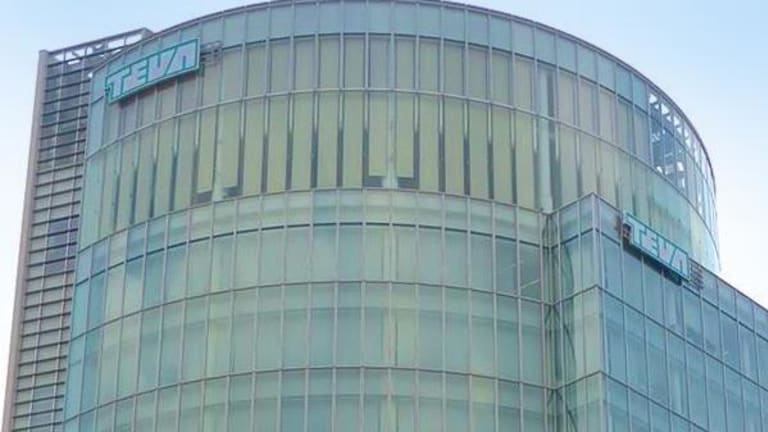 Teva Must Clear Three Big Hurdles to Reclaim Its Perch
Analysts are most critical about Teva's plan to cut $5 billion in debt by the end of the year.
Analysts are most critical about Teva's plan to cut $5 billion in debt by the end of the year.
Teva Pharmaceutical Industries Ltd.'s (TEVA) - Get Report ignominious slide from its perch as Israel's largest market cap company won't be reversed until the pharma company clears three big hurdles: installing a new CEO and management team, spinning off key units to reduce its debt and achieving clarity on how much competition it will face from generic versions of its branded multiple sclerosis drug Copaxone.
Bloomberg reported Tuesday that Teva lost its position as Israel's biggest firm due to depressed prospects for generics makers generally and disappointment over the company's second quarter earnings announcement on August 3.
Teva had held the spot as Israel's largest market cap company for 15 years. But its capitalization has fallen to $17.6 billion, now just below Tel Aviv-based Check Point Software Technologies Ltd.  (CHKP) - Get Report at $17.7 billion. Teva has lost more than $32 billion, or two-thirds, of its market value this year.
In an Aug. 13 research note, Credit Suisse analyst Vamil Divan said the slide isn't expected to reverse soon. "At a minimum we expect the stock to continue to be range-bound or feel modest pressure until a new leadership team is in place, a strategy to reduce their debt is more certain, and more clarity on the potential entry of generic versions of Copaxone 40mg is obtained."
Analysts are most critical about Teva's plan to cut $5 billion of its $27 billion in debt by the end of the year, saying they doubt the company can pull off that much of a reduction in such a short time.
In April Bloomberg reported the generics giant brought on Morgan Stanley to help it find a buyer for its global Women'sHealth business and its European oncology and pain business. Those divestitures are expected to bring in $2 billion that can be applied to reducing debt.
During the Aug. 3 call Deutsche Bank Securities analyst Gregg Gilbert questioned how confident Teva can be that it will get the divestitures by the end of 2017, given that no deals have been announced yet.
Interim CEO Yitzhak Peterburg insisted that sales of the global Women'sHealth business and the oncology and pain business in Europe should occur soon. "We anticipate closing these deals in 2017, subject to necessary approvals," he said.
Teva also announced as part of its Aug. 3 earnings release that it would cut its dividend by 75%, which will allow that cash also to be applied to cutting debt.
The company also lowered guidance and combined with its dividend slash, Teva has seen its shares drop 45% since that day, from $31.25 to $17.19 through morning trading Monday, Aug. 21. A year ago, Teva shares stood at $53.48.
Teva's woes predate the Aug. 3 bombshells. Peterburg was named chief executive on an interim basis in February after Erez Vigodman quit amid investor unhappiness about the debt load created by the company's $40.5 billion purchase of Actavis Generics in 2016. Vigodman's departure followed two months after the resignation of Sigurdur Olafsson, who headed Teva's generic medicines unit.
The acquisition amid a slump in generic drug prices has been harshly criticized and matters were made worse when the company lost court cases seeking to keep generic versions of its bestseller Copaxone off the market. There is one bright spot on the Copaxone front. Although the Food and Drug Administration has approved Momenta Pharmaceuticals Inc. (MNTA) - Get Report and Sandoz to sell a 20 mg version of Copaxone in the U.S., the more popular 40 mg dose is still under FDA review. Copaxone now accounts for 18% of Teva's revenue, down from 23% a year ago but the drop would be even bigger if a 40 mg competitor was on the market already.
Regarding the search for a new CEO, Teva Chairman Sol Barer. "This is a process we are not going to rush, and we will not compromise on quality and on finding the best individual possible to lead Teva," he said. "We're very pleased in terms of the candidates we are meeting with," he said.
Barer wouldn't estimate when a CEO will be picked. "I'm very pleased with the quality, and so at the end of the day, I think we have made significant progress for that search. I don't want to give you a specific time, but it is very positive so far."
Kinsey Grant contributed to this article.
Editors' pick: Originally published Aug. 15.