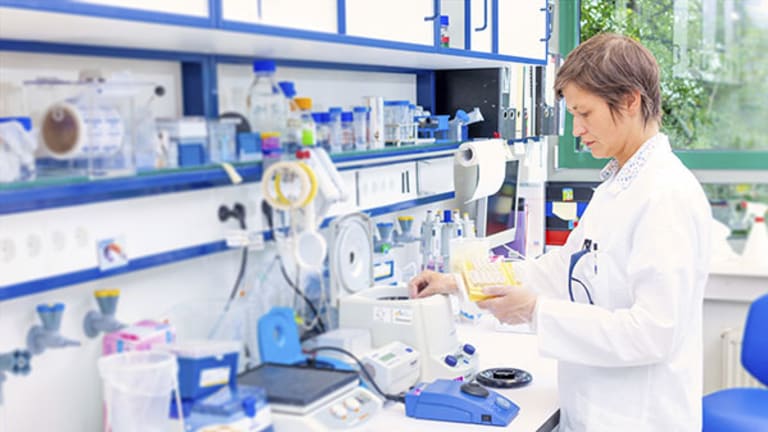 Teva, Actavis, Other Giants Set to Battle for Generics Space
Teva, Actavis and other generics giants may start preying on each other.
NEW YORK (The Deal) -- Mergers and acquisitions among generic pharmaceutical companies has become almost as popular as the drugs those companies produce. But unlike the pills, transactions are expensive.
Generic companies have been consolidating for the last decade. Just last week Mylan NV (MYL) announced its intention to acquire Perrigo (PRGO) for $29 billion. The deal would further whittle the list of targets and buyers in the generics space, and drive up the value of the remaining inventory.
Charles Yon a partner at Bowditch & Dewey LLP, pointed out that Teva Pharmaceutical (TEVA) , Actavis (ACT) , Forest Laboratories (FRX) and the U.S. generics business of Abbott Laboratories (ABT) are the only consolidators left. And given the dearth of significant targets, the survivors could begin to prey on each other.
The trail of consolidation has left 11 publicly traded generics companies in its wake, vs. 27 six years ago, Jefferies & Co. analyst David Steinberg explained. He noted that Novartis AG's (NVS) Sandoz is also a big player in the generics space, though it has not been as active on the M&A front as its peers. Privately held Canadian generics company Apotex, along with a host of smaller, privately held generics producers across the globe represent the remaining targets.
The dealmaking has bred concern that the next big transaction will draw the scrutiny of antitrust authorities. Teva -- which grew quickly via acquisitions -- was rumored to have designs on Mylan, according to a note by Steinberg, who cited media reports. At the time of the Perrigo announcement last week, he suggested that the proposed purchase might represent a defensive move to thwart Teva.
Steinberg noted that if Teva were to acquire Mylan, the buyer would gain pricing power as the largest generics company in the world. Getting the combination past regulators would likely require divestitures. According to market share information calculated by Steinberg, Teva controls over 12% of the generics market; while Mylan has 8% and Actavis has around 7%.
"I'm wondering that as it becomes more concentrated if antitrust authorities will be looking closer at this," Yon said. "There's been enough consolidation that my impression is it wouldn't be surprising to ask for certain information and for second requests."
Teva's recent history includes the acquisition of deuterium-based therapies specialist Auspex Pharmaceuticals (ASPX) for $3.2 billion earlier this year. Last year the Israeli generics giant purchased privately held Labrys Biologics for $200 million in closing, with $625 million in contingency payments. Teva has a market cap of $61.84 billion.
Despite the consolidation drive, the big players will continue to get bigger, Steinberg said."My thesis is the global giants will become increasingly larger in scale, further diversify internationally and fill in where they don't have a product offering domestically," he explained, adding that he expects small, niche drugmakers to be the primary targets.
Christian Hodneland, a managing director at William Blair & Co. noted that buyers have been encouraged to continue along the acquisition trail by investors who provide their shares with a bump following deal announcements. "Debt is inexpensive and investors are rewarding buyers," he said. He noted that larger Indian companies that compete in the generics space such as Sun Pharmaceuticals Industries could be also be targets.
As long as the incentives remain in place, the generics giants will continue to fill gaps in their offering by acquiring small drugmakers. The competition for those targets will intensify and valuations will climb. Given the potential rewards of acquisitions, it's probably just a matter of time until one of the big players is tempted to test the antitrust waters and turn on one of its large peers. 
Read more from
: