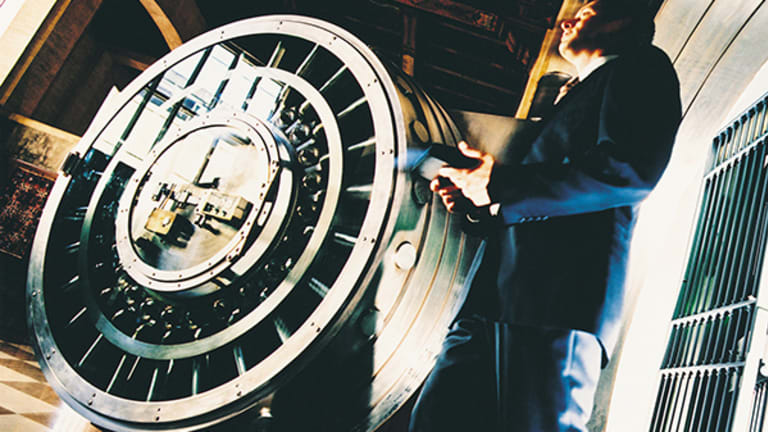 3 Regional Banks Headed for Takeovers or Proxy Fights in 2015
Recently announced deals involving mid-size institutions suggest the Federal Reserve may be opening the door to allow regional mergers
NEW YORK ( The Deal) -- First Niagara Financial Group (FNFG) , Zions Bancorp (ZION) - Get Zions Bancorporation (ZION) Report and Comerica (CMA) - Get Comerica Incorporated Report , could become takeover targets 2015. If they don't, expect activist investors to make an issue of it.
A couple of recently announced mid-size bank deals suggest the Federal Reserve may be opening the door to allow regional bank mergers. That puts a spotlight on First Niagara, Zions and Comerica as possible targets because they are attractive franchises but face a raft of regulatory, succession or technology headaches. In addition, at least one bank-focused activist fund manager has been examining these three banks as potential targets, according to a person familiar with the situation.
Last year, Zions, of Salt Lake City, Utah, was the only bank that came in below the minimum financial ratios set out in the first of two Fed stress tests, which seek to determine if banks have enough capital to survive a 2008-style crisis. Not only did the bank have to curtail its capital distribution to shareholders in 2014 to a paltry 10% of earnings but it also had to conduct a $525 million share issuance to raise capital in July 2014.
Keefe, Bruyette & Woods expects Zions will only be permitted to pay out 9% of earnings in capital distributions to shareholders in the five quarters starting in April, a key factor making it vulnerable in the year ahead..
Zions has $57 billion in assets, which means that it is just above a $50 billion threshold that subjects it to a number of post-crisis regulatory headaches and costs. The bank must write regular "living wills" explaining how it will unravel itself if it fails and it must conduct stress tests, which so far have shown that it has trouble raising capital the Fed deems it needs as a buffer.
According to an SNL Financial report, as of Feb. 13, Zions had a stock price to tangible book value of 100% and was trading at 15 times earnings. The activist fund manager following the situation suggested that the metrics wouldn't be so bad except that the bank's return on equity is depressed at roughly 6%. However, he added that Zions has a good footprint with desirable franchises in valuable markets. Thus, a well-capitalized acquirer could reduce or eliminate the institution's capital raising and share distribution problems.
"The lack of capital distributions make them vulnerable because shareholders aren't getting an appropriate return on their investment in Zions," the fund manager said. "They are not paying out significant amount of dividends or offering stock buybacks because they have to build capital."
Comerica, headquartered in Dallas, with $69 billion in assets, has a strong presence in Texas, California and Michigan, suggesting that a potential buyer might want some but not all of the assets. The activist fund manager suggested Comerica has also underperformed in recent years and its CEO is 65 years old with no obvious successor.
The bank also faces regulatory headaches stemming from after the financial crisis and enactment of the Dodd-Frank Act. Comerica is expected by KBW to distribute about 57% of earnings in 2015, up from an estimated 53% in 2014. That's about middle of the pack when compared to the stock buybacks and dividend plans overall for large and mid-sized U.S. banks.
Finally, First Niagara of Buffalo, N.Y., with $39 billion in assets, has a price to tangible book value of 133% and has dramatically underperformed. The fund manager also contends its earnings are depressed partly because of increased costs associated with a large technology upgrade. The bank is reportedly expected to spend between $200 million and $250 million on technology upgrades. "They are destroying their current earnings in hopes of achieving better earnings with this technology investment, which if it doesn't work could be a problem," he said.
Officials from First Niagara, Zions and Comerica did not return calls seeking comment.
The fund manager suggested there are few banks that could acquire any of these three institutions, including U.S. Bancorp (USB) - Get U.S. Bancorp Report , BB&T (BBT) - Get BB&T Corporation Report  and Regions Financial (RF) - Get Regions Financial Corporation Report . He added that a couple of Asian banks, including Japan's Mitsubishi UFJ Financial Group (MTU) , which owns California-based UnionBank, or a few Canadian banks could be suitors as well. However, he added that low oil prices may complicate matters for potential buyers of Zions and Comerica because they both have exposure to the energy sector given their geographic footprint.
None of the potential buyers could be reached.
Two recently announced transactions -- BB&T's $2.5 billion acquisition of Susquehanna Bancshares Inc. (SUSQ) and RBC's (RY) - Get Royal Bank of Canada Report $5.4 billion City National Corp. (CYN) deal  -- suggest the Fed may be more supportive of regional bank mergers in the months to come.
"The general rule of thumb is that the buyer's regulatory rating is more important than seller's regulatory rating, so even underperforming banks can sell to the right acquirer," he said. "The Fed has finally given the green light to consolidation among regional banks."