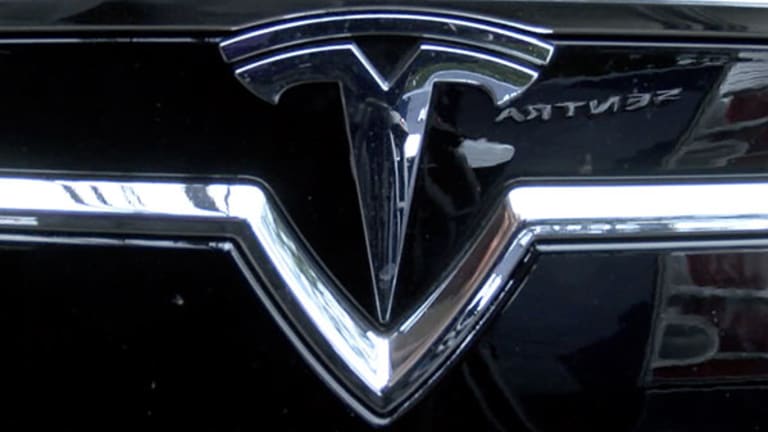 Tesla Bubble Talk Aside, Give the Bankers Some Credit
Tesla's CEO Elon Musk and its bankers deserve a lot of credit, even if speculation of a bubble persists.
Updated from 12:57 p.m. ET to correct information from Morgan Stanley report
NEW YORK (TheStreet) -- In a Feb. 25 report that valued Tesla (TSLA) - Get Tesla Inc Report at 62 times forecast fiscal 2015 earnings, Morgan Stanley analyst Adam Jonas hinted that the company could disrupt the trillion dollar electric utility industry and lay the foundation for a utopian society. Even if those high hopes don't pan out, Wall Street should get some credit as money rushes into the Elon Musk-run company at ever-higher prices.
Tesla, for all the talk it generates of a stock market bubble and irrational exuberance among tech sector investors, is a strong example of what should be celebrated about Wall Street. And yes, there are many good reasons for investors to be skeptical of the company's meteoric share price rise.
Through a series of equity offerings and a newfound focus on convertible debt offerings, Tesla and its bankers Goldman Sachs, Morgan Stanley, JPMorgan and Deutsche Bank, are in the process of raising billions in private capital to fund the company's efforts to commercialize the electric car and, more recently, the "gigafactory," a $4 billion-to-$5 billion plant to build more powerful batteries for electric vehicles.
So far, Tesla likely has a lot of credibility with Wall Street, and it is no surprise the company is now in the process of its biggest-ever capital raise, a $1.6 billion convertible note offering to finance the multi-billion dollar gigafactory.
Consider Tesla's capital raising history, even as the company has faced skepticism from short-sellers and the like since going public in 2010. Any long-term investor buying a Tesla offering has so far made money from the company.
Here's a schedule of the company's capital raising history:
Tesla priced an initial public offering of 13.3 million shares at $17 apiece, raising $226.1 million in capital on June 28, 2010.
Tesla priced a secondary offering of 6.92 million shares at $28.25 apiece, raising $195.65 million in capital on Sept. 28, 2012.
The company priced another secondary offering of 3.93 million shares at $92.4 apiece, raising $313 million in capital on May 17, 2013.
Tesla's convertible notes would effectively convert into 4.81 million shares at $124.52 apiece, raising $600 million in capital.
Now, Tesla is offering two series of $800 million convertible notes due in 2019 and 2021 respectively, which would convert to equity at a price of 120% above the company's share price at the consummation of its convertible offering. Tesla said proceeds from the convertible offering will be used for invest in projects like the gigafactory.
The interest rate off the offering isn't yet disclosed. In a mid-2013 convertible note offering, Tesla's first as a public company, the company offered five-year notes at a coupon of just $1.5%.
One unheralded story from the convertible note offering is how Wall Street, through normal underwriting activity, has lined up smart financing for Tesla, and in a manner that so far has benefited shareholders, the company and those who believe in the importance of investing in electronic vehicles and battery technologies.
By offering notes to repay its Department of Energy loans in May, Telsa was able to shore up its balance sheet and cancel stock warrants that would have been extremely dilutive to shareholders.
Now, after just three secondary offerings since its IPO, the company and its bankers have found mechanisms to finance what some believe is a groundbreaking project in the gigafactory. Again, the deal is structured in a way to minimize any long-term shareholder dilution.

Of course, Telsa will still need to execute for its note and stock offerings to ultimately pay off for investors.
Tesla said earlier this week it expects to reach production unit rates of 500,000 cars per year by 2020 because of the gigafactory. That's an incredibly fast ramp rate, considering the company expects to deliver 35,000 Model S vehicles this year, up from just over 20,000 in 2013. That 500,000 vehicle number includes the Model S, the Model X (slated for release later this year), and the upcoming Gen III vehicle, which CEO Elon Musk has said will be in the $30,000 to $40,000 range.
Morgan Stanley analyst Jonas, in one of the most bullish and speculative major analyst reports in recent memory, believes that if the company can become a leader in commercializing battery packs, "investors may never look at Tesla the same way again."
Jonas's price target of $320 a share, unveiled on Monday, pushed Tesla's stock up over 10%, a helpful development for the company as it looks to raise new capital.
A skeptic, and especially those with memories of the dot-com bubble, might say that Jonas is pumping Tesla's stock, given Morgan Stanley's long-standing work as an underwriter of the company's equity and debt offering. Those doubts linger even though post-dot-com bust regulations put so-called Chinese walls between stock analysts and bankers.
That, however, would downplay the role Jonas and other Tesla stock analysts have had in communicating the company's business model to prospective investors.
In 2013, Jonas likened Tesla's CEO Elon Musk to Henry Ford, and such agonies helped skeptical investors to think past the company's capital deficit as ramped up production of its electric cars in recent years.
The story has so-far paid off.
Tesla's stock is up over 1,200% since going public in 2010. Shares are up over 600% in the past-12 months as the company. The company's market capitalization now stands at about $30 billion, or roughly half of Ford's (F) - Get Ford Motor Company Report market cap. 
By any current metric, Tesla has and continues to be wildly overvalued. However, Jonas and other stock analysts have successfully communicated the company's long-game to investors. Bankers at underwriters like Morgan Stanley, meanwhile, have helped the company build the balance sheet to play that long game.
Even if Tesla's fast-rising share price increases the risk for its shares, it seems like in this case, Wall Street has done a very good job.
Tesla's CEO Elon Musk also deserves credit for a savvy use of capital markets to fund his ambition, as TheStreet noted in May.
-- Written by Antoine Gara in New York