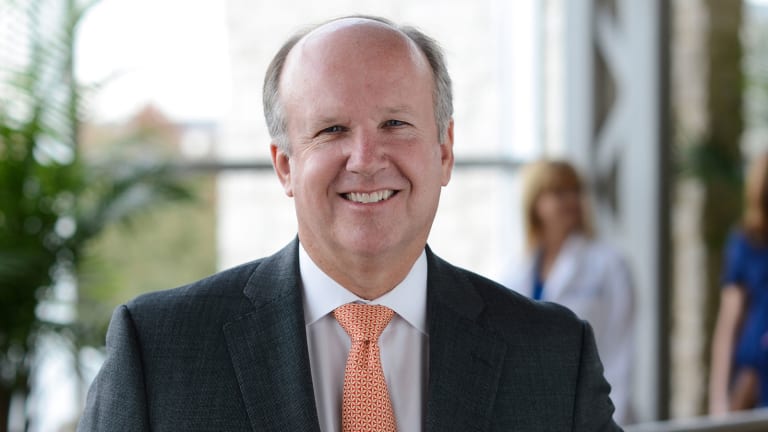 Publish date:
Tenet May Face Glenview Campaign as Hedge Fund's Directors Resign
The pair said their resignation signals that efforts to find a mutually agreeable path to improve Tenet have been "fully exhausted."
The pair said their resignation signals that efforts to find a mutually agreeable path to improve Tenet have been "fully exhausted."
Glenview Capital Management LLC on Friday, Aug. 18 took a step that could lead to an activist campaign at Tenet Healthcare Corp. (THC) - Get Report —the resignation of the hedge fund's two designated appointees from the hospital operator's board.
Tenet announced in a Securities and Exchange Commission filing that Randy Simpson and Matt Ripperger would step down from Tenet's board. In a letter disclosed with the filing, the pair said they were leaving "due to irreconcilable differences regarding significant matters impacting Tenet and its stakeholders."
The filing contained a letter from Simpson and Ripperger. The two said their resignation signals that efforts to find a mutually agreeable path to improving Tenet have been "fully exhausted."
In January 2016, Tenet, the nation's third-largest investor-owned hospital chain, agreed to add Simpson and Ripperger to its board. Simpson and Ripperger are Glenview partners and co-leaders of healthcare research for the fund.
As part of the agreement that put the two on Tenet's board, Glenview agreed not to raise its stake in Tenet beyond 25% or join any other investor seeking to oust management or force a sale or merger of the company.
Prior to that deal, Glenview had become the largest shareholder in Dallas-based Tenet and announced that it was trying to influence change at the struggling company. Glenview continues as the top stakeholder with a nearly 18% position.
The agreement also allowed Glenview to nominate two additional board directors as long as it maintained at least a 10% stake in the company. In November Tenet agreed to add former Lincare Holdings CEO John Byrnes and Peter Wilver, chief administrative officer of Thermo Fisher Scientific, as directors.
A Tenet spokesperson said the company had no comment beyond the SEC filing announcing the resignations. But Byrnes and Wilver, the other Glenview appointees, continue on Tenet's board, according to Tenet's Web site. Simpson and Ripperger have already been removed form the list of directors.
Glenview is led by Larry Robbins while Tenet is led by CEO Trevor Fetter.
Tenet, like some other hospital operators, has been plagued by losses as they grapple with pricing pressure and uncertainty over the fate of Obamacare. 
Tenet shares traded as high as $59.43 per share in July 2015 but had dropped to $24 a share when the standstill with Glenview was reached at the beginning of 2016. Through mid-morning trading Friday, Aug. 18, they were at $13.95, up $1.30 or 10.28% so far for the day.
On Aug. 7 Tenet reported a net loss from continuing operations attributable of $56 million during the second quarter. That compared to a $44 million net loss from continuing operations in the second quarter of 2016. The larger than expected second-quarter loss led Tenet to cut its guidance for the rest of 2017.
In explaining their reasons for leaving the board, Simpson and Ripperger stated: "We joined the board 19 months ago as nominees of our employer, Glenview Capital Management, in the interests of serving all of Tenet's stakeholders and with a view toward building value for all shareholders. Both we as individuals, and Glenview as an owner, have determined that the most effective way forward to promote strong patient satisfaction and long-term value creation for Tenet is to step off this board, which also triggers the expiration of Glenview's restrictive 'standstill' agreement in 15 days."
When the standstill expires, they said "Glenview may evaluate other avenues to be a constructive owner of Tenet."
They stressed that "Glenview remains fully committed to its ownership stake in Tenet and its desire to drive improved performance, culture and value."
The pair also appealed to their former co-directors, by saying they hoped their Tenet colleagues had "come to respect and appreciate our methodical approach and our genuine desire to work constructively and cooperatively . . . to enhance Tenet."
Editors' pick: Originally published Aug. 18.