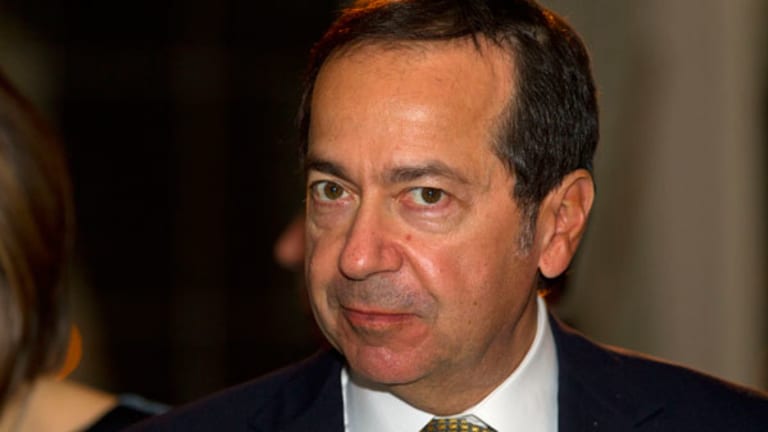 Telco M&A May Amazingly Continue After Leap Wireless, AT&T Deal
AT&T's deal for Leap Wireless doesn't exhaust carriers' consolidation options.
Updated from 9:22 a.m. ET with Paulson & Co. comment and opening share prices
.
NEW YORK (
) -- There are many companies left for telecom giants to fight over amid a frenzy of merger and acquisition battles as carriers look to scale their wireless networks and improve smartphone wireless service.
On Friday,
AT&T
said it is buying
Leap Wireless
(LEAP)
for
, in a deal that could add millions of pre-paid customers to the telecom giant and bolster its wireless service capacity.
"Perfect fit for AT&T. They get valuable spectrum and 5 million customers," Paulson & Co, a top Leap shareholder, said in an e-mailed statement. "Good outcome for Leap shareholders," the $18 billion hedge fund added.
Paulson & Co. holds nearly 10% of Leap's outstanding shares, according to
Securities and Exchange Commission
filings, after taking a large position in the first half of 2012. Other large investors include
Magnetar
,
Blackstone
(BX) - Get Blackstone Inc. Report
and
Owl Creek Management
.
Leap Wireless's largest shareholder
MHR Fund Management
is supporting the company's acquisition by AT&T, however, analysts and investors are speculating there could be a
.
In a Friday press release, Leap Wireless said 29.8% of its outstanding shares have entered into an agreement to vote in favor of the transaction. Gregory Lund, a Leap Wireless spokesperson, confirmed those votes only relate to MHR's stake.
While the merger is just the latest in a frenetic two years of consolidation in the industry, initiated by AT&T, there are likely more deals yet to come.
Meanwhile some telecom industry analysts believe AT&T faces the prospect of a bidding war for Leap Wireless given the value of the company's spectrum assets to carriers such as
Verizon Wireless
(VZ) - Get Verizon Communications Inc. Report
,
T-Mobile USA
(TMUS) - Get T-Mobile US, Inc. Report
and
Dish Network
(DISH) - Get DISH Network Corporation Class A Report
.
Verizon could make a counter-bid to AT&T's deal, given forecasts the company could fall behind its primary competitor in wireless spectrum per million subscribers, according to Citigroup analyst Michael Rollins. According to Rollins, AT&T will have spectrum of 1.1 megahertz (MHz) per million subscribers and 1.7 million MHz per million post-paid subscribers, ahead of Verizon Wireless.
Burgeoning players in the U.S. wireless market could also take a look at trying to eclipse AT&T. Charlie Ergen-chaired Dish Network could look at Leap Wireless's pre-paid customer network as the asset the satellite TV giant needs to finally enter the wireless market, according to Rollins.
T-Mobile may have been involved in a private bidding war with AT&T for Leap Wireless, according to Oppenheimer analyst Timothy Horan.
"
We would not be surprised if
T-Mobile re-enters the bidding war as the spectrum is more important to it," Horan wrote.
Some see AT&T's deal as poetic justice. "
Buying Leap is a good way to stick it to T-Mobile," Craig Moffett, co-head of MoffettNathanson, wrote in a note. Moffett is not impressed with the strategic importance of Leap Wireless to Dish or AT&T and sees the deal as another reason for Dish and
DirecTV
(DTV)
to consider a merger.
Bidding wars have been a key part of T-Mobile,
Sprint
(S) - Get SentinelOne, Inc. Class A Report
,
Clearwire
(CLWR)
and MetroPCS's consolidation efforts. In spite of a handful of recent deals, consolidation efforts across the industry may not be complete.
After Dish Network pursued both Sprint and Clearwire, analysts now speculate the company may pin its wireless industry strategy on a merger with T-Mobile. Given Dish's lack of wireless customers and its valuable spectrum, analysts had also consider the company a natural fit for AT&T.
Sprint and T-Mobile, meanwhile, may eventually look to merger with T-Mobile according to Citigroup's Rollins. The analyst also points out
Telephone & Data Systems
(TDS) - Get Telephone and Data Systems, Inc. Report
-owned
US Cellular
as an attractive wireless asset in the consolidating industry.
For now, AT&T will
Leap Wireless's Cricket brand name and about 5 million subscribers on the company's CDMA network, according to the terms of Friday's merger agreement.
"Cricket's employees, operations and distribution will jump start AT&T's expansion into the highly competitive prepaid segment," AT&T said in a statement. Cricket customers may benefit from accessing AT&T's recently upgraded network, the company added.
The telco giant will also acquire valuable 4G LTE and AWS spectrum, in a move that helps to fulfill its network expansion efforts. AT&T will divest Leap Wireless's Chicago-based spectrum licenses, which it acquired from Verizon in 2008.
In a sense, AT&T's move for Leap Wireless takes the carrier full circle on its wireless acquisition plans.
At this time 24 months ago, AT&T was lobbying with the
Department of Justice
to win approval of its proposed $39 billion merger with
T-Mobile USA
(TMUS) - Get T-Mobile US, Inc. Report
. When that deal was blocked on antitrust grounds, it set off a rapid consolidation of the industry among second-tier players.
T-Mobile acquired MetroPCS in October while, most recently, the industry's third player
Sprint
(S) - Get SentinelOne, Inc. Class A Report
was taken over by Japanese telecom
SoftBank
of Japan. Sprint also recently acquired
of
Clearwire
(CLWR)
.
Friday's merger signals AT&T, the nation's biggest telecom by revenue, believes the DoJ will allow it to be an aggressor in the wireless sector.
Consolidation among industry third and fourth players such as Sprint and T-Mobile may have altered market concentration figures and those surrounding all-important wireless spectrum. Leap Wireless is also a regional service provider, a contrast to T-Mobile, which is the industry's fourth-biggest national player.
The DoJ has expressed an interest in fostering at least three or four nationally competitive wireless providers, meaning Leap may mark the twilight for the telecom sector merger wave.
Sitting in the background of telecom industry consolidation are hedge fund titans who made savvy bets on a merger frenzy.
John Paulson of
Paulson & Co.
was chief among hedge funds in targeting potential wireless consolidators and has played a crucial role in the industry's realignment. The fund helped to advocate a lowered debt level in MetroPCS's takeover by T-Mobile, and it cast a crucial vote of support on SoftBank's bid for Sprint.
While Paulson may have made billions on stakes in Sprint and MetroPCS after buying both companies' shares when they were priced for failrue, he is also poised to see big profits from a deal for Leap Wireless at $15 a share.
Leap Wireless shares were trading significantly over AT&T's offer price in early Monday trading. Leap shares were rising over 113% to $17.00.
With Clearwire Sprint Moves Onto Final Act of Wireless Drama
.
Glenview's Obamacare Bet Matches Paulson's Wireless Windfall
.
-- Written by Antoine Gara in New York