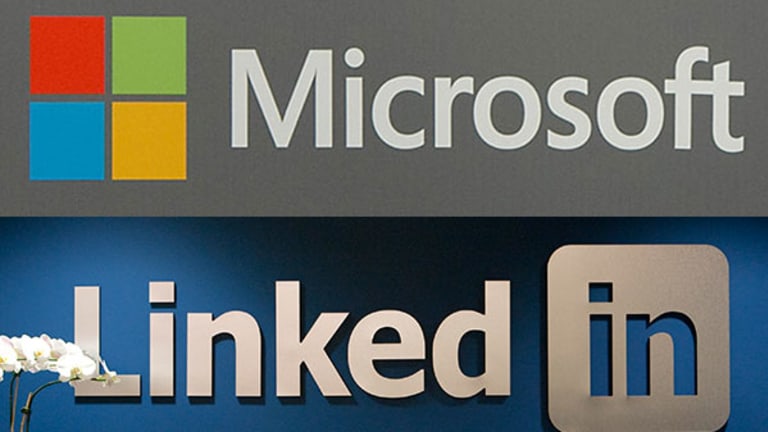 Tech Merger Boom Keeps Qatalyst in Spotlight
The boutique bank has been in the thick of technology mergers since its founding by Frank Quattrone.
The boutique bank has been in the thick of technology mergers since its founding by Frank Quattrone.
The auction of LinkedIn (LNKD) , which pitted Microsoft (MSFT) - Get Report against Salesforce.com (CRM) - Get Report , marked the highlight of this year's enterprise software deals. The $26.2 billion transaction is the largest ever for Microsoft. It is also the biggest sale for Qatalyst Partners, which teamed with Allen & Co. to run the auction.
Founded by Frank Quattrone and a group from Credit Suisse and other institutions in 2008, Qatalyst has had a hand in some of the largest deals during this and previous M&A cycles including the $9.3 billion sale of NetSuite to Oracle (ORCL) - Get Report .
The boutique bank, which declined to comment for this story, has built a reputation as a go-to sell side institution.
"Qatalyst has a strong core competency in large-cap tech M&A," said Bradley Vizi of Legion Partners Asset Management.
The boutique benefited from Quattrone's extensive connections to the tech sector. His group at Credit Suisse (CS) - Get Report was one of the prominent deal teams. While a company often hires Goldman Sachs (GS) - Get Report or Wachtell Lipton to fend off an activist, hiring Qatalyst suggests a sale is more likely.
"It's very much an M&A investment bank," Vizi said. "That has a lot to do with it."
The press release announcing Qatalyst's debut included a shout-out from Google's then-Chairman and CEO Eric Schmidt, who is now chairman of parent Alphabet  (GOOGL) - Get Report , who called the launch "an important development for the technology industry," Schmidt said, citing Quattrone's "unparalleled industry knowledge" and "candid, insightful judgment." 
Credits Suisse was one of the leads on Google's initial public offering in 2004. Qatalyst later advised Google during Microsoft's unsuccessful hostile takeover of Yahoo! (YHOO) . In 2012, Qatalyst and Centerview Partners sold Motorola Mobility to Google in 2012 for $12.5 billion.
Qatalyst's initial founders include former Credit Suisse Internet group head Jonathan Turner, who ran corporate development for online marketing leader QuinStreet; former Credit Suisse General Counsel and Shearman & Sterling lawyer Adrian Dollard; Evercore banker Neil Chalasani; Goldman Sachs banker Brian Slingerland; and Brian Cayne, most recently an associate at Vista Equity Partners.
Credit Suisee bankers George Boutros, who is now CEO of Qatalyst, and Jason DiLullo. who joined in 2010, had worked with Quattrone at Morgan Stanley (MS) - Get Report , Deutsche Bank (DB) - Get Report and Credit Suisse. The bankers have had a prominent role in semiconductor consolidation, one tech banker noted, describing Boutros as a "neurosurgeon" in his understanding of deals and the psychology behind them.
Alphabet is a holding in Jim Cramer'sAction Alerts PLUS Charitable Trust Portfolio. Want to be alerted before Cramer buys or sells GOOGL? Learn more now.
"Tech is one of the spaces that boutiques compete best in because its more idea-driven than debt financing-driven, similar to the pharma space," Jeffrey Nassof of Freeman & Co. LLC said.
While JPMorgan Chase  (JPM) - Get Report and Goldman are the biggest players the tech M&A advisory revenue pool, Qatalyst is the top boutique, with a 7.8% of the tech merger and acquisition advisory revenue pool. "There is nobody else at that same level and tech," Nassof said.
After Qatalyst, the next largest boutique is Evercore, with 3.4% of the pool. Jefferies and Centerview have just over 2%, Nassof said.
Most sectors have a strong boutique that captures 7% to 8% of M&A advisory revenue. In healthcare, it's Centerview. A large share of the media and telecom sectors goes to LionTree Advisors.
"Exceptions are consumer and industrials," he said. "Those are the big private equity- and debt financing-driven spaces."
Part of boutiques' appeal, one analyst said, is independence. Conflicts can arise between a bulge-bracket bank's role as an M&A adviser and a provider of debt financing. If a large bank underwrote a company's IPO at a high valuation and sold it for a relatively low return, investors could question the value of the institution's advice.
However, Qatalyst's reputation remains golden. "If I were selling a company I would use George," the tech banker said, referring to banker Boutros.
Tech deals have picked up since Labor Day, including Hewlett Packard Enterprise (HPE) - Get Report  selling its software business to Micro Focus International (MCRO) - Get Report for $8.8 billion. As usual, Qatalyst is in on the action. Imperva (IMPV) - Get Report tapped the firm over the summer after Ellliott Associates urged the cyber security firm to explore a sale.
EDITORS' NOTE: This article was originally published by The Deal, a sister publication of TheStreet that offers sophisticated insight and analysis on all types of deals, from inception to integration. Click here for a free trial.