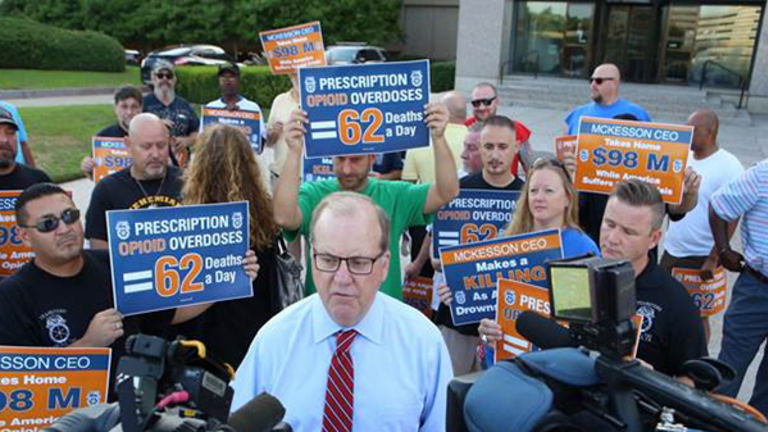 Teamsters Mark Victory Against Executive Pay at Drug Titan McKesson
McKesson faced some opposition at its shareholder meeting from an unconventional activist investor—a labor union.
The public "vote no" campaign spearheaded by the International Brotherhood of Teamsters against McKesson Corp. (MCK) - Get McKesson Corporation Report proved successful after investors on Wednesday, July 26, opposed the company's executive compensation plan.
Investors rejected the program at McKesson's annual shareholder meeting outside Dallas, the company said in a press release. The company plans to disclose the number of shareholders who voted against the plan on Thursday in an SEC  filing, but within the company's bylaws, 50% of a vote is required for approval. The vote marks the second time since 2011 the board has failed to rally majority support behind advisory votes on pay.
So-called say-on-pay votes are non-binding, so McKesson needn't do anything in response to the rejection of its compensation plan. But the outcome is embarrassing to management, and activists have often mounted campaigns following negative say-on-pay votes because they are an indication of a large disgruntled shareholder base. 
"We cannot afford another decade of business as usual at McKesson-honestly I don't think America can survive it," Ken Hall, general secretary-treasurer of Teamsters, said to the crowd picketing outside the shareholder meeting. "This fight is for the health of the company and the health of our country. It is the first time shareholders have an opportunity to vote for accountability at one of the companies at the center of the opioid epidemic, but it won't be the last time."
The union, a long-term shareholder of McKesson, called for reform in the company's governance and executive pay system. Earlier in July, Teamsters sent a letter to McKesson shareholders urging for a vote in favor of the union's independent chair proposal and against the company's executive pay proposal.
Shares of McKesson dropped 1.9% to a low of $164.42 during the shareholder meeting, but rebounded to $166.69 per share during afternoon trading.
"The recent efforts by the Teamsters labor union do little to address the root causes of the opioid epidemic," said Kristin Chasen, Director of McKesson's Corporate Media Relations. "Nor can these attack efforts be disentangled from the labor contract dispute the Teamsters have been engaged in at one of our company's facilities."
America's opioid epidemic is an escalating public health crisis, one fueled by access to prescriptions. According to data from the Centers for Disease Control and Prevention, West Virginians (one of the state's most heavily afflicted by the opioid epidemic) are more likely to die from drug overdoses than they are from car accidents and gun violence.
"While we don't manufacture, prescribe or dispense opioids to patients, we are doing everything we can to help address this crisis in close partnership with doctors, pharmacists, government and other organizations across the supply chain," McKesson said in a press release.
Following the vote, Hall issued a statement praising shareholders for holding McKesson accountable, but also reminded them that the nation needs to adjust its drug prescription and distribution process to enact change in addressing America's addiction problem. prescribing and distributing drugs to enact change in addressing the problem. 
"This shareholder vote should serve as a wake-up call to AmerisourceBergen (ABC) - Get AmerisourceBergen Corporation Report , Cardinal Health (CAH) - Get Cardinal Health, Inc. Report and other companies involved in the manufacturing or distribution of prescription opioids that shareholders want to see change," Hall said in the statement. "We cannot afford another decade of business as usual. The Teamsters will not back down from this fight."
Editor's note: This article was originally published by The Deal, a sister publication of TheStreet that offers sophisticated insight and analysis on all types of deals, from inception to integration. Click here for a free trial.