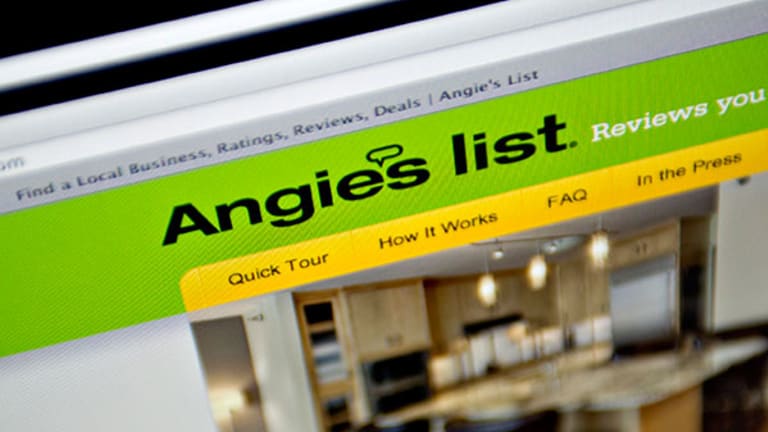 TCS Wins Three Board Seats in Angie's List Settlement
The consumer review website and TCS Capital Management have reached a settlement that may lead to a better offer than the one made by a unit of Barry Diller's IAC\InteractiveCorp.
Consumer review Web site Angie's List (ANGI) - Get Angi Inc Class A Reportcame to an agreement with activist investor TCS Capital Management, paving a smoother road for a sale. Angie's List said Tuesday it will add three dissident-backed directors to the board.
TCS Capital's president and founder, Eric Semler, and industry veterans George Bell and Tom Evans are joining the board while John Biddinger is retiring. With the additions and the retirement, the Indianapolis-based consumer review site is expanding the board to 11 from nine members.
The settlement also includes a standstill agreement with the activist and will allow New York-based TCS Capital to purchase up to 12.75% of Angie's List outstanding shares. It currently has a 9.6% stake in the Internet company.
TCS first arrived on the Angie's List scene more than six months ago but The Deal reported in December the company had started holding preliminary discussions with the activist investor that could result in adding a minority slate of the directors of the activist's choice.
The agreement with its activist investor comes just about two weeks before Angie's List's deadline for director nominations.
TCS Capital launched its campaign in July when it revealed that it planned to have talks with Angie's List about exploring a sale. In October, the activist pitched a tax-free merger between Angie's List and IAC/InterActiveCorp.'s (IACI) HomeAdvisor. 
The following month, IAC came to the the table by offering to purchase Angie's List for $8.75 per share, or $512 million based on the target's 58.52 million outstanding shares. Less than a week after Barry Diller's media empire made its proposal public, Angie's List rejected the bid and argued that the $8.75-per-share offer undervalued it.
Since then, Angie's List has caught the attention of another activist, Vajra Asset Management, that disclosed its 9.1% stake in the company last week and revealed that it may consider having talks with management about exploring strategic options, among others. Vajra represents yet another voice of support for TCS Capital's campaign at Angie's List, around which other activist funds have started to circle, The Deal reported Monday.
"Now that TCS has three board seats, it could make the [sale] process more smooth," said Kerry Rice, managing director of equity research at Needham & Co, via phone. Rice added the standstill doesn't preclude a sale and that a bid of $10 per share, or $585.2 million, from a prospective buyer would be a "palatable" offer price for Angie's List.
At the same time, Angie's List may not need to take actions immediately as it appears to be taking steps in the right direction under the leadership of new CEO, Scott Durchslag, he added. "I think they will give him more time to make an impact," Rice explained.

Company followers have said while growth has slowed down for Angie's List, it still has a strong brand name and could garner interest from a wide range of strategics such as Comcast (CMCSA) - Get Comcast Corporation Class A Report , Yelp (YELP) - Get Yelp Inc Report , Groupon (GRPN) - Get Groupon, Inc. Report and Priceline (PCLN) , among others.
For its part, IAC asserted during its Feb. 3 fourth-quarter earnings call with investors that the company is currently focused on operating its own business though its chief executive did refer to its Angie's List overture.
"We put an offer on the table. We attempted to engage with them. They had no interest," said IAC CEO Joseph Levin of Angie's List. "In the meantime, things have changed. Markets moved. We have a lot going on ourselves. We have a business to run and we have a ton of opportunity in our business."
Shares of Angie's List closed Tuesday at $8.45, giving the company a market cap of around $498.56 million. The stock is down about 9.6% for the year to date.
Officials with TCS and Angie's List declined to comment while those with IAC did not return requests for comment Tuesday.