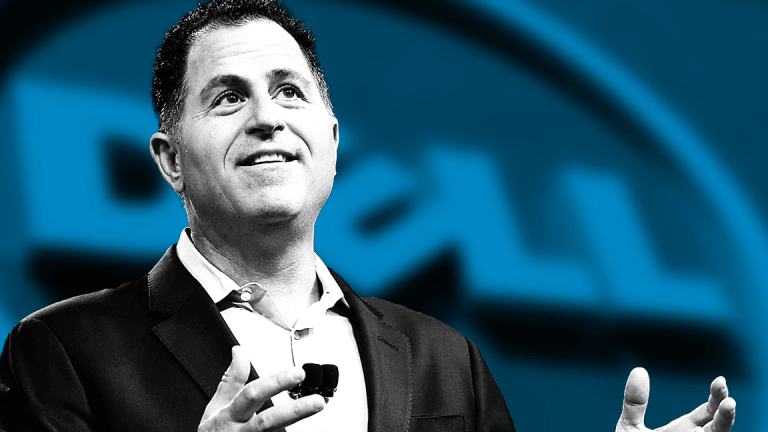 Taking Dell Public Could Help Reduce a Mountain of Debt
Dell's blockbuster $67 billion purchase of EMC ballooned the company's balance sheet. The company has sold off businesses to reduce its debt. Selling some shares to the public could be the next step.
An IPO of Dell Technologies Inc. could speed up the company's efforts to pay down a mountain of debt it has built up with the $67 billion acquisition of EMC announced more than two years ago.
Even though the Round Rock, Texas, PC, server, networking and storage company has used cash from asset sales and other sources to pay down $9.7 billion in debt since the deal closed, Dell's total debt, including obligations of its subsidiaries such as VMWare Inc. (VMW) - Get VMware, Inc. Class A Report , stood at $52.5 billion at the close of the third quarter. 
Determining how much of the company Michael Dell and backer Silver Lake Partners might sell in an IPO, which the Wall Street Journal reports is an option, is difficult. Dell declined to comment.
The company could raise a substantial sum, however. As a reference point, payments company First Data Corp. (FDC) - Get First Data Corporation Class A Report , a KKR & Co. (KKR) - Get KKR & Co. Inc. Report portfolio company with a high debt load, raised $2.5 billion in proceeds from its 2015 IPO, which was the largest of the year. The Action Alerts Plus holding spent $2.1 billion to pay down notes. First Data's $12 billion or so top line is a fraction of Dell's $78.6 billion in projected fiscal-year 2018 revenues. First Data is profitable, however, while Dell posts losses.
Dell's debt jumped to $57.4 billion when the company completed its purchase of EMC in September 2016. 
To prepare for the debt increase, Dell put assets up for sale even before the transaction closed.
The first was the $3.05 billion sale of Dell Services business to Japanese telecom NTT Data Inc. in March 2016. The transaction closed in November of that year.
In June 2016 the company said it would sell its Dell Software unit to private equity firm Francisco Partners Management LLC and activist hedge fund Elliott Management Corp. for $2.4 billion.
On September 12, 2016, less than a week after Dell completed the purchase of EMC, the company announced the $1.62 billion sale of its Enterprise Content Division, which include products to store and manage content for organizations, to OpenText Corp. (OTEX) - Get Open Text Corporation Report . The transaction closed in January 2017.
Dell used $5.3 billion of sale proceeds to reduce debt, according to Standard & Poor's. The company further reduced debt by $1.2 billion in the third fiscal quarter of 2018 with cash it received from VMWare's repayment of inter-company notes. The rest of the $9.7 billion came from cash Dell's business generated.  
Despite Dell's efforts, S&P says the debt reduction is going slower than expected. The credit ratings group estimates that Dell's leverage will stand at 4 times Ebitda or higher at the end of fiscal year 2018, which ends Jan. 31, 2018. Just in September, S&P expected Dell to reduce its leverage to a level in the the mid-to-high 3 times Ebitda range. 
Dell listed $18 billion in cash at the close of the third quarter, but most of that was on the books of VMWare. Dell itself had $6.3 billion in cash, with 55% to 65% of it offshore.
While Dell would benefit from the tax break on repatriated cash in the Tax Cuts and Jobs Act, the Wall Street Journal reported that the company could take a hit from a provision that limits tax deductions to 30% of Ebitda.
Dell declined to comment for this story. During the company's Dec. 7 earnings call, however, CFO Thomas Sweet acknowledged that the interest deduction cap is a "headwind for us" and that the company is "talking with our representatives about how ... they should think through some of the impacts given that it's effectively an anti-growth strategy, as you think about how debt has funded job growth and capital growth."
Investors get their next progress report on Dell's debt reduction effort during a fourth-quarter earnings report on March 8, 2018.
Editor's note: This article was originally published by The Deal, a sister publication of TheStreet that offers sophisticated insight and analysis on all types of deals, from inception to integration. Click here for a free trial.
Take a look back at Dell's 2015 acquisition of EMC below.
More of What's Trending on TheStreet: