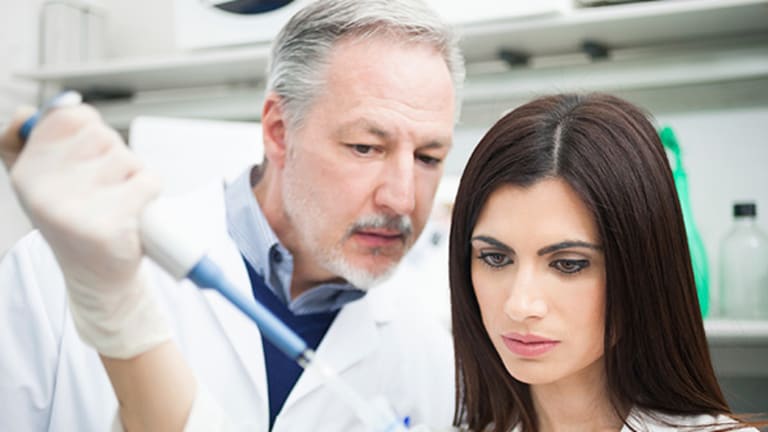 Takeover Chatter Around Clovis May Be Overdone
Rumors are swirling about Big Pharma interest in the cancer drug developer, but the validity of such theories is questioned by at least some company followers.
Though the hype about a potential takeout of of Clovis Oncology (CLVS) - Get Free Report is arguably overdone, the cancer biotech company does continue to look like a nice target for Big Pharma and encompasses a management team with plenty of past deal experience. 
Investor interest in Clovis, which is currently developing rucaparib for the treatment of ovarian cancer, spiked this week following a rumor that Eli Lilly (LLY) - Get Free Report was interested in taking out the Boulder-based competitor of recently acquired Medivation (MDVN) .  
Separately, Kennen MacKay of Credit Suisse wrote in a report about likely acquisition scenarios for Clovis and in addition to Eli Lilly, cited Merck (MRK) - Get Free Report and Japan's Takeda Pharmaceutical Co. as among those that have expressed in interest in buying U.S. oncology companies.
Clovis shares continued to climb on Thursday, adding about 4.3% to $37.20 midday. Buyout speculation led shares of Clovis to soar 12.7% on Tuesday, and they climbed another 2.4% on Wednesday. 
While a sale of Clovis is very possible, the excitement is arguably mistimed. For one thing, shares of Clovis had already run up significantly amid the long-lasting race for Medivation, which finally came to a head on Aug. 30 when Pfizer (PFE) - Get Free Report announced it would buy the cancer drug maker for an enterprise value of $14 billion. 
Ahead of the rally seen over the past couple of days, Clovis shares had already appreciated some 130% over the last three months. 
Roy Buchanan of Janney Montgomery Scott, which despite remaining optimistic that Clovis' PARP inhibitor rucaparib will gain approval later in the year, downgraded his rating on the stock on Tuesday. Buchanan said Thursday that his "neutral" rating was largely based on the fact that he doesn't see any source behind the rumors of a takeout or have any personal insight on a takeout. 
"I'm uncomfortable basing an overweight thesis on takeout theories," Buchanan said. 
"Would I be surprised to see Clovis taken out? No," Buchanan said. "Would I be surprised to not see them taken out? No."
Also important to note is that Clovis has competition. Also developing a PARP inhibitor is Tesaro Inc. (TSRO), which like Clovis has regularly been cited as a logical takeout candidate. 
Notably, more detailed clinical data regarding Clovis' rucabarib and Tesaro's niraparib will be presented at the European Society for Medical Oncology conference in Copenhagen beginning Oct. 7, and so its possible that potential buyers might want further confirmation that rucaparib is expected to sell, noted Buchanan. 
While how far off a potential acquisition of either Clovis or Tesaro remains unknown, what we do know is that for Big Pharma, oncology continues to be an area of keen interest on the deal front. Of the two companies, Clovis looks like it would would be a cheaper acquisition. Clovis' market cap sat just below $1.5 billion on Thursday, while Tesaro's current valuation is approaching $5.7 billion. 
"The impressive emerging data from the PARP inhibitor class is likely to place both TSRO and CLVS high on the list of potential M&A targets," Seamus Fernandez of Leerink Partners LLC wrote in a report earlier this week in the wake of the Eli Lilly-Clovis takeout speculation. 
Despite certain apparent advantages of Tesaro's nirparib, Fernandez noted that Clovis's rucaparib will still give Eli Lilly a near-term marketing opportunity and the potential for combinations with existing pipeline assets. 
Meanwhile, Clovis CEO and president Patrick Mahaffy have a history of selling companies. The industry exec founded Pharmion Corp. in 2000, serving as its CEO through its sale to Celgene Corp. in 2008. Mahaffy previously served as CEO and president of NeXagen Inc. and its successor NeXstar Pharmaceuticals Inc. 
Spokeswomen with both Clovis and Eli Lilly did not immediately return calls on Thursday. 
EXCLUSIVE LOOK INSIDE: Pfizer is a holding in Jim Cramer'sAction Alerts PLUS Charitable Trust Portfolio.Want to be alerted before Cramer buys or sellsPFE?Learn more now.