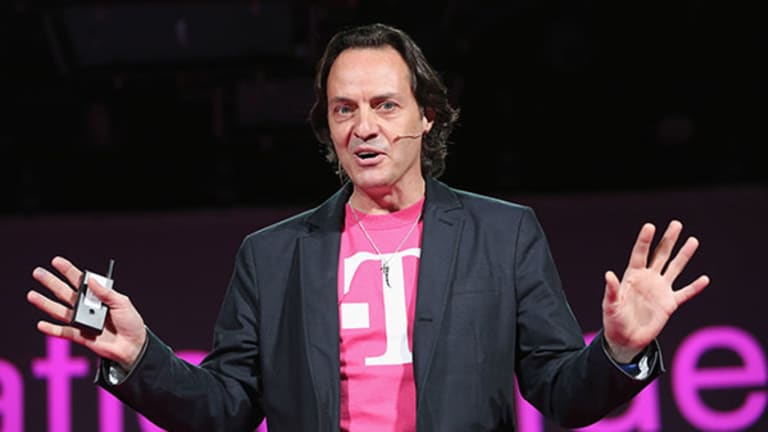 T-Mobile Has Won: Five Giant Issues In Telco Earnings
Here are big takeaways from first quarter telecom earnings. Most importantly, T-Mobile has won.
NEW YORK (TheStreet) - T-Mobile (TMUS) - Get T-Mobile US, Inc. Report has won. American wireless consumers now have an abundance of ways to lower their wireless bills after the company and its brash CEO John Legere instituted an 'un-carrier' plan to eliminate two-year contracts, and a Simple Choice plan targeted at the "arrogant" costs of AT&T (T) - Get AT&T Inc. Report and Verizon (VZ) - Get Verizon Communications Inc. Report family plans.
>>Read More: T-Mobile: Beware CEO's That Don't Talk About Profit
Anywhere one looks, there are now better wireless data plans than those that existed a year ago, and FAR better choices than those that existed when smartphone subscribers may have moved onto a network with their purchase of an Apple (AAPL) - Get Apple Inc. (AAPL) Report iPhone or a Google (GOOG) - Get Alphabet Inc. Class C Report Android device.
The telecom industry is mired in change, much of it brought about by T-Mobile and its multitude of efforts since a merger with AT&T was cancelled in late 2011 and the company merged with MetroPCS in 2013.
Here are the big takeaways from first quarter telecom earnings.
The Un-Carrier Likes Consolidation
T-Mobile's CEO Legere believes the company's mind-boggling 2.4 million first quarter subscriber additions is the simple result of competitively priced service. Years of arrogance from AT&T and Verizon mean there were a lot of households in the U.S. waiting for a better alternative.
"The U.S. industry is seeing a glimpse of what competition looks like," Legere said.
Still, he seems open to the possibility of consolidation, something that investors and analysts will be speculating upon now that Bloomberg reported Sprint (S) - Get SENTINELONE, INC. Report is working on financing for a merger effort.
"This is the start of competition," Legere said of first-quarter results right before adding, "we've always said we think ultimately it is a consolidation game." Legere then indicated T-Mobile would benefit from consolidating to achieve a scaling of fixed assets with a competitor.
Speculation of a merger isn't likely to cool.
T-Mobile Synergies to Come
If investors are speculating upon T-Mobile's next big deal, upside in the company's stock and earnings may come from synergies related to its last M&A effort, the purchase of MetroPCS in 2013.
"We're among the believers, and we see T-Mobile as simply too cheap with or without a Sprint deal. Our confidence is bolstered by the huge step up in free cash flow that will come as MetroPCS integration costs roll off and synergies roll on in two years," Craig Moffett, a principal with MoffettNathanson Research, said on Thursday.
T-Mobile didn't provide new guidance on MetroPCS merger synergies other than to say its old guidance is "conservative." Get the hint? New guidance will come at the end of the year. For 2014, T-Mobile now expects adjusted EBITDA to be in the range of $5.6 billion to $5.8 billion, and capital expenditure between $4.3 billion and $4.6 billion.
AT&T Is Entering a Promotional Phase
We once knew AT&T as 'Ma Bell.' Now, the company is reacting to T-Mobile's aggressive subscriber strategy, in an apparent effort to win share from Verizon. How things have changed!
For the first time since Verizon took on the iPhone in 2011, AT&T grew wireless subscribers faster than its primary competitor. That is no surprise given AT&T decided to finance customers looking to switch their wireless service plans, a move T-Mobile sees as a reaction and copy of its Simple Choice pan.
The result was AT&T may not have taken any share from T-Mobile, however, it did appear to take share from Verizon.
"Verizon has topped AT&T for post-paid net additions every quarter since they got the iPhone. Not this time. Yes, T-Mobile cleaned everyone's clocks this quarter. But AT&T was able to offset the damage by doing better against Verizon. It was Verizon who took it on the chin," Moffett wrote.
Don't Worry About Verizon For Now..
Verizon is getting crushed by competition, if you look through the lens of first quarter subscriber additions.
Verizon added 549,000 subscribers, mostly postpaid connections, while AT&T added 625,000 postpaid customers for the quarter, its best first quarter performance in five years as total net adds exceeded 1 million subscribers. Sprint lost 231,000 customers in the quarter. Yet, T-Mobile blew everyone out of the water with more than double the subscriber additions of its three primary competitors.
But investors don't need to worry about Verizon for now. The company remains, by far, the most profitable in the telecom sector and divided hungry investors are all but assured earnings growth as Verizon takes full control of Verizon Wireless from Vodafone.
Verizon earned $11.2 billion in EBITDA and nearly $6 billion in net income, more than any other telecom in the sector. Even T-Mobile CEO Legere isn't predicting Verizon's demise. On a conference call, he said Verizon's sheer scale with over 100 million subscribers, will mean the company can do just fine, even if wireless margins drop after peaking in 2013 amid rising competition.
Down the road, TheStreetargued, there is the prospect the $130 billion deal for Verizon Wireless proves a strategic misstep. We won't know for a long time.
Sprint Desperately Needs a Deal
Sprint continues to lose customers as its network continues to come up short on performance and at a higher cost than management anticipates. It is no wonder the company is eying a merger with the fastest growing carrier in the industry and one that also has the best overall spectrum position.
As Bloomberg reported on Wednesday, Sprint is lining up financing for a merger effort with T-Mobile and the company appears to believe it has a strong story to tell skeptical regulators in Washington.
Sprint's majority owner, Japanese telecom giant Softbank, made a trip to Washington earlier in 2014 to lay out its grand ambitions in building mobile broadband network. It's hard not to see those efforts, which theoretically could add a new competitor in the consolidating broadband industry, as part of a larger argument to regulators for a merger with T-Mobile.
Maybe three healthy nationwide wireless carriers would be something the Federal Communications Commission could digest if it leads to three, four or five nationwide ISP's.
Currently, Comcast (CMCSA) - Get Comcast Corporation Class A Report and Time Warner Cable (TWC) are in the process of a merger effort among the nation's two biggest broadband providers. If the deal goes through, divestitures would assure that Charter Communications emerges as a nationwide player by picking up divested assets. A possible merger of DISH Network (DISH) - Get DISH Network Corporation Class A Report and DirecTV (DTV) , or AT&T and DirecTV might also emerge, as satellite TV providers look to build mobile broadband networks.
If Comcast gets its Time Warner deal, don't expect Sprint and its fast-moving owner, Masayoshi Son of Softbank, to move slowly.
>>Read More: Sprint Prepares T-Mobile Merger Financing
>>Read More: T-Mobile Isn't Done Shaking Up the Industry
>>Read More: Verizon Raises Its Best Offer for Family Data Plans
-- Written by Antoine Gara in New York.