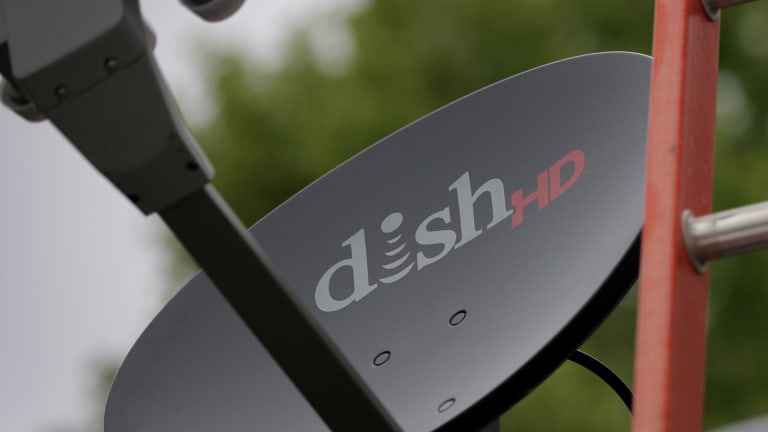 Why Dish Might Want to Serve Up a Wireless Deal With T-Mobile and Amazon
Satellite TV mogul Charlie Ergen will discuss the strategic outlook in wireless during Dish's first-quarter earnings call Monday.
Updated from April 28 with additional information.
When satellite TV company Dish Network (DISH) - Get DISH Network Corporation Class A Report holds its first quarter earnings call on Monday at noon ET, investors will pay close attention to Chairman Charlie Ergen's comments on the outlook for mergers and acquisitions.
The Federal Communications Commission's quiet period for participants in a recent wireless spectrum auction ended on Thursday, meaning companies ranging from Dish to Verizon (VZ) - Get Verizon Communications Inc. Report , T-Mobile USA (TMUS) - Get T-Mobile US, Inc. Report and Comcast (CMCSA) - Get Comcast Corporation Class A Report  can once again discuss deals and other strategic topics. The companies have been locked out of such discussions for more than a year because talks could have led to collusion on bids.
Ergen has spent billions to acquire mobile licenses, and has pursued acquisitions of both Sprint (S) - Get SentinelOne, Inc. Class A Report and T-Mobile in the past. Merging with a carrier or selling its licenses to Verizon would allow Dish to tap value for the spectrum, but telecom and satellite consultant Tim Farrar of TMF Associates suggested that the company could instead start a venture with T-Mobile and Amazon.com (AMZN) - Get Amazon.com, Inc. Report that would achieve strategic goals for all three firms and mark a dramatic shift in the wireless industry.
T-Mobile is launching a new phase of networksdfsdfsfction, while Dish has spectrum that it needs to use and is looking for a partner. Meanwhile, Amazon has explored options in wireless before, and has a growing presence in networked devices such as the Echo and in streaming video that would benefit from a connection to a wireless network. Moreover, if Bezos launches a drone delivery force, having a stake in a wireless venture would help to network the devices.
T-Mobile and Dish were the two top bidders in the government's recently concluded sale of wireless spectrum, spending roughly $8 billion and $6.2 billion, respectively. The companies are buying nationwide swaths of 600 MHz spectrum, which is a low frequency. The lower bands of spectrum can transmit for long distances and can penetrate buildings better than other frequencies, which makes them well suited to covering large areas.
T-Mobile CEO John Legere called out Amazon and during his telecom's first-quarter earnings call last Monday.
Trending news on TheStreet:
Tesla's Elon Musk Thinks You'll Travel to Work Like This in the Future and It's Nuts
"Will Amazon come in [to the wireless market] at some point in the day?" Legere asked. Additionally, Legere observed that Dish has "good content and spectrum," references to the company's Sling TV online cable TV offering and the portfolio of wireless spectrum that the company has acquired in recent years. (The T-Mobile CEO also wondered out loud whether Alphabet Inc.'s (GOOGL) - Get Alphabet Inc. Class A Report and Apple (AAPL) - Get Apple Inc. Report will ultimately enter the wireless business.)
TMF's Farrar said that Dish and T-Mobile held similar talks with Google last year, but that the valuation of Dish's wireless spectrum and competing strategic issues for Google as it partnered with Verizon to be the exclusive U.S. seller of its Pixel phones prevented a deal. Those talks could have been an effort by Dish to spur Verizon into bidding for its spectrum, Farrar noted.
Meanwhile, Verizon's reported pursuit of wireless spectrum and IP holding companyStraight Path (STRP) could indicate it is less interested in Dish and its spectrum. Management of the telecom has played up its interest in network technology that would reduce its need for a large spectrum portfolio.
"Nowadays it looks like Verizon needs Ergen's spectrum less," Farrar said. "He may not be able to use this as leverage."
Farrar explored the strategic rational for Amazon and Dish in a recent blog post.  "Amazon could use the capacity not only for in-home services such as Echo, but also to support other activities such as drone deliveries, while Dish could provide wireless service built around Sling TV, as well as fixed wireless broadband if desired," Farrar wrote.
While Dish declined to comment, the company holds its first-quarter earnings call at noon on Monday. Charlie Ergen will certainly receive questions about the expiration of the quiet period and Dish's ambitions. T-Mobile and Amazon did not immediately respond to queries.
Farrar also noted some recent circumstantial evidence that could point to talks between Legere and Ergen.
On Wednesday, the day before the FCC quiet period expired, Legere tweeted a picture from the window of an airplane captioned "Goodbye Seattle...next stop Denver, Colorado!" T-Mobile is based near Seattle while Dish is in the Denver area.
Alphabet, Apple and Comcast are holdings in Jim Cramer's Action Alerts PLUS Charitable Trust Portfolio. 
Editor's note: This article was originally published by The Deal, a sister publication of TheStreet that offers sophisticated insight and analysis on all types of deals, from inception to integration. Click here for a free trial.
Trending news on TheStreet:
Tesla's Elon Musk Thinks You'll Travel to Work Like This in the Future and It's Nuts