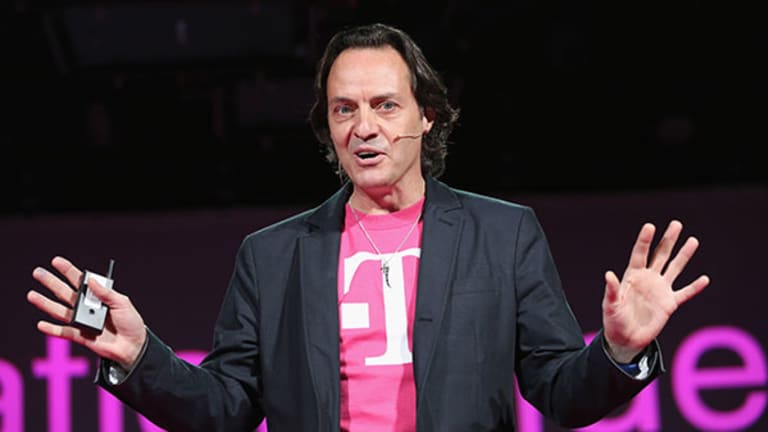 T-Mobile CEO Says a Deal With Dish Network Would Make Sense
T-Mobile USA CEO John Legere tells investors that the satellite TV company's wireless frequencies make it an attractive potential merger partner.
NEW YORK (The Deal) -- T-Mobile USA (TMUS) and Dish Network (DISH) continued their very public flirtation on Friday with the head of the U.S. cellular unit of Germany's Deutsche Telekom admitting a permanent connection could prove fruitful.
"It makes sense from the standpoint of integrating that spectrum and capability and deploying it at our network," said T-Mobile USA CEO John Legere during Deutsche Telekom's capital markets day in Bonn. "Dish and we, that makes some sense."
Analysts and Dish itself have been fantasizing about a possible merger between the two since Sprint (S) , backed by Japan's Softbank, decided not to pursue an acquisition of T-Mobile last August. Sprint reportedly had been willing to pay $40 per share for T-Mobile, which closed Thursday at $32.48, valuing the company at $26.4 billion.
Deutsche Telekom had been eager to unload the once-unprofitable T-Mobile until last year when a Legere-led reshuffle began to bear fruit.
Regulators famously blocked a planned acquisition of T-Mobile by AT&T (T) in 2011, and were skeptical about it linking up with Sprint due to fears that the disappearance of T-Mobile, the market's largest cut-rate provider, would end downward pressure on pricing. Still, T-Mobile wasn't left deal-less -- two years ago, it merged with regional provider MetroPCS Communications to gain heft and a U.S. listing.
But analysts and phone companies have said consolidation -- and higher prices -- are necessary to spark investment and help recoup the exorbitant prices wireless carriers must pay for new frequency bands in the government's spectrum auctions. U.S. wireless carriers in January spent a record $44.9 billion securing new frequencies from the FCC as consumers clamber for faster mobile broadband speeds. The last record-setting auction was in 2008 and raised just $19.1 billion.
T-Mobile itself spent just $1.8 billion in the latest frequency sale, while Dish Network picked up about half of the licenses on offer for just $10 billion by taking advantage of auction loopholes. Still, the company is a satellite TV provider, not yet a cellular provider. The purchase was seen as a way for Dish CEO Charlie Ergen to signal his intentions to get into the market -- a merger with T-Mobile would give Dish access to T-Mobile's expertise and T-Mobile Ergen's extra frequencies.
"T-Mobile USA will develop well in the coming years and there's a certain investment required but Telekom isn't in any hurry to exit the stake. The perfect partner would be Sprint with plenty of synergy potential and some consolidation in the U.S. market. Dish would also be an excellent choice," said Malte Räther, of Warburg Research in Hamburg. He has a buy rating on Telekom stock.
Sales at Bellevue, Wash.-based T-Mobile USA rose 20% last year to $22.4 billion, with EBITDA gaining 6% to $5.63 billion. It added 8.3 million customers in 2014, an 89% increase over 2013.
Read more from: