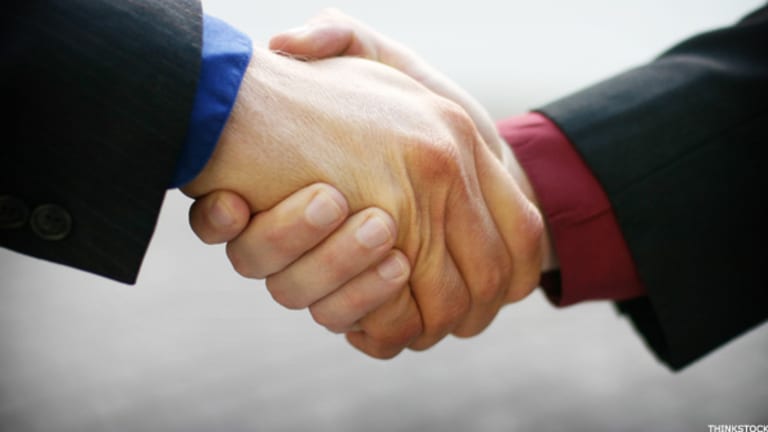 Symantec Splits to Focus on Growth Opportunities After a Stalled Turnaround
After a stalled turnaround, the security IT company plans to become two publicly traded companies.
Security and information management software group Symantec Corp. (SYMC) is the latest tech group to announce a breakup.
Symantec said Thursday it will split into two publicly traded companies.
In after-hours trading on Thursday, Oct. 9, the stock gained 45 cents, or 1.9%, to $23.89.
One of the new companies will focus on Symantec's antivirus and security software, and the other on information management systems.
"It has become clear that winning in both security and information management requires distinct strategies, focused investments and go-to market innovation," said CEO Michael Brown in a statement Thursday.
After the split, the statement said, the businesses would be able to focus better on growth opportunities including M&A.
Symantec, which is on The Deal's activist watch list, had already attracted a modicum of interest from potentially dissident investors. Jeffrey Ubben's ValueAct Capital had built up 7.6 million shares, in the Mountain View, Calif.-based company, as of March 31, according to a regulatory filing.
Brown will be CEO of the security businesses, which generated $4.2 billion in sales during fiscal year 2014 and had 30% operating margins.
Former Quantum Corp. (QTM) COO John Gannon will be general manager of the information management business. That part of the business had 23% operating margins on $2.4 billion in revenues.
The company expects to complete the tax-free spin off in 2015.
After serving as interim CEO since March, Brown became the permanent CEO in late September. The board terminated prior CEO Steve Bennett in March, as a turnaround stalled.
Brown has a track record of setting companies up for sales.
Equallogic Inc., which Brown chaired, sold to Dell Inc. for $1.4 billion in 2008. He was also Chairman of Line 6 Inc. which Yamaha Corp. acquired in 2013, and is on the board of The Echo Nest, purchased by Spotify Ltd. for $100 million this year.
Breakups are in fashion among tech groups.
Hewlett-Packard Co. (HPQ) said Monday that it would split up into one company targeting enterprises and another serving consumers. JDS Uniphase Corp. (JDSU) and Ebay Inc. (EBAY) are also bifurcating their businesses.
Drago Rajkovic and Sanjay Jain of JPMorgan Securities LLC advised Symantec.