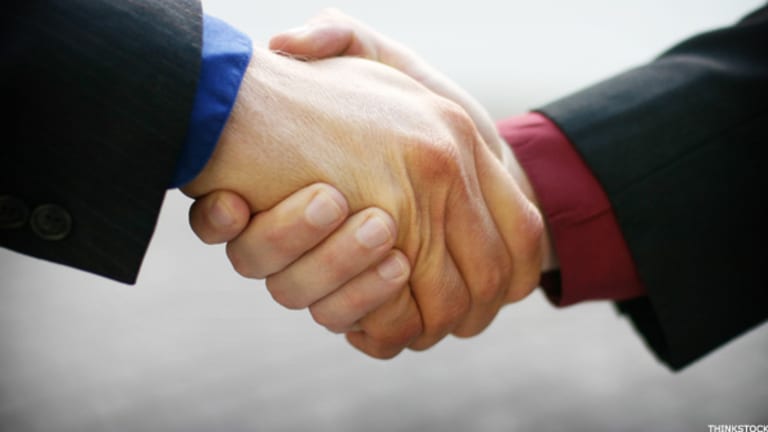 Sycamore Walks Away From Talbots Buyout
Sycamore Partners is walking away from a $3.05 bid for Talbots, causing shares to tumble 35%.
NEW YORK (
) -- Private equity firm
Sycamore Partners
has walked away from a second buyout offer for struggling woman's retailer
Talbots
(TLB)
, after two bids and a half-year tussle didn't get it very far.
On Friday, Sycamore let its $3.05 a share bid for Talbots, worth roughly $215 million, expire after it had already upped a previous all-cash bid and extended deadlines for the Hingham, Mass-based retailer. Talbots shares plunged in early Friday trading by as much as 35%. It mattered little that the company, which has struggled to meet sales goals, reported a first quarter profit of 2 cents a share on better than forecast revenue on Friday, beating estimates of a loss and marking a return to profitability after a loss-making 2011.
Talbots will now consider a new buyer, while it also cuts stores and searches for a new CEO. Talbots said it remains open to a deal, but the exclusivity agreement on Sycamore's May 5 bid has expired, allowing the women's retailer that caters to the baby boomer generation seek other buyers. Talbots said it was still considering the offer so long as details are hammered out on the deal's closing and financing.
In January, shares of
Talbots
(TLB)
surged after
CNBC
reported that private equity firms
Golden Gate Capital
and
TPG Capital
were interested in buying the struggling retailer after Sycamore's initial $3 bid got it nowhere. Just days later, Sycamore returned with a new buyout offer.
In December, Talbots rejected
Sycamore Partners
$3 a share cash bid, saying that it was "inadequate and substantially undervalues the company." At the time of its bid, Sycamore owned 9% of Talbot's shares and was willing to pay a 92% premium. Talbots subsequently put itself up for sale and opened its books to Sycamore in on Jan. 30, prompting a new bid valued at $3.05.
Shares of the women's retailer fell as low as $1.65 in early Friday trading. Talbots fell nearly 70% in 2011 after its quarterly losses accelerated. The Friday morning share mark is Talbot's lowest trading level since Sycamore Partners emerged as a takeover bidder.
Since opening exclusivity agreements with Sycamore, Talbots has reported a string of negative earnings results.
In Friday's earnings report, Talbots first quarter revenue of $275.9 million was a drop of 8.4%, and a profit of $1.2 million, or two cents per share. The numbers reflected better-than-guided revenue and a profit instead of an expectation of a two-cent per share loss, according analysts polled by
Zacks
. The earnings and revenue declined from year-ago-levels as the company cuts its store count and reports falling same store sales.
"We are pleased to have achieved profitability in the first quarter, driven by improved merchandise margin compared to the prior year period as well as strong inventory and expense management," said CEO Trudy Sullivan. In December, Talbots announced that it's started a search for a successor to Sullivan who is set to retire.
Since March 2011, Talbots said it has closed 74 stores, ending the first quarter with 516 total stores. Still, the company said comparable store sales, which exclude recently closed stores, fell 2.2% in the quarter compared to year-ago levels.
For more on Talbots, see 6 retailers
banking on a new CEO in 2012.
See why the
Gores Group
is
slamming the brakes
on a
Pep Boys
(PBY) - Get Prospect Capital Corporation 6.25 % Notes 2018-15.06.28 Report
buyout for more on troubled private equity bids.
--
Written by Antoine Gara in New York.