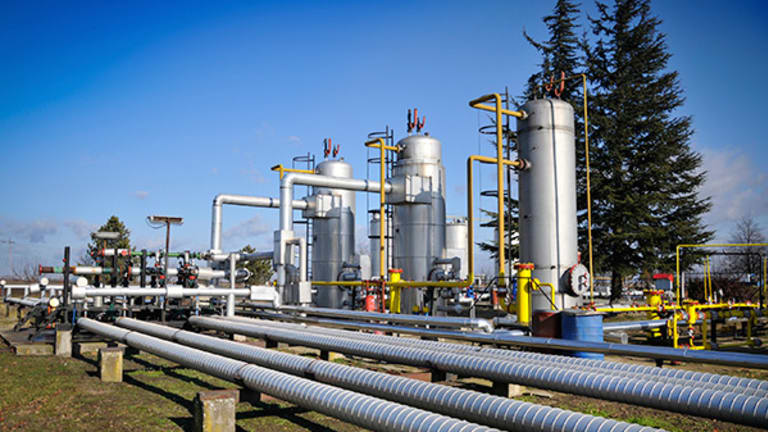 Sunoco Logistics Buys Vitol's Crude Oil Assets in The Permian For $760M
Analysts say the deal looks expensive near-term and need more color to assess its longer term value to the Energy Transfer complex.
Analysts say the deal looks expensive near-term and need more color to assess its longer term value to the Energy Transfer complex.
Newtown Square, Pa.-based Sunoco Logistics Partners ( (SXL) ) said Monday it agreed to buy crude oil infrastructure assets in West Texas' Permian Basin from privately held Dutch commodities trader the Vitol Group for $760 million.
The acquisition involves a 2 million barrel crude oil terminal in Midland, a crude oil gathering and mainline pipeline system in the Midland Basin, including acreage dedication from an unnamed investment grade producer, and crude oil inventories related to Vitol's crude oil purchasing and marketing business in West Texas.
The deal also includes a 50% stake in SunVit Pipeline, which connects the Midland terminal to Sunoco Logistics' Permian Express 2 pipeline. The Permian Express 2 pipeline takes Permian crude oil to several markets. Sunoco will now own 100% of SunVit.
Sunoco expects to close the deal in the fourth quarter if it clears regulators. It's funding it with a 21 million unit offering at $27 per unit with an option for underwriters to purchase an additional 3.15 million units. Barclays Capital Inc. is the sole underwriter of the offering.
Energy Transfer Partners ( (ETP) ) and Energy Transfer Equity ( (ETE) ), which own Sunoco Logistics' general partner Sunoco Partners LLC, agreed to reduce the incentive distributions Sunoco Partners receives by $60 million over two years starting in the third quarter.
Sunoco Logistics CEO Michael Hennigan said in a statement that the Vitol system is an excellent synergistic fit with the partnership's expanding crude platform in the Permian Basin. "The Permian Basin is the most prolific of all of the U.S. shale areas with strong growth expectations [and] the Vitol pipeline assets are located in what we believe are the three best counties in the Midland Basin," he said. "Adding a 2 million barrel terminal in Midland is very complementary to our Permian strategy."
Analysts at Tudor, Pickering, Holt said in a note Tuesday that the deal looks expensive near-term at 14 times enterprise value-to-Ebitda. "We (and likely [the] market) will need more color to make final assessment of longer-dated value to [the Energy] Transfer complex," they said.
Sunoco's units were down 5.62% on Tuesday to $27.52 per unit. ETE units were down 1.91% to $16.41 per unit and ETP units slipped 1.39% to $36.86 per unit.
Fitch Ratings said Tuesday that the acquisition is neutral to Sunoco Logistics' debt ratings, as its strong equity funding and the incentive distribution waiver illustrates the partnership's commitment toward maintaining reasonable balance sheet metrics.
Mike Loya is head of the Americas for Vitol, a Rotterdam-based oil trader and distributor with $165 billion in sales last year.
Simmons & Co. International, a unit of Piper Jaffray, advised Vitol on the sale with a team that included James Baker, Spencer Rippstein, Michael Sulton, Billy O'Neil, Tyler Buckingham and Spencer English. Akin Gump Strauss Hauer & Feld provided Vitol with outside legal counsel, including Stephen Davis, Gabriel Procaccini, William Flynn, Eduardo Canales, Michael Gerald, Brian Patterson, Paul Hewitt, Stacy Kobrick, Alison Chen, David Quigley and Andrew Oelz.