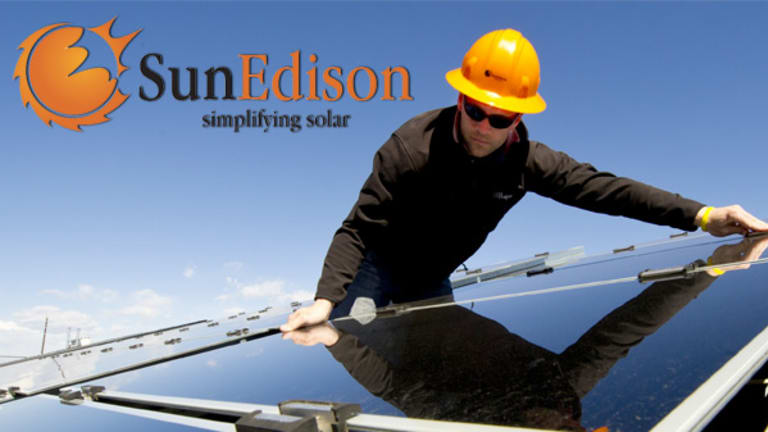 SunEdison/Vivint Solar Deal Up in Smoke, Shares Choke
Concerns about residential solar industry spark harsh reaction to $2.2 billion offer.
The value of SunEdison's (SUNE) offer for Vivint Solar (VSLR) - Get Vivint Solar Inc Report continues to lag well below the $16.50 per share announced when the deal was unveiled July 20, prompting speculation among arb investors that the transaction will fall apart.
SunEdison proposed a combination valued at $9.89 per share in cash, $3.31 per share in SunEdison stock and $3.30 per share in SunEdison convertible notes. But a harsh reaction to the deal, due to growing wariness about prospects for Vivint's business (residential solar panels) prompted an immediate drop in SunEdison's stock. Its share plunged from $31.66 on July 17, near the shares' high this year, to just under $14 on Aug. 11. And Sun Edison's shares have continued to drop. Through mid-afternoon trading Monday, they stood at $8.88.
The deal, which was originally predicted to close in the fourth quarter of 2015, would make SunEdison the largest residential and commercial solar provider in the world.
Vivint Solar, which went public with an IPO last year, is controlled by the Blackstone Group.
As part of the transaction, SunEdison planned to sell a 523-megawatt rooftop solar portfolio expected to be installed by year-end to Bethesda, Md.-based TerraForm for $922 million in cash. SunEdison said it planned to sell more completed residential and small commercial projects to TerraForm in the future. Currently it's difficult to peg an exact value on the offer because of uncertainty over the value of the convertible notes. The deal was struck when the SunEdison stock price was much higher, and Vivint shareholders don't know exactly what the notes will be worth. One arb estimated that the current value of the notes is roughly $2.25 per share (and he conceded that estimate is somewhat arbitrary), making the deal worth about $13.25.
That SunEdison has not issued a preliminary proxy may suggest that company officials are considering options for restructuring the deal, perhaps by renegotiating the terms, or may simply allow the deal to die by putting it before wary shareholders and hoping they will vote it down.
SunEdison's press department did not respond to an inquiry seeking details on the status of the proxy mailing.
Given the diminished value to Vivint shareholders, it's not certain they want to stick with the deal either. "If Blackstone no longer wants the deal, it can't happen," the arb said.
Questions have been arising about residential solar in general. Many analysts consider it a bad value for customers, particularly if they lease panels rather than buy them. Although leasing allows customers to install panels will little to no upfront cost, the arrangement typically requires the customers to pay the balance of the value of the remaining lease when a home is sold or convince the new homeowners to take over the existing lease. As a result, homes with leased panels sell at a discount relative to other homes in their neighborhood.
Some analysts predict that the residential industry will suffer when contract reassignments caused by home sales hit leasing portfolios over the next several years. Portfolios also could be hurt by technological advances that cause existing installations to become obsolete.