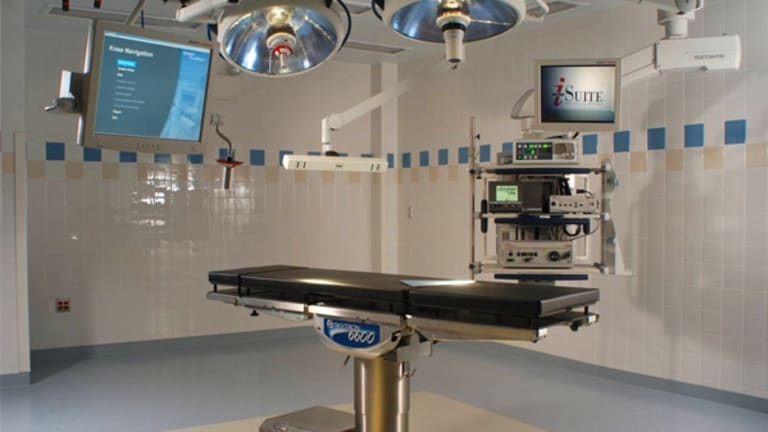 Stryker and Smith & Nephew Are the Stars to Watch in Medtech's 2015 Merger Dance
After a robust year of mega-deals in 2014, mid-size device makers are expected to seek partners, fueling even further consolidation.
NEW YORK (The Deal) -- Medical devices manufacturers had an extremely active 2014, with a number of mega-mergers in the space. With a record year in the rear view mirror and integration of these deals ongoing-it shows no sign of slowing down.
According to Paul Teitelbaum, a managing director at Mesirow Financial, there are likely to be a few mega deals on the table this year -- but not on par with last year's robust M&A environment. Teitelbaum noted that he expects 2015 and 2016 to be the years of the mid-sized players linking up with each other or selling to larger strategic players.
Teitelbaum pointed to last year's $3.3 billion merger of Wright Medical Group (WMGI) and Tornier (TRNX) , as an example of two mid-sized companies coming together to create a relevant entity. "I wouldn't be surprised if we saw companies in the $1 billion to $5 billion market cap range find dance partners," he explained, noting that mega-mergers often have a trickle-down effect on smaller companies and consolidation.
Blockbuster deals such as the $43 billion combination of Minneapolis, based-Medtronic (MDT) and Dublin, Ireland's Covidien (COV) are also likely to spur more M&A, as the two companies integrate and evaluate their product portfolio And given the  frothy activity last year, other companies are likely to spin out certain product lines as they settle on their strategic focus.
Of course, large players should continue making smaller acquisitions of their own. For example, Medtronic acquired NGC Medical -- a company that manages cardiovascular suites, operating rooms and intensive care centers -- in while it was digesting the Covidien deal. Teitelbaum noted that more transactions of this caliber are likely to occur among large players, adding that several are already making inquiries about potential targets.
In 2015, the marquee pairing -- potentially -- will be that of Stryker (SYK) and Smith & Nephew (SNN) The two medical devices companies have been flagged as a possible combination by industry watchers for some time. In May of last year, Kalamazoo, Mich.-based Stryker said it was not planning to make a takeover bid for the U.K.-based Smith & Nephew at that time. However, numerous analysts and industry bankers have noted that this year may the right time for a megadeal from the two medical device players.
The deal has long been rumored in the market by bankers who see synergies between the two companies. Stryker is strong in the areas of hip, knee, ankle, spine and power tools for medical reconstruction. Smith & Nephew operates in the extremities, advanced wound management and gynecology. Both are involved in sports medicine. The M&A activity has caused the space to becoming highly commoditized and competitive, according to Teitelbaum. He noted that the Biomet-Zimmer merger narrowed the number of players in the space from five to four, increasing the pressure for further consolidation.
The Stryker deal may come about this year because of all the previous consolidation among large strategics--driven by pricing pressure-which could make a combined entity more competitive. Stryker has a market cap of $35.75 billion, while Smith & Nephew clocks in at $10.53 billion. Since Stryker's declaration last year that it would not acquire the U.K. company, the six months have already passed that British takeover law requires between approaches. So the time is right.
Consolidation in medtech is likely to continue in the coming year and if 2014 was any indication, it will be a busy year for medical device manufacturers as they plot their next move to stay relevant in the rapidly consolidating sector.
Must Read:11 Dividend Stocks Buffett, Soros and Other Billionaires Love
Read more from
: